The Perfect Poker Tournament Part 2: Freeze-Out, Single Reentry, or Unlimited Reentry?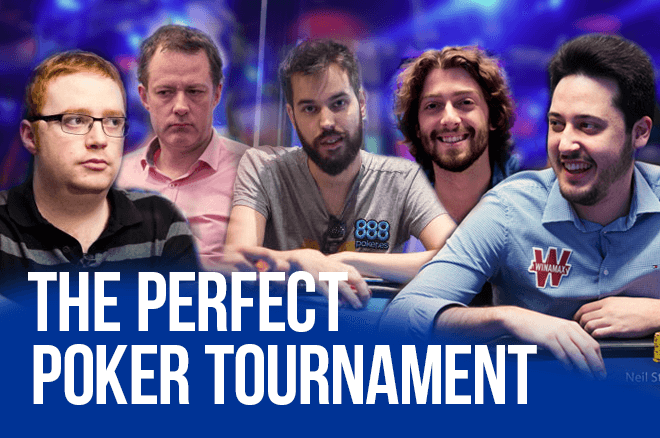 In our first article about the perfect poker tournament, we asked five of the world's most respected poker players what their thoughts were on how many players should sit at a standard, full-ring poker table. This time, we're asking them what they think makes for the perfect tournament format.
We sat down with Unibet Poker Ambassador Dara O'Kearney, PokerStars Team Pro Igor Kurganov, 888Poker's Dominik Nitsche, Scottish poker legend Niall Farrell, and Spanish powerhouse Winamax sponsored Adrian Mateos to set the poker world to rights. What is better; freezeouts, single reentry tournaments, or unlimited reentry? And, maybe more importantly, why?
What's the Best Poker Tournament Format?
Kurganov: I think this depends on the customers. If it's a Main Event structure, then making it an unlimited reentry is just wrong as that doesn't cater to the type of people you have playing the tournament. They have to be single reentry or freezeout.
O'Kearney: "Freezeout is the best format. They're by far the most popular with recreational players."
O'Kearney: I personally think Freezeout is the best format. They're by far the most popular with recreational players. If they've satellited in, they just have one bullet. If they are buying in, they only want to do one bullet. It plays really, really badly for a recreational player to knock out a big-name pro, then see the cash desk and they're buying back in.
Nitsche: I prefer freezeouts if I had to choose. Thankfully, these days there are all kinds of tournaments. Variety is nice.
Farrell: I'm a big fan of the standard freezeout. It's the format that gives the recreational players the most chance to win. It makes the tournament the most value because you only have to knock out the good players once.
O'Kearney: Yeah, that feels wrong from a recreational player's point of view. They want the story of 'I knocked out Jake Cody' and if it turns out Jake Cody then makes the final table, people go 'Well, how did you knock him out? He made the final table.' I think it's really bad from a pro's perspective. They can think 'Oh, this is great, I'll play a 1k and I bust, so I've nothing else to do, but now I can fire another bullet, but that can get your expenses up traveling.
Article continues underneath the promotion.
Any industry is propped up on the strength of the people who are coming to join in, especially a game and entertainment hybrid such as poker. Are we turning the lifeblood of the game away to make the game unbeatable for them?
Farrell: When a recreational player finally does run well and have a chance of winning the tournament, it's just much more likely that it's all professionals that he or she is going to have to get through. In the old days of the EPT, it was very prestigious to win one because they were always freezeouts. The people that make the games run are the locals or the satellite entries. And if you don't give these guys a reasonable chance to win, they're just not going to play more. The game's going to dry up.
O'Kearney: The only people who are benefitting, are the organizers, and they're not benefitting long term if it turns away recreational players because they're the lifeblood of live poker. Once they stop showing up, it's all over; the pros completely depend on them.
We should always do whatever the recs want, within reason. If something is deeply unpopular with recreational players, for example, the 25% payout structure that 'Stars tried to introduce, or unlimited reentry, it should be scrapped. What's happened over time with let's say 400 recreational players and 100 pro players, the pros have a decent edge. If you change that to unlimited reentry, suddenly the pros start firing on average four bullets each, which is happening at a lot of tournaments now, you turn it to 400 recs, 400 pros and that's really bad for the bottom line of the professional player as well.
Farrell: "I understand why reentry exits; more rake, more prize-pool. But when you have unlimited reentry, it's really tough deeper."
If freezeouts are ideal, they aren't necessarily perfect. Would a happy compromise be a single reentry in a Main Event or similarly structured tournament?
Mateos: I think the best way is to make a better structure with one reentry. It's good because sometimes you busted a big tournament and traveled so many hours and spent so many days in a city for the tournament, [and] then you bust at the beginning of the tournament and it sucks a lot. To have one more try is pretty nice. For me, many Main Events should be one reentry only. All festivals should have a nice side event schedule so that anyone who busts the Main Event, can still play.
O'Kearney: Maybe as a reasonable compromise, you can let people do one reentry. If they've traveled a long way and busted in Level 1, that's a pretty bad experience, at least give them a second shot, but I definitely think unlimited reentry is really bad. I guess the reason for them is to make the prize-pool bigger and it's true that people like having big prize-pools, but it seems like too big a cost. Most Unibet Opens are total freezeouts. What they do for some events with more local acceptance of reentries is they run two Day 1's and you can only play one, but if you bust, there's a special seat that's open to players who've busted 1a. But in general, I think make it all freezeout.
Does the side event schedule have a huge bearing on what the Main Event looks like? Everyone we asked seemed unanimous on that front.
Kurganov: It should probably depend on how much other side action exits. A tournament that only has the Main Event and doesn't have many other opportunities to play poker, is deeply annoying for players if they get a cooler and bust out early on and traveled all the way there. At festivals where you don't have other events, I would make them a single reentry and otherwise, if you do have other opportunities such as a second chance event, make it a freezeout.
Farrell: If you're having a single event in a faraway country, then it's pretty frustrating to get knocked out in the first level with nothing else to do. But nowadays, the Main Event is one of ten tournaments you can play. I understand why reentry exits, more rake, more prize-pool. But when you have unlimited reentry, it's really tough deeper. From a purely selfish point of view, it's a double-edged sword. Its decent for me that I can reenter, as it gives me a good chance, but when you do go deep in the tournament, you want it to be a bit easier than it has been recently. I think single reentry could be ok if it's Day 1a and 1b, a shot at each day, especially an event where there's a lot of traveling to get to. But the prestigious nature of winning some of these events has gone down. There's more of an intangible effect than most people give it credit for.
Nitsche: I'd like to see late registration time reduced which I believe is a much bigger issue for the structure of the tournament.
Kurganov: "For high roller tournament [...] make them unlimited reentry every time."
High roller tournaments are a completely different animal, but should they be formatted differently too? Some think so.
Kurganov: For high roller tournament, where you have no qualifiers, make them unlimited reentry every time, because the pockets are similarly deep of pros and businessmen and they just want to have the opportunity to reenter. The incentives for play are a bit different from a Main Event. Once you're there, you just want to play and you're not wondering if "someone can just buy their way to a win"; that's not really a thought process.
Mateos: For me, it's much better with unlimited reentries, but I don't think it's good for the poker economy. Normally, the pros are on the final table, because it's hard to bust a good player four or five times. It's an advantage for poker pros short term, but in the long run, it's dangerous.
VERDICT: While there's a place for all formats, it would appear that Main Events with unlimited reentry, even until Day 2 in some cases, possibly alienates recreational players. High roller tournaments should be in the unlimited reentry format, with Main Events either freezeout or single reentry at a strict limit, the five questioned pros agree.
Next time, we'll be discussing the present and future of the ante in poker with our poker professionals, and whether regular-, button-, or big blind antes are the way forward. It's a topic that causes a lot of discussion at every level of the game, and you'll want to join in when you hear what they have to say.