Garrett Adelstein Opens Up About Depression on Ingram's Poker Life Podcast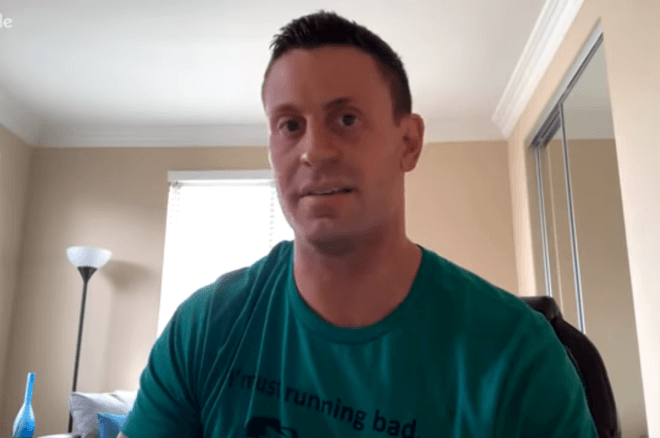 Recently, Joey Ingram has announced he'll be back to producing regular editions of his popular Poker Life Podcast, to the satisfaction of many of his fans. In his triumphant return last week, Ingram talked to Andrew Neeme and Steffen Sontheimer, but it was his interview with Live at the Bike high-stakes regular Garrett Adelstein that garnered loads of attention for the topics touched on.
In over three hours, the two talked about a wide range of subjects. The first part about mental health seemed the most valuable for viewers and listeners.
Earlier in the week, Ingram retweeted a December 2018 post by Adelstein, who shared about his long fight with depression:
2018 has been the best year of my life. After a lifelong battle with depression, this was the year I dedicated myse… https://t.co/v59PIvVwJh

— Garrett Adelstein (@GmanPoker)
After making the podcast, Ingram thanked Adelstein for opening up the way he did and tells his followers that the first 45 minutes could change lives:
That podcast w/ @GmanPoker will go down as an all-timer. The first 45 minutes will help change someones life out th… https://t.co/hxFFPCLbhI

— Joey Ingram 🤙🏻🤙🏻 (@Joeingram1)
Ingram posted a useful clip from the discussion, where Adelstein talks about doing something to get the ball rolling on recovery, plus a helpful concept he calls "containers."
I uploaded a very helpful clip from the podcast w/ @GmanPoker where he talks about dealing with & overcoming his de… https://t.co/f2k6kkuLeU

— Joey Ingram 🤙🏻🤙🏻 (@Joeingram1)
If you want to get to hear more of Adelstein's insights, sit back and relax, have a cup of coffee and enjoy the full interview. Pro tip: Listen on 1.5x. It's still understandable and you'll get through it faster. If you're a real pro, go 2x.
Here are the timestamps for reference, made by user "Andreas Froehli Poker" on YouTube:
| Time | Content |
| --- | --- |
| 00:00 | Introduction by Joey |
| 06:08 | Garrett on depression |
| 08:00 | Changes from 2018 to 2019 for Garrett |
| 10:57 | Emotional resilience |
| 12:54 | Garrett describes his therapy |
| 14:55 | What perfectionism might lead to |
| 16:55 | How Garrett talks with himself after something happens |
| 19:00 | Fire breaker vs. small steps |
| 21:15 | Choices we make are like containers |
| 23:55 | Joey brings up mindfulness |
| 25:55 | Garrett talking about the benefits of unproductive tasks |
| 31:15 | Garretts supportive girlfriend |
| 36:15 | Joey asks Garrett on his journey the last year (non-poker) |
| 38:50 | How to forgive yourself better |
| 45:10 | Joey on the value Garrett is providing to his audience |
| 47:50 | Garrett on helping other pros getting better |
| 55:30 | First Live at the Bike session |
| 57:45 | How to create an action game |
| 1:00:30 | LATB taking off due to being free for viewers |
| 1:06:00 | Garrett on organizing live high stakes games |
| 1:10:20 | Garrett talking about playing vs Art and studying GTO |
| 1:17:00 | How high-stakes can vary in profitability a lot |
| 1:21:50 | What you shouldn't do at the poker tables |
| 1:25:00 | Entertaining the fish |
| 1:31:00 | Garrett explaining his success at live poker |
| 1:34:00 | Choices and focus on fun |
| 1:37:40 | Advantages of playing more hands |
| 1:40:05 | Preflop behaviour dependant on table lineup |
| 1:42:50 | Coachella dilemma |
| 1:45:50 | Joey bringing up Tom Dwan |
| 1:48:00 | Garrett about the poker audience |
| 1:50:32 | Biggest challenge of a poker player |
| 1:55:55 | The secret to success |
| 1:57:35 | Garrett about Doug Polk content |
| 1:59:45 | Our need to "fit in" and avoid conflict |
| 2:04:30 | Justin Bonomo tweet |
| 2:10:55 | Luck and what you can control |
| 2:13:00 | Joey's take on hard work vs luck |
| 2:16:40 | Ignorance, believing in god and organized religion |
| 2:24:35 | Joey dropping some content strategy |
| 2:27:30 | What player does Garrett not want to play against? |
| 2:32:00 | Donations, streaming and competitiveness in China |
| 2:35:10 | How to get to the next level in poker |
| 2:39:00 | Top 5 EDM artists |
| 2:41:00 | Biggest crusher in live poker nosebleed |
| 2:46:00 | Matt Berkey skill level? |
| 2:49:10 | Garrett on Art P. |
| 2:54:10 | Nick V. talking during big river spot |
| 2:59:10 | Talking about Andy from Live at the Bike |
| 3:03:00 | Garrett feeling grateful about poker |