Chinese Players Hope for Better Poker Future; Seeking First EPT Champ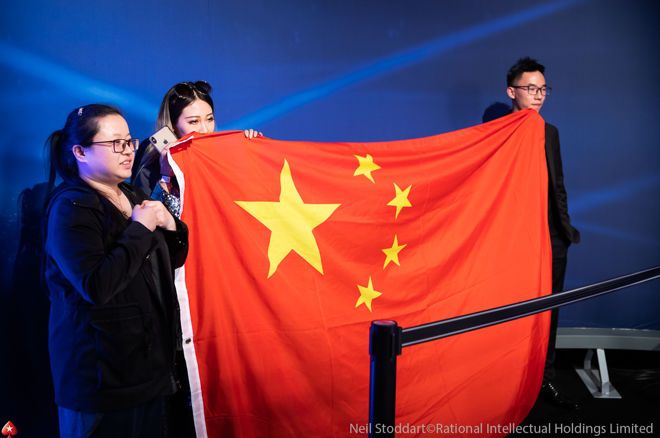 Table Of Contents
Last year, Haoxiang Wang got as close as you can to winning a European Poker Tour EPT Main Event, going into the final table at EPT Barcelona as the chip leader but ultimately having to settle for second.
In Monte Carlo, there's a chance for redemption as his countrymate and roommate here in Monaco Wei Huang now sits at the €5,300 EPT Monte Carlo Main Event final table big stage with the golden trophy and €827,700 on the line.
"Last year I lost the championship, so I really want my friend to win, so I can touch the trophy," Wang told PokerNews.
Working Together
While this is Huang's first big final table, he has the advantage of learning from his friend's final table experience. "I share my experience from last year and I hope he'll do better than me," said Wang.
His main advice for Huang was to be a bit more aggressive and increasingly so as the table goes from six-handed and gets shorter - to play less of a TAG (tight-aggressive) style and more on the LAG (loose-aggressive) side.
"He's good enough to do his best, so my advice isn't too important."
"Last year I lost the championship, so I really want my friend to win."
Huang is armed with advice from someone who has been there before, as well as support from friends who changed their return flights to stick around Monte Carlo to be on his rail. For poker players in China, it's extra important to work together.
"Our government doesn't like poker," added Yan Li, who recently won two events and then got a third place at the Asia Pacific Poker Tour Korea stop. Li was just two places away from breaking the record for most trophies won at a single APPT stop.
"I'm a trophy collector. I like trophies, especially PokerStars trophies," said Li. She has a silver version of the golden one on display ready to be presented to the eventual winner here in Monte Carlo, and she also has some little PokerStars "spadies." Li is not done adding to her collection and would be happy to see yet another trophy claimed for her home country today.
"Although poker is illegal in China, a lot of Chinese poker fans have great passion in poker, so we all fly over ten hours to come here chasing this trophy. So I want [Huang] to enjoy every single minute in this final table," Li said.
Chance of a Lifetime
Wang and Huang are on the same "team" back in China, an informal group of more than ten players who talk and play poker for fun together in their hometown of Shanghai.
With cash games being banned, they have to be careful with poker gatherings and oftentimes they just find a little time after work hours, like 30 minutes to an hour, to meet up on an app and play private sit 'n' go's together: "Like watching TV, to relax." Their home game is quite different from most though, as they don't play with real money, instead playing strictly for fun and learning.
"Although poker is illegal in China, a lot of Chinese poker fans have great passion in poker."
To have two representatives at EPT Main Event final tables within one year is rather incredible for the group, and we asked Wang how it's been possible.
"It's a story about not giving up I think. [Wang] has played poker for several years but he has pretty little time because he's always busy with work."
Considering Huang's busy schedule as a finance controller for PepsiCo and the time and energy required to win an EPT Main Event, Wang thinks this is his friend's best chance to capture an EPT title. It's also a rare opportunity for him to play in a bigger, good structured event as there are only small tournaments available to play where they live.
Hope for Poker in China
Wang and Li have their country's flag here ready to fly in case of a Wang victory, and they both hope for a better future for poker in their country.
"The environment [for poker] is really terrible in China," said Wang. "If he wins, maybe it will change."
"I have a big dream in poker," Li added. "I hope I can organize some legal and awesome tournaments in China so we can enjoy these real poker tournaments for Chinese poker fans."
"The best record is mine, second place. I'd like to see my friend and teammate beat my record."
After starting Day 4 last of 30 returning players and coming into today 3/6, Huang is still in the hunt for the trophy here in Monaco as the final five battle it out. He did hit a minor bump in the road when he doubled up Ryan Riess, his pocket aces failing to hold against the 2013 WSOP Main Event champion's pocket sevens.
Since then, he's been on the up and up, making hands and getting value. He has made some good calls against start-of-day chip leader Nicola Grieco, including a correct hero call on the river with king-high on a wet board to propel him ever closer to chip leader Manig Loeser.
"It would be super crazy for him to win because in EPT; there's never been a Chinese winner," said Wang. "The best record is mine, second place. I'd like to see my friend and teammate beat my record."
Keep following the PokerNews live updates being posted on a live-streamed 30-minute delay from the EPT Monte Carlo Main Event to see if Huang can outlast a talented final table. The live stream is available at PokerStars' Twitch page.