Malta Poker Championships Hits Portomaso Casino May 13-19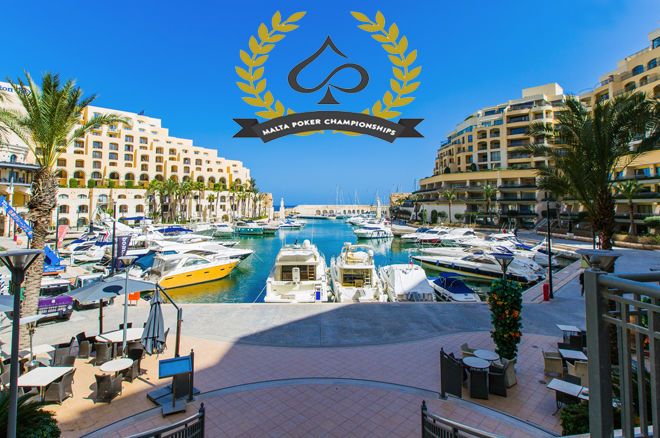 Table Of Contents
Something new and exciting is about to hit the island of Malta with the Portomaso Casino hosting the Malta Poker Championships on May 13-19.
The festival is the brainchild of Ivonne Montealegre, who also in November hosted the first Malta Poker Festival that proved to be a hit for poker players around the world.
Malta Poker Championships Highlights
The events on the schedule are affordable to everyone ranging from just €40 to €300. The first tournament on the schedule is the Triple Stack Warm-up on May 13 with just a €40 buy-in.
The highlight of the festival is the Betsson One Bullet with two starting flights on May 17. The tournament is a deep stacked affair with players starting with 40,000 in chips and blinds going up every 60 minutes from beginning to end.
Surviving players will battle it out on May 18 until the action is down to a final table which will be played out on May 19. The casino is already hosting live satellites and players can also qualify online at Betsson Poker.
Other festival highlights include the Bounty Knockout Championship with a €170 buy-in kicking off on May 16, the PLO Championship with a €220 buy-in starting on May 18, the Deepstack Championship with a €120 buy-in beginning on May 18, and the first-ever Hendon Mob Short Deck Championship on May 19 with players also having the chance to win a special Hendon Mob flag.
The final tables for all four Championship events and the Betsson One Bullet will be played in style on May 19 on Club Level 22.
Malta Poker Championships Partner with the Cash Game Festival
This is not all as the Malta Poker Championships is teaming up with the Cash Game Festival. The festival is well-known for action-packed cash games running around the clock along with its renowned VIP hospitality package with tons of amazing events away from the tables to provide a unique poker vacation experience.
The Cash Game Festival will be hosting televised feature tables every day throughout the festival giving all players a chance to be a star with stakes starting as low as €1/€2 no-limit hold'em and €2/€2 pot-limit Omaha. Of course, there will also be higher stakes games streamed and an assortment of games and stakes on side tables continually running.
Spring is beautiful in Malta, and this may be reason enough to head to the Malta Poker Championships on May 13-19. Between Montealegre sharing with PokerNews in an interview how she plans to be the ultimate concierge for the players with a dedicated desk and the VIP experiences the Cash Game Festival brings, the Malta Poker Championships should prove to be a fantastic poker experience for any poker player looking to win some money and make memories.
Malta Poker Championship Schedule
| Date | Time (CET) | Tournament | Buy-in | Guarantee | Stacks | Blinds | Late Registration | Reentry |
| --- | --- | --- | --- | --- | --- | --- | --- | --- |
| May 13 | 2 p.m. | Cash Game Festival begins | | | | | | |
| | 8 p.m. | Triple Stack Warm-up | €40 | €1,500 | 10K/10K/10K | 20 min. | 8 levels | |
| May 14 | 2 p.m. | Cash Game Festival begins | | | | | | |
| | 8 p.m. | Satellite to Betsson One Bullet | €40 | Three Seats | 20,000 | 20 min. | 8 levels | |
| May 15 | 2 p.m. | Cash Game Festival begins | | | | | | |
| | 7 p.m. | Satellite to the Betsson One Bullet | €40 | | 20,000 | 20 min. | 8 levels | 1 reentry |
| May 16 | 2 p.m. | Cash Game Festival begins | | | | | | |
| | 3 p.m. | Bounty Knockout Championship | €170 | | 20,000 | 20 min. | 8 levels | Unlimited reentries through Level 10 |
| | 7 p.m. | Satellite to the Betsson One Bullet | €110 | | 20,000 | 20 min. | 8 levels | 1 reentry |
| May 17 | 2 p.m. | Cash Game Festival begins | | | | | | |
| | 3 p.m. | Betsson One Bullet Flight 1 | €300 | €15,000 | 40,000 | 60 min. | Second level on Day 2 | Freezeout |
| | 7 p.m. | Satellite to Betsson One Bullet Flight 2 | €300 | €15,000 | 40,000 | 60 min. | Second level on Day 2 | Freezeout |
| May 18 | 2 p.m. | Cash Game Festival begins | | | | | | |
| | 3 p.m. | Betsson One Bullet Day 2 | €300 | €15,000 | 40,000 | 60 min. | Second level on Day 2 | Freezeout |
| | 6 p.m. | PLO Championship | €220 | €3,000 | 25,000 | 20 min. | 8 levels | Unlimited reentries |
| | 8 p.m. | Deepstack Championship | €120 | €3,000 | 45,000 | 20 min. | 8 levels | |
| May 19 | 2 p.m. | Cash Game Festival begins | | | | | | |
| | 3 p.m. | PLO Championship, Betsson One Bullet, Bounty Knockout and Hendon Mob Short Deck Final Tables | | | | | Club Level 22 | |
| | 3 p.m. | Hendon Mob Short Deck | €150 | | | | 20 min. | 8 levels |
| | 4 p.m. | Last Chance Sunday | €80 | €3,000 | 100,000 | 20 min. | Level 8 | |