The Unknown Who Almost Beat the World Series' Toughest Final Table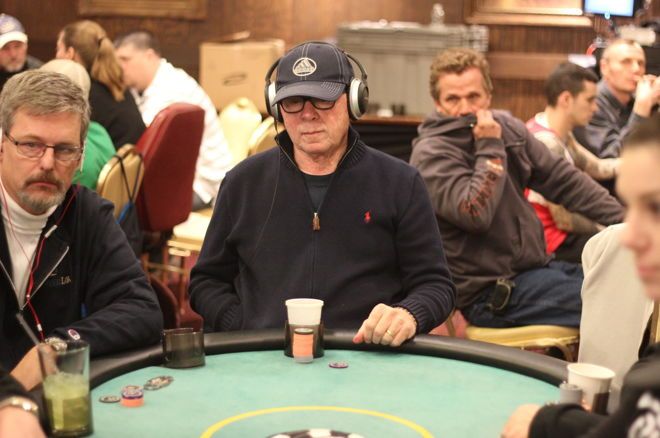 Stan Schrier could've been Chris Moneymaker. All he had to do was beat the toughest final table in the history of the World Series of Poker.
It was May 2001, two years before Moneymaker – an obscure novice from Tennessee who'd never played a live no-limit hold'em tournament – would defeat the best players in the world to capture the Main Event. He won his $10,000 entry fee in an $86 online satellite, and the fireworks from the improbable $2.5 million victory ignited the imaginations of millions. He was poker's Rocky Balboa, and almost overnight a struggling game became a cultural phenomenon – but it wasn't just the huge payday. Back then, an amateur "nobody" beating the "sharks" was unthinkable. It was as crazy as you beating Tiger Woods in his prime. Or Federer. Or Jordan.
But Moneymaker did it.
Two years earlier, Stan was right there too, poised on the edge of history.
From Nebraska to the Bright Lights of Vegas
Stan Schrier always liked poker, but there wasn't much of it in his native Nebraska, so he vacationed in Vegas just to play hold'em. Back then, hold'em meant limit hold'em. That's pretty much all there was, and limit cash games were all Stan knew. When he sold his Omaha grocery stores and retired, Vegas was the logical move, and he went for it. Soon after, he found himself at Binion's Horseshoe when a dude talked him into trying an $80 satellite for the WSOP Main Event. Somehow, he won it. And four grueling, 14-hour days of play later he's at the Main Event final table facing Carlos Mortensen, Phil Hellmuth, Mike Matusow, Phil Gordon, and Dewey Tomko. (And it could've been worse: Daniel Negreanu finished 11th.)
"I never told them I had never played a no-limit tournament before."
Mortensen, Hellmuth, and Tomko are Poker Hall of Famers with multiple World Series titles and millions of dollars in winnings. Mortensen is an aggressive, dangerous player to this day with titles all over the world. Hellmuth is the acknowledged master of no-limit hold'em at the WSOP with a record fifteen bracelets, 57 final tables, and 136 cashes and back then, he'd happily trash talk you until you broke down in tears. Tomko is a two-time Main Event runner-up no one wanted to face. Gordon, author of five books on poker, holds two WPT titles and was one of the world's most feared players in the early days of the poker boom. Matusow boasts four WSOP titles but is as well-known for epic meltdowns and brutal table talk as he is for his brilliant moves. They don't call him "The Mouth" for nothing.
So into these bloody waters dove the retired grocer, the oldest player at the final, running on "pure adrenaline."
"I was 63 and the grandpa at the table," Stan recalls. "And I never told them I had never played a no-limit tournament before."
Prior to final table action, Hellmuth said: "I'm supposed to be the best no-limit hold'em player in the world, and now I have the chance to prove it. I'm zoned in and playing great … you'd have to be insane not to be afraid of me."
There weren't many poker professionals back in 2001, but those who made a living at it were very good. So was Stan feeling the pressure?
"I've been in business all my life, now that's pressure," he told an interviewer at the time. "This isn't pressure, this is pleasure."
Stan started out fifth in chips, and his strategy was to play it cool.
"I was patient in business and I was patient in poker. I only played a few hands," he remembers. "Mortensen had more than half the chips in play, and that changed everything. He was on my right and just eating me up alive. There were some loose players, so I just decided to play tight and watch them knock each other out one by one."
Tighty Whitey
Playing tight came naturally. "I was playing in Reno once and put in a big bet against Phil Ivey. He thought about it for a long time and then finally folded, saying: 'You're the one person at the table I won't call, Tighty Whitey.' That became my nickname for a while."
His style got noticed. At one point, Matusow exclaimed, "For Christ's sake, are you ever going to play a god-damned hand? And if you ever do, I'm going to fold!"
"They weren't too worried about me, so I was able to steal a few blinds. I was just going to play premium cards, and I didn't get many."
Remember when Moneymaker tanked forever at the 2003 Main Event, except he wasn't tanking, he just had forgotten he had a hand? Well, Stan did the same thing. "I forgot I had cards and I was just sitting there and they had to tell me I had a hand! That got a laugh, but Hellmuth was not pleased."
Stan remembers Gordon putting Hellmuth on notice that he wasn't going to take any more crap. "Gordon bluffed Phil and showed it and told him: 'You're not the only one here who knows how to play poker.' There were some words and the tournament director had to step in."
He recalls Hellmuth saying "How can you play crap like that?" to Matusow after Matusow bluffed with 7-2 and lost a lot of chips to Mortensen.
Overall, though, the table was tough but friendly. "They weren't too worried about me, so I was able to steal a few blinds. I was just going to play premium cards, and I didn't get many. I took out Steve Riehle with a flush, but mostly I was just climbing up the payout ladder, staying out of the way."
After tournament grinder John Inashema, cash-game amateur "Country" Steve Riehle, and dapper German Henry Nowakowski busted, the crowd swelled, the atmosphere became heavy, palms got clammy, and things tightened up at Binion's.
"There were five really good players left – and me," Stan says. "And it was an honor to be there. It wasn't about the money with me; after all, this was the final table at the World Series of Poker! But after a while, the money started to look pretty good too, and I really wanted to win."
Schrier Goes for History
One by one they fell. First Matusow, then Hellmuth, then Gordon. "Hellmuth looked like he couldn't believe that he had lost. He had family with him and didn't take it well."
Just three left! Stan desperately needed a double-up, but it was not to be. This was Carlos' year – that was clear from the start. Stan's final hand was Q-10 of spades against Tomko's kings. Mortensen, with a huge chip lead, would bust Tomko soon after by cracking his aces.
"I never lost my cool, just like in business," Stan recalls, but he'll never forget that while he was being interviewed following his third-place bust-out, they brought out the $1.5 million first-place cash and stacked it up on the table in full view of his tired eyes. That hurt. It was the richest prize in poker up to that time, and the richest prize in sports. The 613-player field was also a record, as was the $5.9 million prize pool.
Still, $700k was not a bad payday. That's more than $1 million in today's money.
"It helps if you have money in the bank, and there were some at the final table in awe of the money," he says. "You can't play with scared money."
Eighteen years later, he still thinks about it and is proud of his amazing run. "I learned a lot and very few get the chance to do it, make the final table at the Main Event – only nine a year."
Stan took his cash and made a dozen final tables in the ensuing year. He has 54 cashes in notable tourneys to date, plus his victories in his home poker room at the Horseshoe Casino in Council Bluffs, Iowa. (In 2011, he moved back to Omaha to be with family and is a fixture in the big tourneys at Horseshoe Council Bluffs.)
As for the WSOP, he competed in the Main Event every year until 2016, when he had health issues. Amazingly, he won a satellite for every one of them. "I believe in satellites," the still-cautious businessman says. "I don't pay full price."
This year, he'll be back. You will see him in the Super Seniors event at the Rio and if all goes well, in the Main Event too. That is if he wins a satellite. After all, as with Chris Moneymaker, that's what started it all.
John "Johnny Quads" Wenzel is the former editor of Poker Pro Magazine and the author of three books on poker. He now lives in Council Bluffs, Iowa, where he is writing novels and dealing poker. He will be competing in this summer's WSOP.