Sam Cosby Leaves Poker Media to Take a Shot at WSOP, Makes Day 4 of Millionaire Maker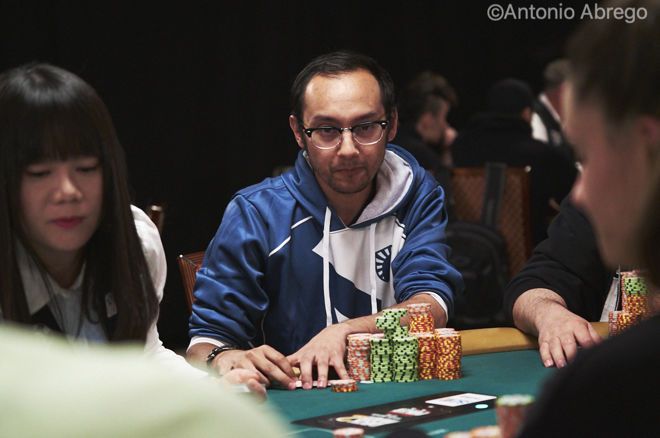 Table Of Contents
No matter what industry you're in, if you play poker, it is likely that one of your dreams is to win a bracelet at the World Series of Poker. Additionally, it is possible that part of that dream may be to play professionally one day. Not everyone is cut out for it, and some prefer the safer route of bringing in a steady income on the side while playing part-time.
For Sam Cosby, the dream is real and alive at the 50th annual WSOP.
Not only is Cosby giving poker a shot, he's already making waves as he sits on 20 big blinds with 34 players left in Event #19: $1,500 Millionaire Maker. He is guaranteed $38,499 but has his focus on over $1.3 million and a gold WSOP bracelet up top.
Other Side of the Felt
Cosby has been a staple in the poker media industry for several years now. From working for PokerNews as a live reporter during the summer months in Las Vegas, to traveling the WSOP Circuit as Media Coordinator during the rest of the year, many players have encountered this young man. Cosby's giant, goofy smile is hard to miss, and his work ethic on the ground and behind his laptop does not go unnoticed.
"I've been doing this (live reporting) for a long time, and I didn't get an offer that I felt like was fair for me this summer, so I thought maybe I could make more money if I played," Cosby told PokerNews.
"I've seen these guys play thousands of hands. I feel pretty comfortable right now. I feel pretty solid."
He may only have $23,000 in earnings to date, but Cosby has certainly been putting in the work on and off the felt. Between hitting the lab and playing tons of hands online, this former live reporter is giving the professional poker world a shot. "I've been practicing online. The last six months I've been in the lab. That's it. Just hardcore studying, grinding PIO, grinding HRC."
Just last week, Cosby played in a WSOP event with a buy-in of $5,000, which was ten times the biggest buy-in he's ever played. "At first I was nervous, but once I got settled in, I started to feel comfortable in there," explained Cosby. He went on to explain that he knew most of the players in the field, and while they may have seen him around, they've never seen him play.
"I've seen these guys play thousands of hands. I feel pretty comfortable right now. I feel pretty solid." Unfortunately, Cosby busted just shy of the money in that one, but that didn't stop him from grinding.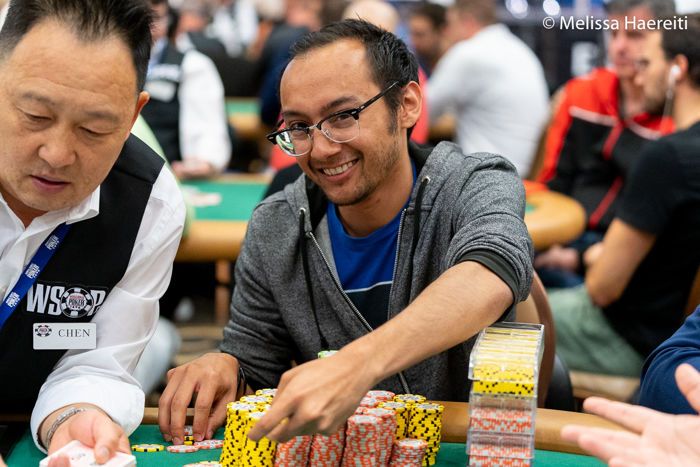 Transferring Live Reporting Skills to Playing Poker Professionally
Cosby rose to the top of the live reporting ranks, and he plans to do the same now as a player.
"I was a really good live reporter - I know I was one of the best for sure," said Cosby.
When asked how he has been able to leverage his skills as a live reporter on the other side of the felt, Cosby said he paid attention to every detail possible. "You have to pay attention to everything everyone does. I was paying attention to every detail: how this guy is moving his hands, how this guy is breathing."
"I was paying attention to every detail: how this guy is moving his hands, how this guy is breathing."
Cosby says he frequently took note of live tells and didn't realize he was always picking them up, but wasn't sure how to apply them to his game. "That's something that all reporters can do and should do," advised Cosby. "The other thing that I can tell live reporters to do that are fresh is always be getting chip counts. I know half the job is to get chip counts and half the job is to get hands. They should do both."
In talking about the progression of his game and deciding to finally try and play tournaments for a living, Cosby credits his coach. "I got a really good opportunity from somebody to get coached and to help front some of the buy-ins," he explained. "Having a coach that also fronts your buy-ins shows that he cares and wants you to learn."
Cosby admits there is a sharp learning curve in poker, but he's willing to put in the work it takes to make it.
"You have to climb, climb, climb and then you feel like you plateau, and then it gets really steep. And it's hard to learn those extra things unless you put in the time and work. I've been working really hard at this and I just feel really good about my game right now."
Sam Cosby is currently 24th out of 34 remaining players in the $1,500 Millionaire Maker with $1.3 million for the winner. Follow all of the live updates from the WSOP to see if Cosby can spin his way up to the final table.