Kevin Roster Spreads Sarcoma Awareness at WSOP, Wants to End Life on His Terms


It's easy to take everything around us for granted.
It's easy to assume the World Series of Poker (WSOP) will be upon us each year in late May. It's easy to know we will always have a game of poker available at any time of day in Las Vegas.
It's easy to think the people we see and talk to every single day will be around tomorrow, the next day, the next month even.
"I want to rob cancer of its prize."
For Kevin Roster, none of those things are givens anymore.
On May 20, Roster was told he had anywhere from a few weeks up to two months to live, just a month after his leg was amputated in April.
Initially in 2017 he was diagnosed with Sarcoma, a rare form of cancer. It started in his leg and despite having chemotherapy and surgery, the cancer spread throughout his body.
"They said to think of my life in weeks," he told PokerNews. "My doctor said he would be surprised if it was less than two months, but he'd also be surprised if it was more than four. "
Roster decided that he does not want to live his last moments in pain and suffering. "I want to rob cancer of its prize," he told WHYY.org. From the moment Roster was diagnosed, he made it clear he did not want to live a life of prolonged suffering.
"There never really was a decision. From day one I was pretty clear on what I wanted. Other people may struggle with the decision, but in my case I'm pretty decisive."
New Jersey, which is Roster's home state, was the eighth state to legalize 'death with dignity,' also known as medical aid in dying. The bill does not come into effect until August, which is not enough time for Roster.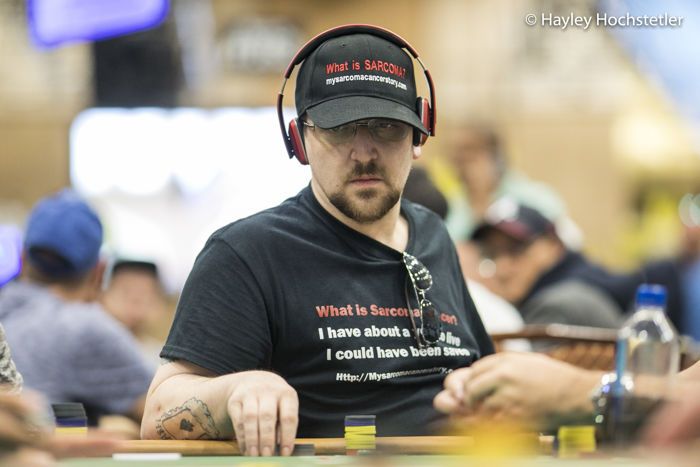 The cancer is located in a mass in the pleura next to the mediastinum, which is the chamber that houses the lungs and heart. This will either grow adjacently in the lung or puncture it, or it will attack the heart, causing instant death.
When asked how fast this cancer is deteriorating, Roster confirmed he is not sure. "Nobody can predict that right now - I'm pretty much asymptomatic and mostly fine with the exception of heavy breathing. If it travels towards my heart, I'll die instantly."
"I want to live more than anything, I just don't have any way to do it."
"I just hope to make it through the rest of the Series, and as much as I can after that, and then hold on until life really isn't pleasurable to live anymore. At that point I'll have to be faced with my decisions," said Roster. "Once I can't get out of the house, that's probably it for me."
Roster has been active on social media, and has been open to answering questions, but the long days of grinding poker have understandably taken a toll on him. "I could stay home and cry about it, but I decided to come to the World Series of Poker and live my life the way I've always lived my life, and you know have a nice run at the end."
In offering some perspective in relation to poker, Roster commented: "Taking a beating on the tables is much easier after dealing with these kinds of life issues, you know. A bad day on the tables isn't that bad comparatively. I try to tell people that, but they don't always wanna hear it when they're steaming."
Ending on a High Note at the WSOP
Roster is currently in Las Vegas playing Texas Hold'em and Omaha poker in the 2019 WSOP living out his final moments doing something he loves.
While this is certainly his dream, Roster is here for more than just himself. "I'm here to teach people what Sarcoma is and playing in different poker tournaments and talking to people - that's what I do," Roster told PokerNews.
The former professional poker player used to play 12-15 tables when he was busy with online poker, before eventually running a successful business that his wife has now taken over.
"I played on NJ poker sites before Black Friday, that was one of my primary incomes. It was a whole lifetime ago - poker was so different then," explained Roster.
"People knew a lot less, and all the different poker games are much tougher game today than when I was playing professionally. I don't consider myself to be a top-tier pro or anything like that, but I did pretty good at the time at the mid-stakes levels that I played at."
Roster was hoping to play in the WSOP $10,000 Main Event and plans to donate some of his winnings while also securing a legacy for his nine-year-old son.
Greg Merson generously reached out to Roster privately and offered to buy him into the Main Event, so it is now his hope that he will be healthy enough to live out his dream and end the series on a high note.
I reached out privately to offer Kevin a main event free roll but he made it clear that awareness for his cause is… https://t.co/lnBuasje8s

— Greg Merson (@GregMerson)
Raising Awareness
The front of Roster's shirt says 'I could have been saved,' which is part of his mission to spread awareness about Sarcoma and to get tested immediately.
"The doctors delayed my diagnosis for three or four months through ignorance and not knowing what Sarcoma was. He saw that the MRI said 'favored benign' and just went with it and told me I didn't need any testing or anything," explained Roster.
"A bad day on the tables isn't that bad comparatively. I try to tell people that, but they don't always wanna hear it when they're steaming."
He believed that if he had requested further testing, maybe he would have more time or a chance to fight. "That's how I could have been saved. You can be saved by demanding a biopsy if you have some sort of an abnormal lump in your arm or your leg. It's a two-hundred dollar procedure - we call that with ace-king preflop in these games."
When asked about offering a perspective to people that may be struggling with this choice themselves, Roster said: "It's not my place to weigh in. My opinion doesn't carry a grain of salt to the person who's in the situation."
Roster is standing firm on his own decision and is focused on spreading awareness about the disease itself.
For more information on Sarcoma, Roster has a blog and news articles available via mysarcomacancerstory.com.
Kevin Roster will be playing in the WSOP this summer. Follow along on PokerNews.com to track his progress.