Goonies Never Say Die: Former Marine Tim Adkison Makes Astoria Proud in Big 50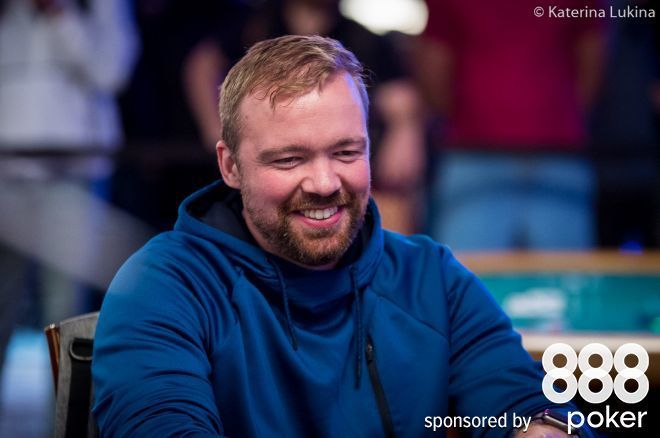 Table Of Contents
On Thursday afternoon, the 2019 World Series of Poker (WSOP) Event #3: Big 50 $500 No-Limit Hold'em – the largest tournament in poker history with 28,371 entries – went on its second 20-minute break of the day.
Just 50 players remained with 27-year-old Tim Adkison among them. For the first time in four days he was on the shorter side of things with a 14-big-blind stack, still plenty to work with. He was also to the direct left of poker pro Kevin Calenzo, so position was in his favor.
Adkison grabbed a burger from the food stand outside the famed Amazon Room and reflected on the experience.
"There's no more fish in this entire tournament, so every chip is important."
"Because of the tournament itself, it's awesome," he says referring to the record-breaking tournament. "I've played pretty deep in other tournaments but this is obviously the deepest. It's pretty tough. There's no more fish in this entire tournament, so every chip is important."
It actually marked Adkison's second attempt at the Big 50 after busting an early bullet.
"I pre-regged the first time and made it to Level 10," he explains. "I busted and got back in line for the next day. It wasn't that bad of a line as it was after midnight."
He continues: "It's actually been pretty smooth sailing. I've been at 30 big blinds pretty much the entire tournament. I'm the lowest I've ever been right now at 14 big blinds. I've been a bigger stack pretty much the entire tournament."
The Hollywood of Oregon
Adkison first learned to play poker around 12 years old, which is when his older brothers, who were swept up in the "Poker Boom," invited him to a game.
"They invited me to play as they needed someone to play with," Adkison says. "That's how I learned to play originally."
Adkison grew up in Astoria, Oregon, which might ring a bell to many Gen Xers and Millennial poker players.
"If you've ever seen The Goonies you've seen Astoria," says Adkison referring to the 1985 adventure flick that gave pop culture such memorable characters as Sloth, Chunk, Brand, Mouth, Data, and Mama Fratelli. It may be the most well-known movie to have filmed in Astoria but certainly wasn't the last.
"It's like the Hollywood of Oregon," Adkison adds. "The Ring 2 filmed there, Kindergarten Cop and some other films."
Finding His Way to Vegas
Adkison's journey has taken him away from Astoria, the oldest American settlement west of the Rocky Mountains, and to the bright lights of Las Vegas - though not without some service in between.
"I joined ROTC at Oregon State University in 2010 and I commissioned as a Second Lieutenant in the Marine Corps," he explains. "After I was commissioned I had a small wait before I went to what's called The Basic School in Quantico, Virginia. That was six months at TBS where you learn basic infantry and things like that."
From there, Adkison relocated to Twentynine Palms, California where he became a communications officer for the Marines.
"I dealt with military networks, computers, phones, anything basically that shoots communications."
"I dealt with military networks, computers, phones, anything basically that shoots communications," he shares. "I was stationed at Camp Pendleton for three years. I stayed there. I never went overseas or anything."
When he got out, Adkison traveled the 290 miles Northeast to set up shop in Las Vegas in order to attend UNLV. He's currently a student there majoring in accounting while playing poker on the side. Right now, the side gig is certainly paying off.
The top 50 players were guaranteed $22,383 in prize money, already a new career-best for Adkison. His previous best was $13,125 for finishing 28th in a 2016 Socal Poker championship $350 NLH event. All told he had $33,829 in live tournament earnings before entering the Big 50.
"I'll be playing the Millionaire Maker, the Monster Stack obviously, and a few other events," he says when asked about his summer plans. But what about the WSOP Main Event? "If I win enough I'll play it. Actually, I guess I'll play it because I just won enough to enter. I'm kind of freerolling."
Unfortunately, Adkison's run came to an end shortly after returning from the break when he was eliminated in 40th place for $27,620. For now, it's on to the next one.
Executive Editor US, PokerNews Podcast co-host & 2013 WSOP Bracelet Winner.