Nice Hand, Mr. Moss: WSOP Bracelet Winner Michael Moore Shares His Johnny Moss Story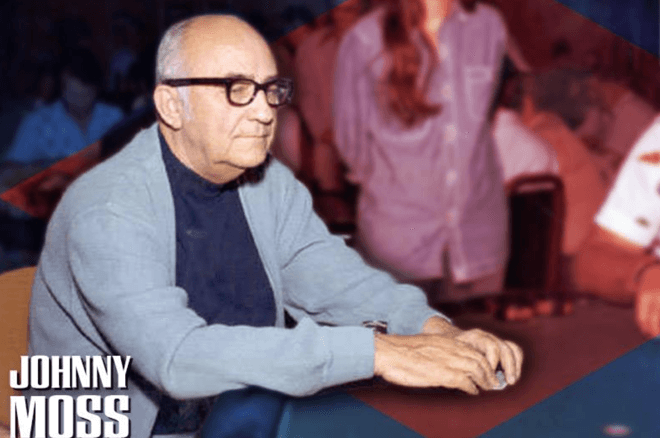 The World Series of Poker (WSOP) has been held at the Rio All-Suite Hotel & Casino since 2005, but before that, it played out at Binion's Horseshoe in downtown Las Vegas. One player who never got to experience the shift, nor what poker ultimately turned into, was the legendary Johnny Moss.
Winner of the WSOP in 1970, 1971, and 1974, Moss has been called the "Grand Old Man of Poker" and is enshrined in the Poker Hall of Fame. Even now, decades after his passing in 1995, poker veterans remember the man, including Michael Moore, who cashed his first WSOP event back in 1995.
Playing with a Legend
Moore, who is at the 50th Annual WSOP, counts Moss among the players he most respects and recently recounted his favorite Johnny Moss story to PokerNews.
A Vietnam veteran and artist working in oils since age nine, Moore explained it happened in 1995 towards the end of Moss' life at the Horseshoe when author Michael Konik was doing a story for Cigar Aficionado.
"I lost a huge pot, it was the pot of the night, and I thought at least I might get my picture in the magazine."
"They wanted some pictures of him in a game," said Moore, himself a gold bracelet winner from 2013. "So, they came over to our game and asked us if we mind if they took some pictures while Johnny Moss played in the game. Everybody was ok with it. Another thing is he looked really bad. They wheeled him in a wheelchair and he was kind of slumped over in the chair, but as soon as the lights went on he just blew up like, 'Now I'm ready to play.' That's all he did his whole life."
Moore continued: "They went around and took some pictures. Then I got pocket nines and a nine flopped with two spades. Johnny Moss and I went at each other. I mean I'm not going anywhere with a set. For him, the money meant nothing. He's freerolling for life here. He's on a flush draw and of course, the flush comes in on the river. They push this monster pot to Johnny Moss and of course, they start taking pictures and everything. We had to sign a [waiver] that we'd be ok with this.
"I lost a huge pot, it was the pot of the night, and I thought at least I might get my picture in the magazine or something right. When the magazine came out Johnny Moss is on the cover. I start thumbing through it, I find the article, I start reading it, and it says Johnny Moss makes a flush on the river to win a huge pot and the other player said, 'Nice hand, Mr. Moss.' So that's what I got out of a probably $18,000 pot. I was the 'other player.'"
In reality, the excerpt from the article, titled "The Grand Old Man of Poker," read: "He wins another pot, a huge one, with a flush. His opponents watch disconsolately as what was once their supply of chips forms a sizable heap in front of the elderly fellow with the little cap and the lizard eyes. 'Nice hand, Mr. Moss,' one of the losers says. 'Very nice.'"
While Moss passed away eight years before Chris Moneymaker changed the WSOP forever, his legacy is still felt today with his banner still hanging in the Amazon Room. Today's players may never know just how good Moss was, but perhaps Konik summed it up best in his article when he said, "To call him legendary would be a gross understatement, like calling Frank Sinatra a good singer."
You can follow the action at the World Series of Poker as poker legends compete and more legends are made.