Daniel Hachem Follows His Father's Path to a Deep WSOP Main Event Run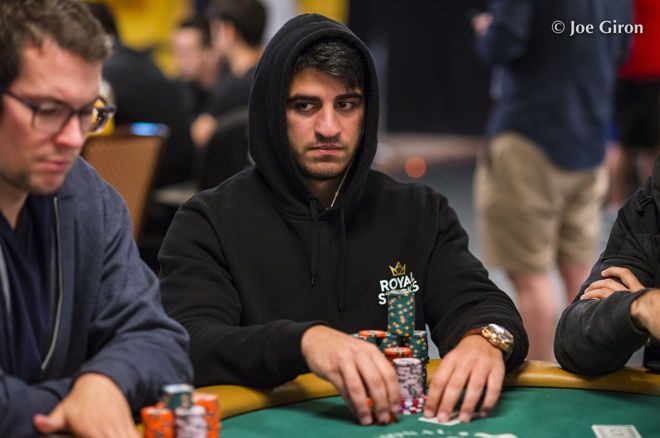 Table Of Contents
At the start of Day 6 of the WSOP Main Event, Daniel Hachem—the son of 2005 Main Event champion Joe Hachem—was among the 106 remaining entrants. The Aussie began playing poker as a ten-year-old the week after his dad's historic victory.
"As soon as he won," Daniel told PokerNews, "we came over to Vegas, and I haven't looked back since. I used to play online or with mates a couple times a week. I'm only twenty-four, but I've got like ten years of experience."
Young Hachem's Journey to Las Vegas
Although this is Daniel's first deep run in the WSOP Main Event, he's no stranger to tournament poker. His first cash was in 2013 at the WSOP Asia Pacific. In 2016, he and his dad shipped a $1,500 Heads-up Team Event in a tournament series that was called, fittingly, the Joe Hachem Poker Challenge. His first WSOP cash in Las Vegas came in the 2017 Little One for One Drop, where he finished 506th for $1,745.
Daniel had a solid Day 1, bagging 144,700 chips while Joe bagged 61,000. Son and father also survived Day 2 with workable stacks—57,000 for Joe and 262,100 for Daniel. On Day 3, after Joe was eliminated when his ace-king couldn't outdraw an opponent's aces, Daniel kept accumulating. Sitting in Amazon Orange, the enormity of the experience began to sink in.
"After every hand I kept looking up at my dad's poster, which is in that corner, and I thought to myself:'This is insane.' It's really cool."
Joe Pizza
"We talk often," Daniel said of his dad's willingness to share strategy. "It's always good to have someone close to you who you can constantly chat with—about poker hands, and that sort of stuff. He's always happy to help." Joe's biggest piece of advice? Go with your gut. If you feel you have the best hand, then go for it.
Sometimes support shows up in unexpected ways. As Day 5 continued late in the day hours after their only extended break, Joe arrived at Daniel's table with a much-appreciated gift—boxes of pepperoni pizza. Daniel popped one open and handed out slices to everyone at his table.
"Can't just bring pizza for yourself," Joe said. "Gotta bring enough for everyone."
After munching a slice of pepperoni, Daniel eliminated Dmitry Yurasov and turned towards his father. "Good pizza, dad. Thanks."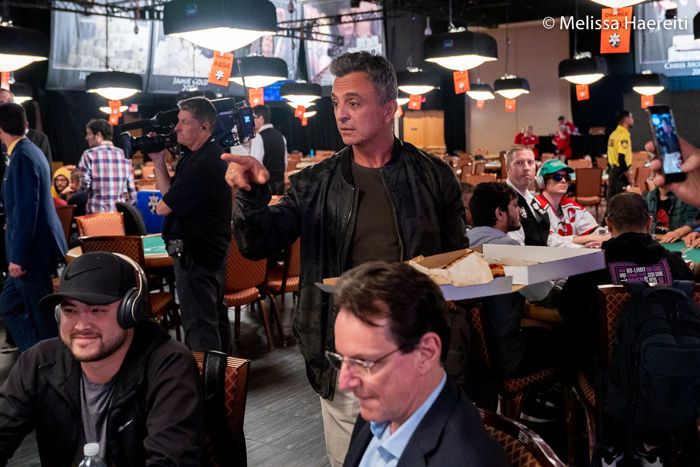 Another Hachem to the Final Table?
Although it might be normal to feel the pressure of a deep Main Event run—especially when you're the son of a Main Event champ—Daniel calmly went about his business. Part of the reason, he said, has to do with the nature of poker tournaments. "It's hard to repeat what my dad's done. And I think people understand that. I don't feel pressure, because I think most people understand that it's really, really hard to win a poker tournament. I'm relaxed."
"There's heaps of play left," he added early on Day 6. "I hope I can have a deep run and keep playing as long as I can."
"After every hand I kept looking up at my dad's poster, which is in that corner, and I thought to myself:'This is insane.'"
Hachem began the day in the middle of the pack. Between hands he chatted easily with his tablemates, comfortably ensconced within a black hoodie that matched his bushy eyebrows. As with any tournament, his chip stack fluctuated. He was caught bluffing in one hand and he eliminated Andrew Brinkley in another.
Then, shortly after being moved to an ESPN secondary feature table, he shoved about ten big blinds from the button and was called by Robert Heidorn in the small blind. Heidorn's queens were ahead of the Aussie's
, and Daniel Hachem was eliminated in 79th place for $98,120—a stellar result, even if it's not the final table that he was hoping for.
As Daniel and Joe wrap up their 2019 WSOP, one thing seems certain: for years to come, the Main Event will be a Hachem family affair.