Three Ways to Qualify For Bigger POWERFEST Events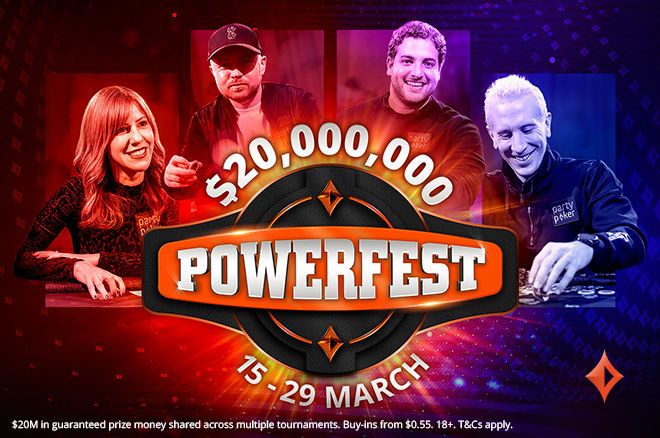 Table Of Contents
partypoker has extended its POWERFEST series meaning there are even more events for you to get your teeth into. All the guarantees are quite juicy in relation to each tournament's buy-in, but the biggest prizes are, of course, reserved for the biggest buy-in events.
You probably don't have the bankroll to play in all the high buy-in POWERFEST events, most of us mere mortals are in the same boat. Thankfully, there are plenty of ways to play your way into the larger buy-in POWERFEST events. Here are three of them.
POWERFEST Tickets Satellites
Most of the High and High Roller POWERFEST events have traditional satellites feeding into them. These direct satellites usually have a set number of tickets guaranteed.
There are $55 buy-in POWERFESRT Tickets satellites in the lobby right now that award $530 POWERFEST tickets. You'll also find $109, $215 and $530 buy-in editions that award $1,050, $2,100 and $5,200 tickets respectively.
For those of you with a more conservative bankroll, there are $5.50, $11, $22 and $33 buy-in editions of the POWERFEST tickets satellites. These award tickets to tournaments that have buy-ins approximately 10-times the satellite's buy-in.
Less than a week to the Irish Open online!
Tournament Dollars Are Your Flexible Option
Tournament dollars are available at partypoker all year round, not just during POWERFEST and other festivals. Instead of awarding specific tickets, tournament dollar satellite award tournament dollars (hence the name) that you can use to enter any tournament, SPINS, or sit-n-go in the partypoker lobby.
The tournament dollar satellites have buy-ins ranging from $1.10 to $109 and they award tournament dollars in clumps of $10 up to $1,000. If you don't use all the tournament dollars during POWERFEST, you can keep them in your account until you fancy using them for other tournaments, perhaps even to win more tournament dollars!
POWERFEST Edition SPINS, Turn $5 into $5,200
SPINS are partypoker's take on jackpot sit-n-go tournaments. These three-handed, hyper-turbo, winner-takes-all tournaments randomly select their prize pool before the first hand is dealt. Prizes are low the majority of the time, but they can and do award big prizes.
POWERFEST SPINS only cost $5 to enter but can pay out $5,200 POWERFEST tickets. They run around clock and are available on your computer or favorite mobile device, meaning you can fire some up when you're on the move.
| Multiplier | Prize | Frequency in 1M Games |
| --- | --- | --- |
| 2 | $10 cash | 651,227 |
| 3 | $15 cash | 257,202 |
| 4.4 | $22 POWERFEST ticket | 75,000 |
| 11 | $55 POWERFEST ticket | 10,000 |
| 21.8 | $109 POWERFEST ticket | 5,000 |
| 64 | $320 POWERFEST ticket | 1,000 |
| 106 | $530 POWERFEST ticket | 500 |
| 210 | $1,050 POWERFEST ticket | 50 |
| 420 | $2,100 POWERFEST ticket | 20 |
| 1,040 | $5,200 POWERFEST ticket | 1 |
Whichever way you choose to win your way into partypoker POWERFEST events, we wish you the best of luck in doing so. Here's to your alias featuring in our regular recaps of this action-packed series.
---