Poker Hall of Famer Crandell Addington Reveals Secrets from Early Days of WSOP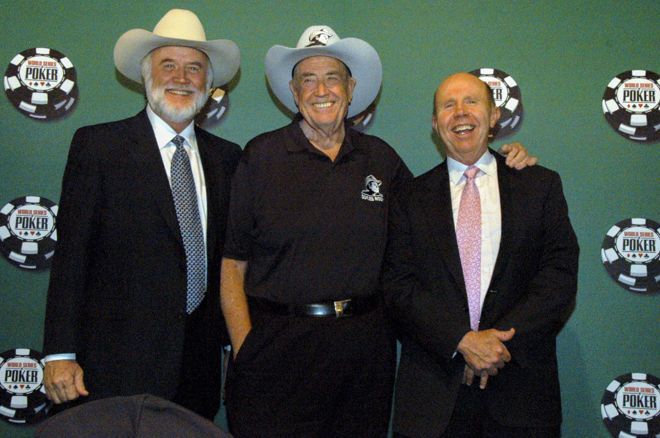 Do you know who holds the record for most World Series of Poker (WSOP) Main Event final tables? Hint: this player has been at the final table an incredible seven times.
Granted, those appearances came back in the 1970s when the WSOP was much smaller than it is today, but the explosion in poker's popularity has all but ensured Crandall Addington maintains the record in perpetuity.
The 81-year-old Addington, born June 2, 1938, was recently a guest on the PokerNews Podcast. One of the few remaining Texas road gamblers, Addington has all but disappeared from the poker landscape.
A longtime entrepreneur and oil man – he's a self-made millionaire – Addington basically retired from the game in the 1980s with his last cash coming back in 1990.
"Limit poker is a science, but no-limit is an art. In limit, you're shooting at a target. In no-limit, the target comes alive and shoots back at you."
"I haven't played in Vegas in years and years. When I retired I focused on my business enterprises," Addington told PokerNews. "I don't even play around [San Antonio] anymore, and they've got some really high-stakes games here now, which is what I like to play – cash, no-limit high stakes."
While he hasn't been in the game for decades, he made such an impact that he was inducted into the Poker Hall of Fame in 2005, which is the last time he played at the WSOP.
You might recall Addington as the player who uttered one of the most famous lines in poker history: "Limit poker is a science, but no-limit is an art. In limit, you're shooting at a target. In no-limit, the target comes alive and shoots back at you."
Here are some highlights from Addington's interview on the PokerNews Podcast.
Early Days of the WSOP
While he doesn't play anymore, Addington has fond memories of the game, including the origin of the WSOP.
"From a historical standpoint, I guess probably Doyle [Brunson] and I are the last of the Texas road gamblers still around to give you a bit of history," he said.
"The World Series of Poker was never really intended to be what it's become. Tom Moore from San Antonio, who was a friend of mine, who I moved to Reno with in 1967, he was trying to buy the Holiday Hotel & Casino downtown on the river in Reno. It was a locals casino, and the owner Newt Crumley had died in a plane crash."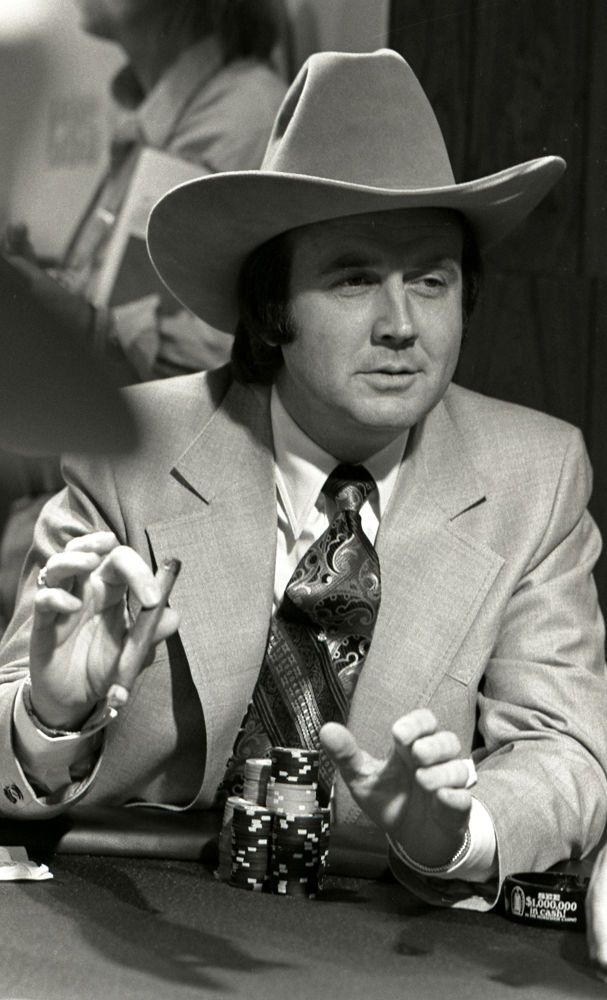 At the time, Addington wasn't married so he had no qualms heading to Reno. Unfortunately, Moore's plan to run the casino fell through as they couldn't get the license.
Even so, in 1969 Moore hosted the Texas Gamblers Convention in Reno, the precursor to the WSOP.
"It was not a tournament, it was a whole bunch of the best players and bookmakers and high rollers in the country. They got together there at the Holiday and we played all cash games in all varieties," Addington explained.
"Benny [Binion] asked him, 'Can I buy this tournament from you?' Tom called and asked me about it. I said, 'Ya, sell it to him. Benny's a great showman, he'll find a way to really promote this.' That's exactly what happened except Tom just gave it to him."
A year later, the festivities relocated to Las Vegas, but it still wasn't a poker tournament format.
Instead, participants, like Addington, competed and voted on the best player. Afterwards, Jimmy "The Greek" Snyder and a sportswriter suggested to Binion that they call the event something and play a single game, which they reasoned would help with publicity.
READ ALSO: Where Are They Now: Sam Stein Takes Game Online for Family Time
"Benny asked all his favorites, the Texas road gamblers, what do you want to play," Addington said.
"We told him we wanted to play no-limit hold'em. It was played for $5,000 instead of $10,000. I was someplace in '71, I think I might've been in Canada playing in a big game there.
"Either there or in Mexico where they played real high, so I wasn't there in '71. Anyway, it was a hit."
He continued: "The tournament was just something to showcase what we were doing there. Benny used it to get a bunch of customers for the casino, and the poker players used it to get some drop-ins, what we used to call 'seals'.
"We were 'great white sharks' waiting for seals right there, and we got a bunch of them. They lost a lot of money. Probably the most infamous of them that did was Jimmy Chagra.
"You can't imagine how much money he lost."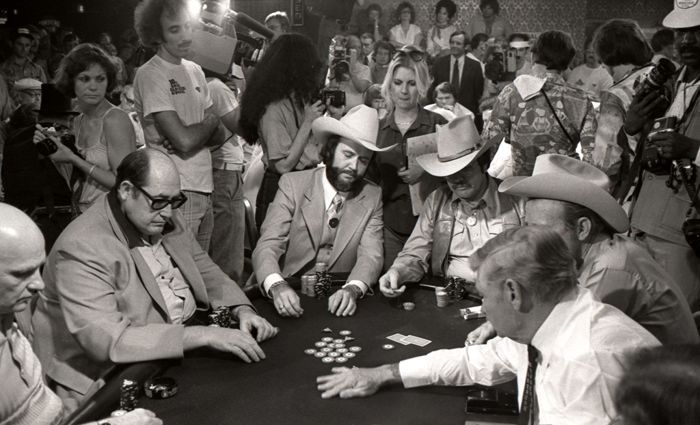 WSOP Begins to Evolve
The early years of the WSOP were played winner take all, at least on the face of things. Behind closed doors, deals were struck.
"The players voted to split the money either when you got down to three or four," Addington admitted. "I always voted for it to be winner take all.
"They'd say, 'Well you have more money than we do.' I said, 'Well, I don't know about all that, but I think we ought to do this if we're going to be representatives, winner take all."
"The players voted to split the money either when you got down to three or four. I always voted for it to be winner take all."
A good example of this, according to Addington, was in 1976 when Brunson won. Apparently, they voted to split the $220,000 prize money with four players remaining.
The deal was that each player got to keep 75% of the chip value in front of them (remember back then each chip was dollar for dollar) and they played for the other 25%.
At the time, Addington was the chip leader so secured a nice payday.
"I got to keep 75% of mine and Doyle got to pay the taxes on it," Addington laughed. After Brunson won it again in 1977, things had to change.
"In the golf world, it was said players were splitting prize money in televised events, which didn't sit well with the IRS. Laws were passed and Binion took notice.
"Benny called us in 1977 and said, 'Hey, we've got some trouble.' He said this next year in '78, he said, we're just going to have to split the money. We'll split it into five pieces … that was the first year that it was really distributed as it was represented, and I came in second that year to [Bobby] Baldwin."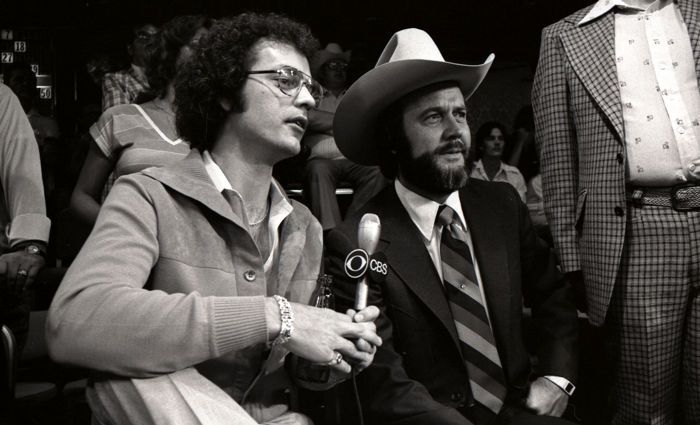 The Game Evolves Too
Addington also talked about how the game was played back in the day, and how Poker Hall of Famer Brian "Sailor" Roberts changed it.
"At the time people were relying on their hunches in card games, in particular, hold'em.
Sailor was busy working out poker strategies where you could win the money without a good poker hand.
He was probably the innovator that came along with that idea," said Addington. Then I came along with … if you can isolate one player before the flop … I said you can give him any two hole cards that you want to, other than a pair, and he won't be able to pair either one of those two cards on the flop. They said show me, so I did."
He continued: "Doyle and I at the time were the only two players of that era that had a university education.
I've done statistics so I knew how to calculate that, and that's how it 2.34:1 that you can't pair either one of those cards.
So, that set you up to win hands without a hand. You're a favorite if you just bet on the flop … we won a lot of money playing other people's hands rather than our own. That's probably why we were as successful as we were."
READ ALSO: How to Make a Deal in a Poker Tournament: ICM, Chip Chop, and More
On Getting His Nickname
Addington was known for always dressing nice when he played, and that in turn earned him the nickname "Dandy."
While some players poked fun, there was actually a reason behind it.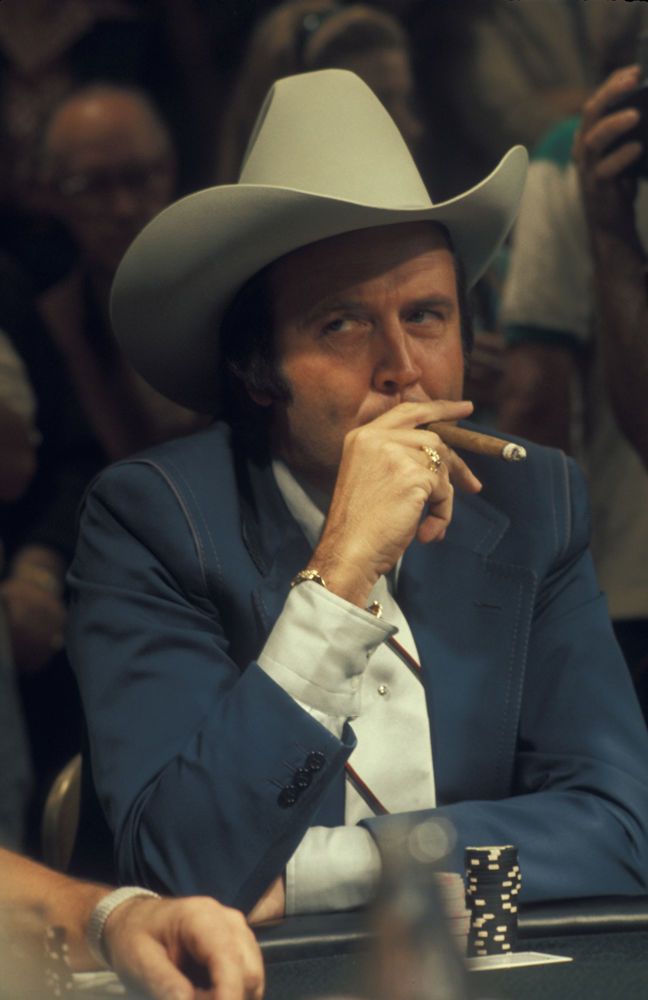 "It was a part of the discipline I wanted to project. If you don't have any discipline playing in games you'll wind up a loser. It not only reminded me to be discipline but it was part of my table image that I projected to the players."
Addington then shared a story involving Jimmy "The Greek" Snyder.
"I kept a tie on because I was wearing a suit, he got friendly with me. We were in a little cramped space in the Horseshoe and big lights were hot. He said, 'You'll come out of that tie before long Crandell.'"
Addington responded, "No I won't."
"You wanna bet?" the Greek shot back.
"Sure," Addington snapped. The Greek didn't want to bet him too much for fear of incentivizing him, so Addington proposed a simple $1 bet.
"He said that's a bet. I kept it on all through the tournament and in the end, he gave me a $1 bill with his signature on it."
READ ALSO: History of the WSOP Circuit – Global Casino Championship
Life in San Antonio
In the early 1980s, Addington headed back to Texas to focus on his businesses and leave poker in the rearview mirror.
"Benny and the Texas road gamblers were pretty much responsible for the change in attitude that society has towards poker player in particular," Addington said.
Speaking of the road gamblers, was Addington ever held up like in the tales told by Brunson and Amarillo Slim?
"I was lucky enough that I didn't get robbed. I knew a bunch of those outlaws, and from time to time I'd help them if they got broke, if they needed some money, so they never did rob me," Addington explained.
"It was mainly guys who did that for a living that was sticking up poker games, so you didn't have a bunch of crazy dope addicts running through the door where you might get shot at any minute."
As for what poker has become, Addington is delighted to see how big things have got.
"I'm pleased that it's turned into the industry that it has. The irony of it was that when we first got started, we were using the media, we used them, but now the tables have turned and the media has used all these poker players and profited greatly by it."
Nowadays, Addington is living in San Antonio, Texas where he's lived nearly all his life. An avid fly fisherman, he is also the co-founder of Phoenix Biotechnology.
"We are testing one of our drugs now against COVID-19 virus and it looks very promising," he said.
While he doesn't play poker these days, he does keep atop what's happening and still talks to Brunson, his friend of more than 50 years (Addington actually penned a chapter in Super System 2 documenting the history of the game).
"The irony of this is, I was never really a tournament player, and I never played in anybody else's tournaments," he said. "I only played in the Main Event because Benny wanted me to … A guy that's really a non-tournament player, me, winds up holding the record for the most final table appearances at the Main Event."
For more on Addington and stories from bygone eras of poker, listen to his full interview on the PokerNews Podcast below:
Early WSOP images courtesy of Ulvis Alberts and Birkenfelds Gallery. More modern photos credited to Image Masters.
Executive Editor US, PokerNews Podcast co-host & 2013 WSOP Bracelet Winner.