From the Poker Vaults: Crandell Addington, Part I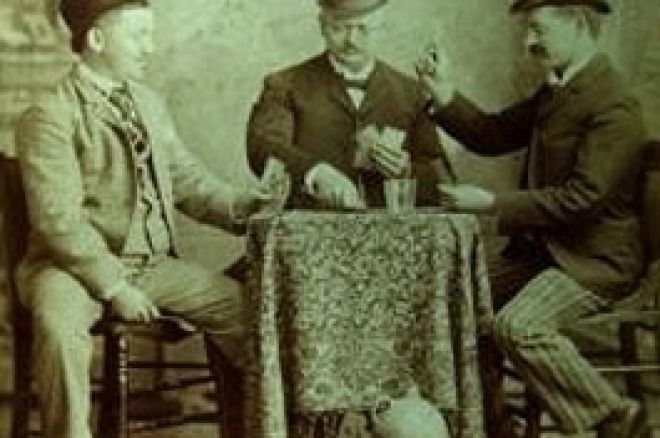 While newspapermen started writing about the World Series of Poker during its very first year, Benny Binion's tournament wasn't captured on film until 1973, when CBS News made a documentary narrated by Jimmy "The Greek" Snyder. Like the creators of today's reality shows, CBS producers hoped to make at least one of the high-stakes gamblers more relatable to the average viewer.
"Don't you have some business interests?" they asked Crandell Addington before the cameras started rolling.
"Yeah, I do," he said. "I've got some oil and gas interests and some real estate interests."
"Well, then you can be our businessman, our amateur."
Hoping the sight of one "amateur" at the table would attract many more in the future, Addington's peers encouraged him to play the role. He laughed at the absurdity of the notion but eventually relented. "Okay, I'll do it. I'll be the amateur."
Such a seemingly benign decision ended up having a tremendous impact on Addington's reputation. From that moment forward, he would always be viewed as nothing more than a wealthy businessman from San Antonio. Writers and filmmakers would spend more time discussing the way he dressed than how he played the game. They gave him the nickname "Dandy" because he liked to wear tailored suits and impeccably-knotted ties and often changed his outfit three times in a single day. Little did they know that Addington had been playing poker since high school, that he had honed his skills while traveling the state of Texas as one of its famed road gamblers, or that he was one of the best no-limit hold'em players in the world.
One of the great advantages Addington always had over his competition was that he'd discovered hold'em long before it was introduced to Las Vegas and the country at large. In 1959, while attending Southwestern University in Georgetown, Texas, he was introduced to the game by his friend Steve, whose father often played it in a home game in Robstown, Texas.
Addington immediately fell in love with the game. "It was fascinating to me, so I began to study the game a bit. It appeared to me that it was a game that provided an opportunity to play your opponents' cards more often than you played your own. I could see that the opportunity in hold'em to really exploit your opponent, particularly if you could isolate him one-on-one, was much greater than the opportunity that you had in some of these other games, particularly in the low-limit games, where generally there was more than one player in the pot against you. So I began to study the game and found I was correct in that assessment."
After graduating from college, Addington began to play the game professionally, traveling the same circuit as Johnny Moss, Doyle Brunson, "Amarillo Slim" Preston, "Sailor" Roberts, and Jack Straus. But he didn't have to go very far to play in what he estimates was "the biggest poker game in the country" at the time: Tom Moore's house in San Antonio doubled as a casino that featured craps, blackjack, roulette, and, of course, high-stakes poker.
"It was no problem to win several thousand dollars a night in that game," said Addington. "If you take the time value of money and compare it to 1963 when I first started playing in that game and compare it to today, it's about six or seven to one. That was a big game and that's where I got a hold of a large bankroll."
It was at this game in San Antonio that the idea to migrate to Nevada was hatched. In 1967, Moore bought the Holiday Hotel and Casino in Reno and asked Addington to move west with him. Addington agreed, but he ended up spending just as much time in Las Vegas, where no-limit hold'em was still a bit of a novelty. "It took those guys in Vegas a long time to go up the learning curve on hold'em, particularly no-limit, which is what I always favored," he said. "Most of them were stud and razz players."
For Addington, playing no-limit hold'em in Las Vegas in the late 1960s was like shooting fish in a barrel. Not only was he more experienced than the average player at hold'em, he was also far more skilled at playing it without limits. Years later, while being interviewed on NBC, he would make the greatest analogy about the distinction between limit and no-limit poker ever uttered.
"You're critical of these limit players," the interviewer said to him.
"No, I'm not critical of the limit players," Addington responded. "I'm critical of the game."
"Well, why is that?"
"Limit poker is a science, but no-limit is an art. In limit, you're shooting at a target. In no-limit, the target comes alive and shoots back at you."
Recently, Addington attempted to clarify exactly what he meant when he spoke those famous words. "That's essentially the difference in the two games. Not that there aren't some very skillful limit players. You know, some people disagree about my assessment there, but I always wanted to play a game where I could force a player to make one mistake and break him. He might sit solid as a rock all night long, but if I could force him to make one mistake then he might go on tilt and I could break him, whereas you can not do that playing limit poker. People are secure in the fact that they can only lose so many bets playing limit. So let me just say this: it was harder for me to take charge of a game in limit than it was in no-limit. It's a different game."
Addington's expertise served him well when the World Series of Poker adopted no-limit hold'em as the game that would decide the world championship. In this new era, it would quickly become apparent to all but the dimmest fish that this man wasn't just some "wealthy businessman from Texas," but one of the greatest no-limit hold'em players to ever play the game.
Editor's Note: Storms Reback co-wrote All In: The (Almost) Entirely True Story of the World Series of Poker, and collaborated with Sam Farha on Farha on Omaha: Expert Strategy for Beating Cash Games and Tournaments. His column on some of the bright moments in poker history appears weekly at PokerNews.com.