From the Poker Vaults: Ed 'Junior' Whited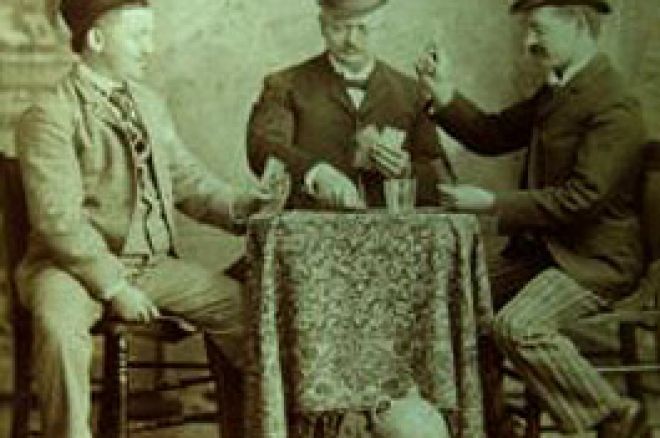 Ed "Junior" Whited came from the Walter Clyde "Puggy" Pearson school of poker. A hefty man who maintained thick sideburns and kept his hair slicked back in a pompadour, Whited looked like a character from the movie Deliverance. He didn't appear as if he could put two and two together, much less calculate pot odds, and yet at the poker table he proved to be a savant in both mathematics and psychology. Whited possessed what Crandell Addington called "the very precise, analytical reasoning of the successful high roller," and it was that ability that helped him rise to the top of the poker world, at least for a short spell, in the 1980s.
Like that of Pearson, Whited's childhood was marred by poverty and a lack of formal education. While growing up in Austin, Texas, he didn't own a pair of shoes until he was 10 years old. Was he so enamored of his first pair that he polished them every morning? Hardly. Less than a week after purchasing them, he lost them to his cousin in game of craps. A few days later, Whited and his cousin played again. This time, it was his cousin who lost his shoes as well as every stitch of clothing he had on his body. The following year, Whited enjoyed a much bigger score playing craps, winning a grocery store from his uncle, but his mother wouldn't let him keep it. "It was just a little ol' store," Whited said, shrugging off the loss.
While Pearson actually went to school until the fifth grade, Whited never set foot in a classroom his entire life. When he wasn't shooting craps, he was picking cotton or hunting small game. For a while he made a living raising fighting cocks in Mexico. An autodidact, he taught himself to read, write, add, and subtract. He was especially gifted with numbers, a talent that eventually lifted him into the ranks of the country's best gin players.
Like Stu Ungar, Whited quickly made the transition from gin to poker. His best game was no-limit hold'em, which he played just as well in a ring game as he did short-handed. He was also quite adept at switching gears, shifting from an aggressive style to a conservative one and back again whenever the situation demanded it. But perhaps his greatest strength at the table was his ability to size up his opponents.
"Poker playing isn't knowing what you have," Whited explained. "Anybody can know that. It's knowing what the other guy has. It's that, and selling your hand to make the most money. You have to analyze people. If they can be read, I'll do it sooner or later."
Whited played in the World Series of Poker throughout the 1970s, but he didn't make a name for himself on the tournament trail until Amarillo Slim's Super Bowl of Poker in 1979. In what was the most decisive moment of the tournament for him, he got tangled up in a hand with Johnny Moss, who, remarkably, was still playing at a very high level at the age of 71. Moss had
, and the flop came
, the seven a non-heart. Moss bet $11,000, and Whited, who had
, just called. The turn was the
. Moss had made his flush, but Whited now had a straight flush. Once again Moss bet, and Whited just called.
Whited waited until the river to make his move. "How much you got, Johnny?" he asked.
Moss said, "$23,000."
Whited pushed that exact amount into the pot.
"You have a flush?" Moss asked before calling.
Losing that hand eliminated Moss in seventh place. Whited went on to finish fourth, his most impressive showing at that point in his career.
Two years later, Whited entered the same event, and at the end of the first day he sat in seventh place with $16,150 in chips. From there he worked his way up to $50,000 before knocking out Tony Salinas and adding $35,000 more to his chip stack. Entering the final table, Whited held a commanding chip lead, two and a half times greater than his closest opponent. Wielding his big stack like a club, he pounded the table into submission. Heads-up against Perry Green, the fur trapper from Alaska who would finish second to Stu Ungar in the main event of the World Series three months later, Whited called Green's $37,000 all-in bet before the flop. Green's pocket threes were ahead at the start, but Whited made two pair with K-4 to win the hand and the title. The $130,000 Whited pocketed for coming in first was the biggest payday of his career.
Three months later, Whited made the final table of the $10,000 Deuce-to-Seven Draw event at the World Series of Poker, but he couldn't get past Bobby Baldwin and Stu Ungar. His third-place finish would be the closest he would ever get to winning another major tournament.