Remembering Tony Korfman (1942-2014)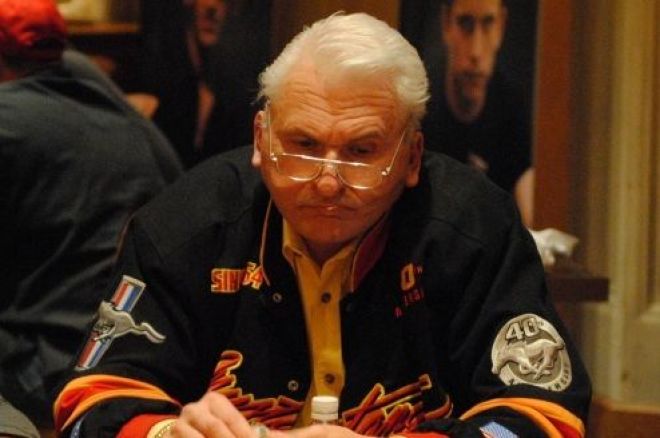 On Monday, August 18, the poker world lost one of its most colorful characters in Tony Korfman. Two weeks earlier, Korfman had underwent hip surgery and suffered life-threatening complications. He was transferred to an intensive care unit and place on a ventilator, but ultimately passed at the age of 71.
Born in the Bronx, New York on November 13, 1942, Korfman graduated from the University of San Francisco and then married his wife, Linda, in Carson City, Nevada in 1966. Korfman bounced around Nevada, but finally settled down in Boulder City where he spent the rest of his life.
"On poker's food chain, Tony Korfman was an alligator, with a mouth to match," noted poker historian Nolan Dalla told PokerNews. "He was arguably the most hysterical, shocking, vulgar, bombastic reptile of a man I've ever met inside a poker room. Once, he threatened to punch me out because of something I wrote which he didn't like. So, at least I know it was probably accurate. Later I got to know him better and reminded him of our prior altercation. He didn't remember. 'You think I can recall every time I get into a fight with someone? Hell, it's easier to remember the few quiet nights when nothing happened,' he said. Love him or loath him, Tony was what we in poker used to call... a character. You couldn't make up some of the sidesplitting stuff that happened and things he said over the years. He's irreplaceable as a poker personality."
When Korfman wasn't busy building a noted career as a general manager of some prominent casinos including Boulder City's Gold Strike, he was busy entertaining and berating people at the poker table. In his lifetime, Korfman amassed $355,320 in documented tournament winnings, which included a runner-up finish in the 2007 WSOP Seniors Event for $217,503, fourth in the 2008 Wynn Classic $1,000 No-Limit Hold'em for $18,605, and 14th in the 2010 Wynn Classic $5,000 No-Limit Hold'em for $14,671.
In addition to playing poker, Korfman also wrote a poker book titled Texas Hold'em: Tournaments, Cash Games and Embarrassing Social Gas. According to the cover, it was "Endorsed by NINJAS!" That was just Korfman's brand of humor, and his contribution to poker literature was full of it.
Here is an excerpt from Korfman's Boulder City Family Mortuary obituary:
"Tony was known as a workaholic and had a very successful career as a general manager of several casinos, including the Gold Strike and the Edgewater. He also wrote a series of popular books that are still being sold around the world. He was very generous, devoting money and time to many different local organizations. Many young people were helped by the Michelle Korfman Scholarship Foundation. To some, he was "Mr. Boulder City;" he once served as the Grand Marshal for the Boulder City Fourth of July Parade. Tony loved his community and the people of Boulder City.

"Tony cared for many people and wouldn't hesitate to give the shirt off his back to help someone. It would be hard to count the number of people Tony touched with his generosity; hardly a day would pass without someone coming up to him and thanking him for his help. At the end of the day, his one true love was enjoying time with his family, listening to music and watching basketball and football. Most of all, he enjoyed making people laugh."
Of course the poker world was saddened to learn of Korfman's passing, and condolences poured out on social media.
"Thanks for being a bright light in the world of poker. You made me smile and laugh. I love that I got a look into your 'soft side,'" said Pam Brunson. "I appreciated so much when you'd write me and I'd get to see the man behind the jokes and sarcasm. I also loved that side of you! You will be missed, Tony. May you rest in peace."
Likewise, Matt Moore echoed those sentiments: "Tony Korfman was my first Las Vegas poker rival, though he probably wouldn't have known it. He mopped the floor with me and my over-aggressive style in the Bellagio $5/$10 no-limit games four years back. It would have been easy for me to make up a reason to dislike the old man, I'd done it plenty of times before for people I couldn't seem to beat. But Tony was so damn funny and such a legitimate humorous privilege to be around, that I couldn't get enough of him even as he took my chips. While Hollywood may have lost their funniest man earlier this week, Vegas lost ours earlier this morning."
Here are some other remembrances from the poker community: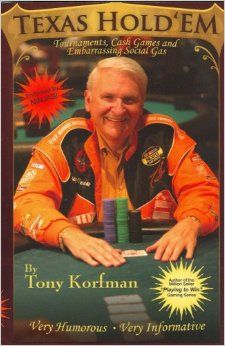 Will "Monkey" Souther: "Tony was kind of the Grandfather I wish I'd had. We had so much in common, in the ways we thought about things, and our dark, sarcastic sense of humor. He could piss off a table like no one I'd ever seen."
Chad Perry: "The world lost one of its bright stars when we lost you Tony. I always remember the times when I would come into Gold Strike as a kid and you would always take the time to talk to me, give me advice and drop a roll of quarters in my hand to play more video games with. You were always kind, friendly and there for my family whenever we would visit. You invited me to your house on multiple occasions to spend time with you and your family. Even though it is almost 30 years later, I continue to remember those days fondly as I think about them. Thank you for always being someone that I could look up to. You will be missed by all of us."
Andreas Hoivold: "I just got the sad news that Tony Korfman has passed. I remember the first time I played against him thinking he was a rude bully at the table. Soon after I realized that this man was a very nice guy with a fantastic sense of humor. You will be missed, Sir! RIP"
According to his obituary: Tony is survived by his wife of 48 years, Linda; five children: Carrie Adamson and her husband Don, Tamara Korfman, David Korfman, Tony Kerbrat and his wife Shelly, Joe Kerbrat; eight grandchildren: Tierney, Torin, Michael, Mikalina, Chase, Carson, Conner, Kendal; and two great-grandchildren, Rowen and Olivia. He is also survived by Mike Curtis and Don Melton, two who were sons in his heart. He is preceded in death by a daughter, Michelle Korfman. A celebration of life will be held on Saturday, August 23, 2014, at 2:00 pm at the Boulder Creek Golf Club, 1501 Veterans' Memorial Drive, Boulder City, Nevada, 89005.
Get all the latest PokerNews updates on your social media outlets. Follow us on Twitter and find us on both Facebook and Google+!
Executive Editor US, PokerNews Podcast co-host & 2013 WSOP Bracelet Winner.