From the Poker Vaults: Jimmy Casella
Storms Reback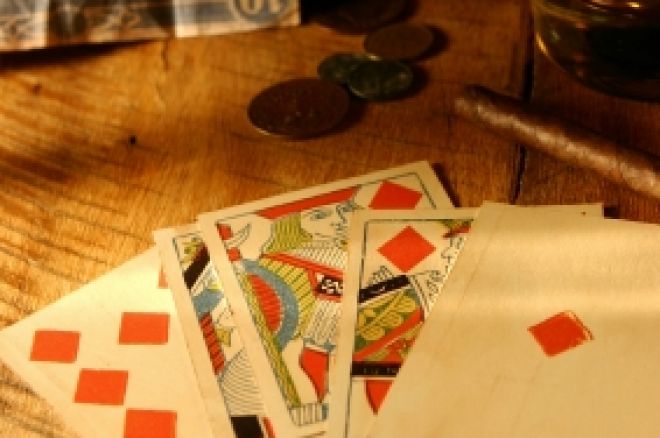 While Texans dominated the first several years of the World Series of Poker, a few outsiders did manage to work their way into the mix. One such interloper was Fiore "Jimmy" Casella, a native New Yorker whose willingness to take on the Texans at their own game—no-limit hold'em—proved to be a major component of the game's acceptance into the high-stakes poker scene in Las Vegas.
Casella moved from New York to Las Vegas in the late 1950s, and almost immediately he became a fixture in the biggest games in town. One of the characteristics that set him apart from his peers was that he was not afraid to play games that were out of his realm of expertise. He spent a considerable amount of time at the Flamingo playing hi-lo split against Puggy Pearson, Johnny Moss, and later Chip Reese, even though it wasn't his best game, and whenever a Texas road gambler wanted to spread a game of no-limit hold'em in Las Vegas in the 1960s Casella didn't back down from the challenge.
In fact, one of the very first times no-limit hold'em was successfully spread in Las Vegas at the Golden Nugget in 1967, Casella was one of the few local players who dared sit down at the same table with such hold'em experts as Crandell Addington and Doyle Brunson. It cannot be overstated how important it was to have a player like Casella be willing to learn the nuances of this new game; otherwise, hold'em might never have gained a foothold in Las Vegas, leaving the world championship to be decided by a game of seven-card stud.
Addington credits Casella's cunning with his desire to want to learn how to play no-limit hold'em. "Jimmy was a shrewd guy," he said recently. "When we first got him interested in playing hold'em and he could see that he was overmatched, he was shrewd enough to know that and he said, 'You know what, Crandell, I'm paying my tuition here, but I will learn this game.' And he did. Of all those guys in Las Vegas who were razz and stud players, I think Jimmy Casella went up the learning curve faster than any of them."
Casella's camaraderie with the Texans secured him an invitation to the Annual Gaming Fraternity Convention at Tom Moore's Holiday Hotel and Casino in 1969 as well as the first World Series of Poker at Benny Binion's Horseshoe Casino the following year. In 1971, he won one of the five tournaments played at that year's World Series, the razz event, which was only fitting because he was generally considered to be one of the best razz players in the world. "He was a good razz player and a good stud player," said Addington. "He won a lot of money. He might have been the best razz player around at the time."
Casella would go on to prove his dominance in these two forms of poker in 1974 when he won two of the six gold bracelets awarded at the World Series that year. In the $1,000 razz event he outlasted Charlie Hall, a local player, to earn $25,000. In the $10,000 seven-card stud event, Casella defeated the venerable Johnny Moss heads up, a victory that earned him $41,225.
As accomplished as he was at these games, he didn't limit himself to playing only razz and stud tournaments. At the 1973 World Series of Poker he entered the main event, which featured no-limit hold'em, and he put in a strong showing, finishing ninth out of the 13 players in the field. Among the no-limit hold'em wizards he outlasted were Doyle Brunson and Bobby Hoff and he nearly placed better than Addington, who finished just one spot in front of him in eighth place. One player whose respect he earned that year was "Amarillo Slim" Preston. "He knew more about hold'em than the rest of the 'youse guys' combined," Slim confirmed.
Casella's willingness to take on the stiffest competition no matter what the game proved to be one of the hallmarks of his career. It was this sort of toughness that his peers remember most about the man. In fact, that is the exact word both Amarillo Slim and Crandell Addington used to describe him: "tough." Beyond that, Slim greatly admires the man's ability to converse, even if Casella's New York accent sometimes hurt his ears. "He yakked about as much as I did," said Slim, "and, just like me back then, was rarely without a cigarette while he played."
Although he was the uncle of the renowned religious scholar, Dr. Francis J. Beckwith, Casella is still best known for winning three events at the World Series of Poker, a feat which puts him in rarified company. During the 40-year history of the tournament, only 32 players have won more bracelets. He would have undoubtedly gone on to win a few more if his life weren't cut short by cancer in August, 1976.