WSOP Flashback: Doyle Brunson Wins #10 (2005)
Paul McGuire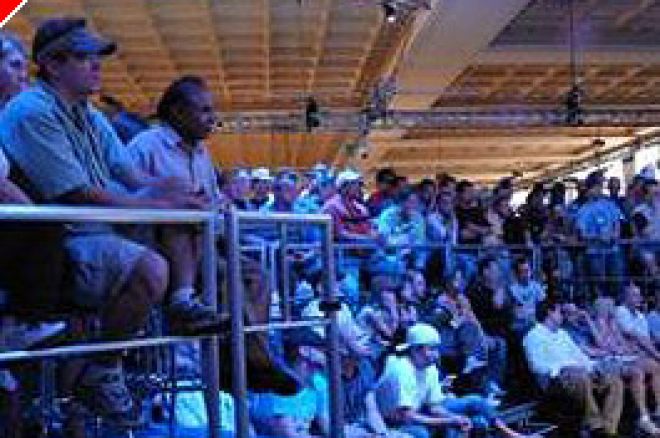 Doyle Brunson was 72 years young at the start of the 2005 World Series of Poker. Often considered the greatest poker player of all time, Brunson was still at the top of his game even though he was almost fifty years older than his twenty-something competitors who flocked to the Amazon Ballroom in the middle of the poker boom. For someone in his seventies, Brunson routinely played sessions in excess of sixteen hours, sometimes even longer, which was a testament to his mental strength and willingness to win.
At the start of the 2005 WSOP, Brunson was tied with Phil Hellmuth and Johnny Chan for most bracelets won with nine each. Who knows how many more bracelets Brunson would have won during the years he boycotted the WSOP after his good friend Jack Binion was excluded from WSOP operations in 1999.
Midway through the 2005 WSOP, Johnny Chan became the first player to win ten bracelets. That happened one day after Todd Brunson, Doyle Brunson's son, collected his first WSOP bracelet. Inspired by his son's bracelet win and spurred on by Chan's record-setting victory, the ultra-competitive Brunson set his sights on his tenth bracelet. It took less than one week before Brunson put himself in a position to tie Chan.
Brunson brought his sharpest game during the $5,000 Short-Handed No-Limit Hold'em final table. Four days after Chan won his tenth bracelet, his record was under assault for a second time. Phil Hellmuth had a shot to tie Chan when he made a final table a couple of days earlier in a PLO event, but the Poker Brat missed out. Brunson, however was determined to win his tenth.
The event had a small, yet stacked, field of 301 players. The total prize pool was $1,414,700 and action on Day 2 started with 25 players including several top pros such as Scotty Nguyen, John Juanda, Chris "Jesus" Ferguson, Men the Master Nguyen, Johnny "World" Hennigan, Layne Flack, Jason Lester, John Duthie, Minh Ly, and Kirill Gerasimov. The short-handed events featured fast-paced action because the six players at the table were forced to make more decisions and play more hands.
With nine players remaining on the final two tables, Brunson sat on top of a mountain of chips and looked like a lock for the final table of six players. Men the Master opened up for a standard pre-flop raise. Minh Ly reraised all in. Brunson paused for a minute before he called Ly's bet. Men the Master agonized over his decision for several minutes.
"If my hand hits, I win a huge pot," he said to everyone within earshot.
Scotty Nguyen wandered over from his seat at the adjacent table to survey the action. Men the Master picked up his cards and showed an ace and a king to both Scotty Nguyen and me, as I happened to be standing on the rail covering the event. Men the Master counted up all his chips and thought for a minute before he folded Big Slick face up. Ly quickly flipped over pocket queens and Doyle Brunson tabled A-J. Ly flopped a set of queens and won the pot. Doyle's stack took a big hit and he slipped to under 150,000. Despite the setback, Brunson doubled up shortly afterwards and advanced to the final table.
$5,000 Short-Handed No-Limit Hold'em Final Table including chip counts:
Seat 1: Scotty Nguyen (Las Vegas, NV) – 254,000
Seat 2: Doyle Brunson (Las Vegas, NV) – 309,000
Seat 3: Minh Ly (Temple City, CA) – 305,000
Seat 4: Layne Flack (Las Vegas, NV) – 350,000
Seat 5: Jason Lester (Miami, FL) – 119,000
Seat 6: Ayaz Mahmood (Houston, TX) – 169,000
At the time, the players at the final table had won a combined 18 bracelets and both Nguyen and Brunson were former world champions. Minh Ly was seeking his first bracelet and Ly didn't play too many tournaments since he was a regular in the "Big Game" at the Bellagio with Doyle Brunson, Chip Reese, and Barry Greenstein.
Brunson hobbled around with a bad hip and required the aid of one black crutch. He leaned the crutch up against the media table when he took his seat at the TV table. On the top of the black leather handle, the words "Texas Dolly" were stitched.
Brunson received a thunderous ovation from the crowd during the player introductions. The stands surrounding the TV table were jam-packed. Although Layne Flack held the chip lead when the final table began, Brunson was not far behind and was the odds-on favorite to win by local bookies and everyone in the media.
Jason Lester, a former Wall Street trader most known for going deep into the 2003 WSOP, was the first player eliminated from the final table. Lester lost a race with A-K against Nguyen's pocket sevens. Lester busted out in sixth place and that pot propelled Nguyen into the chip lead.
On the very next hand, Ayaz Mahmood, the Pakistan-born hotel owner from Houston, was eliminated in fifth place when his pocket queens lost to Layne Flack's pocket aces. To add insult to injury, Flack flopped an ace and made quad aces on the river. Flack won the hand and regained the chip lead. He wouldn't hold onto it for too much longer.
Brunson jumped out to the chip lead after he won a sizable pot against Flack. On a flop of K-J-8, Flack was ahead with two pair with K-J. Doyle held A-8 and bottom pair, but Doyle caught trip eights on the turn and won the pot.
During one of the breaks, Brunson and Flack stayed at the TV table and played several hands of Chinese poker. When action resumed, Scotty Nguyen continued his passive play. After he busted Lester, Nguyen hardly played a hand. He was uncharacteristically quiet as he sat back and watched Brunson and Flack battle back and forth, with Minh Ly occasionally jumping into the fracas. For over the next four hours, the chip lead changed hands several times among the final four players.
Brunson seized the chip lead after he doubled through Flack with pocket kings. Flack was left with a short stack, but fought back and doubled through Brunson on two separate hands to storm back into contention. Flack had an opportunity to regain the lead, but he caught a bad break. In a three-way pot, Brunson raised from the button, and both Ly and Flack called from the blinds. Flack moved all in on a flop of
. Brunson called and Ly folded. Flack showed K-10 and Brunson trailed with K-9. However, Brunson caught a nine on the turn for trips. Flack's hand did not improve and Brunson won the pot. A dejected Flack was eliminated in fourth place.
Doyle Brunson ran up a huge chip lead with three players to go. Nguyen didn't have too many chips remaining when moved all in with Q-J against Ly's pocket fives. Nguyen didn't catch either of his overcards and was eliminated in third place.
When heads-up play began, Brunson had almost an 800,000 chip lead over Ly. After the first half hour, with Brunson fighting back fatigue, he meticulously chipped away at Ly's stack. On the final hand, Ly limped and Brunson pushed all in. Ly quickly called with K-Q and Brunson flipped over 10-3. Although Ly thought that he finally trapped Brunson, Brunson flopped a three to take the lead. The turn and river did not help Ly, and he was eliminated in second place.
Brunson loves junk hands; they have been lucky cards for him over his lengthy career. He won both of his WSOP Main Event Championships with 10-2 offsuit, and picked up his tenth bracelet with 10-3 off suit. Behold the powers of 10-3. It did not have quite the same charm as 10-2, but it was damn close.
Brunson collected $367,800 for first place. The money was an afterthought; the tenth bracelet was what really mattered the most to him. Chan's record only stood for four days before Brunson tied him with ten. That night, Brunson demonstrated that age did not matter at the poker tables.
"It's hard to substitute for experience. And let's just face it, nobody has more experience than me. Nobody is as old as I am either," a grinning Brunson said to the crowd who hung around until 4 A.M.
Check out the [URL="https://www.pokernews.com/pacific-poker/">Pacific Poker First Deposit Bonuses[/URL] on PokerNews.com - The leading source of poker news and information.