From the Poker Vaults: Poker Players Love Golf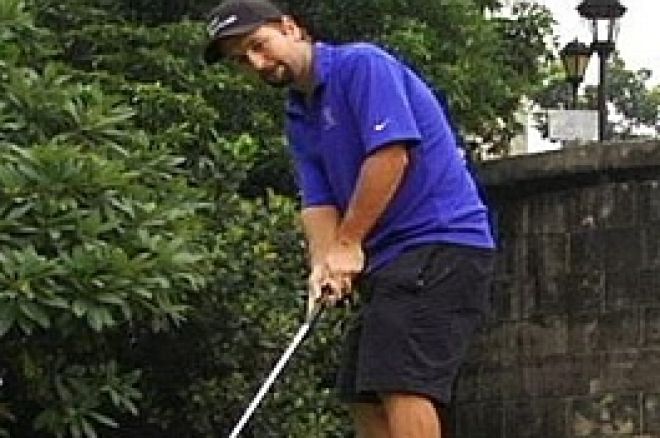 What's up with poker players and their fanatical obsession with golf? If professional golfers loved poker as much as professional poker players love golf, you'd see Tiger Woods playing hold'em on his phone in between holes at the Masters.
As with nearly everything in poker, the obsession with golf among the top pros can trace its roots to Johnny Moss. He learned how to play the game in the early 1930s and, after many hours spent on the driving range, managed to get his handicap down to eight, but the real strength of his game was his unwavering nerve. When there was money on the line and his opponents started to crack, Moss always rose to the occasion. One of the standard proposition bets he offered was allowing his opponents to start each hole from a spot on the green (albeit from a position Moss chose) while he started from the back tees. "I was so good from the fairway I always got inside of them on my approach shot," he said. "I made millions on that golf bet."
Moss's infatuation with the game passed down to the next generation of Texas road gamblers. "Sailor" Roberts and Jack Straus were avid players, but Doyle Brunson might have been the worst. While playing matches at the Las Vegas Country Club for hundreds of thousands of dollars in the 1970s, Brunson readily admitted to being "a bona fide golf degenerate." His running joke was that after publishing Super/System (originally titled How to Win $1,000,000 Playing Poker), he immediately started working on its sequel: How to Lose $1,000,000 Playing Golf.
While playing with Brunson, Roberts, and Puggy Pearson in Forth Worth one time, Jack Binion hit upon a way to capitalize on their love of the game. In 1974, he held the first Professional Gamblers Invitational (PGI), a high-stakes golf tournament that became an instant hit, thanks in large part to the accuracy of its handicapping system. "We don't bar golf hustlers from our PGI tournament," Binion explained. "Most of the guys in our tournament are golf hustlers on some scale. But I try to handicap them so if they play their regular game they've got an even match."
According to the PGI's rules, players who regularly shot over 100 were allowed to tee up their ball anywhere on the course, including sand traps. Those who shot in the 90s were allowed to move their ball in order to improve its lie. You were also allowed to stamp down the line of a putt, carry as many clubs as you wished, and apply "grease," a lubricant such as Vaseline, to the face of your clubs to decrease spin and increase distance. "Some people say the grease is psychological," said Straus. "Well, the people who say that must not have tried it. Grease puts 10 to 20 extra yards on a shot. If you happen to be playing somewhere grease is not familiar, they'll look at you funny if they catch you doing it. I told some people one time I was putting on the grease to keep my clubs from rusting. It hadn't rained there in two years."
In his heyday Straus was nearly as famous for his exploits on the golf course as he was for his accomplishments at the poker table, and he was certainly no slouch at cards, having won the world championship in 1982. One of his favorite prop bets was offering far superior golfers 6:1 odds that he couldn't beat them on at least one hole during a round. "I've never paid off on that bet in my life," he said. The most talked about golfing wager he ever made didn't even take place on the actual course. While getting ready to play at the Las Vegas Country Club in the early 1980s, he took $78,000 off Stu Ungar… on the putting green.
Fast forward a quarter of a century, and little has changed. Thanks to golf, the Big Game rarely got played during the summer of 2006. "It was kind of creepy," said Daniel Negreanu (shown playing in Macau in 2007, above). "The golf action had gotten bigger than poker. Everyone who played in the Big Game seemed to be out on the golf course."
The following summer, all eyes in the poker world remained fixed on the golf course as Erick Lindgren attempted to win a $340,000 bet that said he couldn't break 100 for four consecutive rounds at Las Vegas' Bear's Best golf course in a single day while carrying his own bags. The temperature climbed to 108 degrees and he lost 12 pounds, but he won the bet.
With so much action taking place on the golf course, it was only a matter of time before Phil Ivey got in on it. Initially, his game was uneven at best. "He's a funny guy to golf with," explained Negreanu, "because he either plays really well or really badly." Hoping to rectify that situation, Ivey hired a coach not only to help him with his swing but also to negotiate his matchups. Like Ungar, who always insisted on being allowed to tee up his ball anywhere on the course even when it was in a creek, Ivey plays by his own set of rules. One of them is that he refuses to play Nassaus (a form of golf betting where the stakes can be doubled repeatedly), preferring to gamble one hole at a time. While playing Negreanu several years ago, Ivey started hitting practice shots right in the middle of a hole, and Negreanu couldn't say a word for fear his opponent might call it a day.
In the end, this craze has very little to do with golf and everything to do with gambling. "You're not just playing for numbers on a big scoreboard," Doyle Brunson once said. "This is real money out of your pocket if you lose. I'd like to see Jack Nicklaus, sometime, with a six-foot putt that if he misses he's got to go in the clubhouse and peel off $50,000." In that situation, I'd put my money on Doyle.