10 Things You Can Do on 888poker for Just $1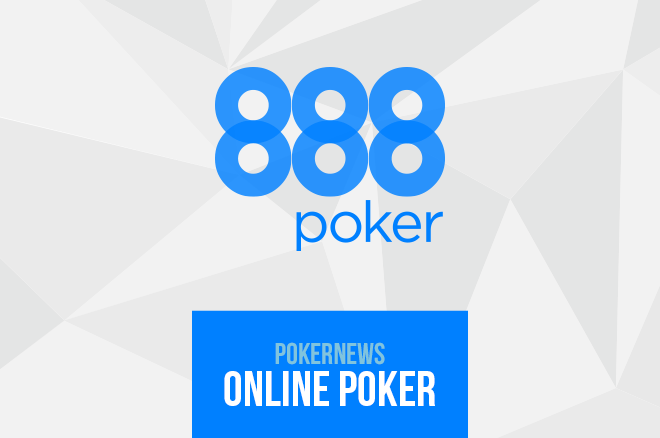 Do you want to enjoy poker but don't have a big bankroll?
Or maybe you aspire to be one of the best in the world but feel down that you don't have the money to play in the big games.
Many poker pros were in your shoes at one point or another. They started out playing the smallest stakes games which helped refine their game while growing their bankroll.
One of the best places to start playing as a small stakes player is at 888poker where many games are available for just $1.
The good news here is that you can start off for free and here's how.
Simply download 888poker through PokerNews and you will immediately be awarded an $88 bonus (£20 in the U.K.).
A total of $8 will be immediately available for you to play with with the rest coming your way after earning off some of the bonus.
Your first deposit will also be matched up to $888 in the form of a bonus for more than double that you can find on 888poker's website. This bonus money can add up and be a nice boost to your bankroll.
Read on to learn 10 ways you can play at 888poker with just $1.
1) WonderWorld
If you dreamed of playing for big money without much risk you are in luck with The $100,000 WonderWorld event boasting a huge $100,000 guarantee for just a $1 buy-in.
The tournament is a flighted event to give you a big-time poker tournament experience without needed to fork over a ton of moolah.
Players start each opening flight with 1,000 in chips and can rebuy an unlimited amount of times for another $1 during the first hour of play.
Those surviving any of the opening flights will advance to Day 2 on June 29 at 6:15 p.m. GMT where one player will become the inaugural WonderWorld champ with many others also collecting huge prizes.
Win a Share of $100,000 for $1 in the WonderWorld
2) BLAST
We mentioned playing for $100,000 for just $1. What about also trying to get a share of $1 million for just $1 playing the BLAST at 888poker?
The BLAST is 888poker's take on lottery-style sit-and-go tournaments and boasts buy-ins as high as $100.
Each tournament begins once three players are registered and then the prize pool is randomly determined before the first cards are dealt.
Unlike other lottery-style games, this one has a finite ending thanks to a countdown timer. Once the time is up, all remaining players are all in until a winner is crowned. Most of the games are winner-takes-all but more players get paid when the prize pool is bigger.
There are two different BLAST games you can play if the maximum you are willing to risk is $1.
The $1 BLAST boasts the possibility of winning a share of a whopping $1 million! Of course, you will have to get very lucky in order to play for this type of cash so it is important to do your best to win the games with the smaller prize pools while fishing for the big win.
In addition, you can choose to play in the BLAST for just $0.10 with these games offering a chance to play for a $1,000 prize pool.
Basic Guide to Beating the $1 Million BLAST Special Edition at 888poker
3) Freezout Series Feeder Tournaments
The Freezeout Series is about to begin at 888poker with 24 action-packed events featuring $665,000.
Buy-ins in this festival range from $5.50 to $109 for the $200,000 guaranteed Main Event but you can get in for much cheaper.
Not only are their satellite and feeder tournaments for various events you can find for just $1 but you can get in even cheaper with some feeder events costing just one penny!
Learn About the $665,000 Gtd. Freezeout Series
4) $2,000 Goldfish
We likely got you excited by now with three methods to win a share of six-figure or even seven-figure prize pools.
Remember, Rome wasn't built in a day and it is sometimes better to focus on games that provide a longer-term growth strategy.
Here is where The $2,000 Goldfish tournament running every day at 5 p.m. comes into play where you will be competing for a share of at least $2,000 guaranteed for just $1.
Although $1 should prove to be affordable to most of you, rest assured you can qualify into this event via satellites costing just $0.10 and can feed into those satellites for just $0.01.
Even if you can afford the $1, the satellite path may prove to be the most beneficial to your long-term growth as learning to win satellites can help you get into even bigger events down the road.
5) SHOW ME! Tournaments
Looking for something a bit more unique? Then look no further than the SHOW ME! tournaments at 888poker where the winner of each hand is obligated to show their cards to their opponents.
There will be no more guess work to whether your opponent was bluffing or not.
We recommend that you take notes during this game on certain players as you will get a better insight into how they play knowing what cards they held each time they won a hand.
Two SHOW ME! events run daily at 8:15 a.m. GMT and 10:30 a.m. GMT with $200 guaranteed prize pools. While you won't get rich playing these games they will give you a better understanding of how other players play while giving you a foundation to build your bankroll on lower variance games.
6) SNAP
While much of poker's glory is focused on poker tournaments with the chance of winning a big payday, there are many poker players proud that they built their bankroll from the ground up playing cash games.
Cash games for $1 you ask? After all, your local casino likely only offers games where $1 will not even cover the cost of the big blind.
This makes sense in a live environment since there is a bit of overhead casinos have to manage that online poker rooms such as 888poker don't need to worry about including paying dealers and rent.
SNAP games at 888poker are just one way you can buy-in for $1 with stakes at $0.01/$0.02 no-limit hold'em.
The games are fast-paced as every time you fold you are brought to a new table of players with cards already in front of you.
Learn SNAP Poker and More With 888Poker's "The Game"
7) $0.01/$0.02 Cash Games
If you prefer playing against the same players and not moving tables, you are also in luck as you can buy into the $0.01/$0.02 cash games in both no-limit hold'em and pot-limit Omaha for just $1.
You might be tempted to move up stakes if you are crushing at these buy-ins but you should consider both bankroll management and whether you have more to your poker budget than you just have online before doing so.
An Introduction to Bankroll Management
8) PKO Tournaments
Many player players love progressive knockout tournaments otherwise known as PKO.
These tournaments split the prize pool between a normal payout and a bounty on each player. When you eliminate an opponent, you will be awarded half the bounty into your 888poker cash balance with the other half being added to your own personal bounty.
These games are usually reserved for higher stakes players but at 888poker you can enter these for just $1.10. OK, this is 10 cents more than a dollar but it's close enough.
Learn About PKO Tournaments at 888poker
9) BIG FISH Tickets
The BIG Fish is a series of tournaments running six-times per day with buy-ins ranging from $5.50 to $33 and guarantees ranging from $3,000 to $15,000.
The two $5.50 buy-in events provide particular value with the early one at 2 p.m. GMT boasting a $3,000 guarantee and the later one at 6:31 p.m. GMT boasting a much larger $10,000 guarantee.
You may find that a $5.50 event fits your bankroll but that isn't what this article is about.
Instead, we recommend you try to qualify into these events with satellites costing $0.50. In other words, if you only have $1 remaining in your balance you have two chances to play for a large payday in these satellites.
The larger buy-in events also offer satellites but at a higher cost than $1. The two $16.50 buy-in events allow players to get in via satellites for $1.50 which direct qualifiers to the $33 buy-in events will set you back $3.30.
There are feeder events into all of the satellites mentioned starting at just $0.01 so the sky is the limit in what you want to shoot for.
Enjoy Six Big Fish Tournaments Every Day at 888poker
10) Major Tournament Step Satellites
Last, but not least are the Steps to Major tournaments.
The 888Live poker festivals are some of the most popular around for recreational and professional poker players alike.
Many of these players participate in the Main Event with a package or a seat by qualifying in via a direct satellite.
Others delve deeper and embark on the Steps path. The first Step costs just $0.01 and players can hop in at any step along the way if they are willing to pay the buy-in.
Climbing the various steps are not only good for the live tournament but you can also get tickets for bigger online events as well.