Learn SNAP Poker and More With 888Poker's "The Game"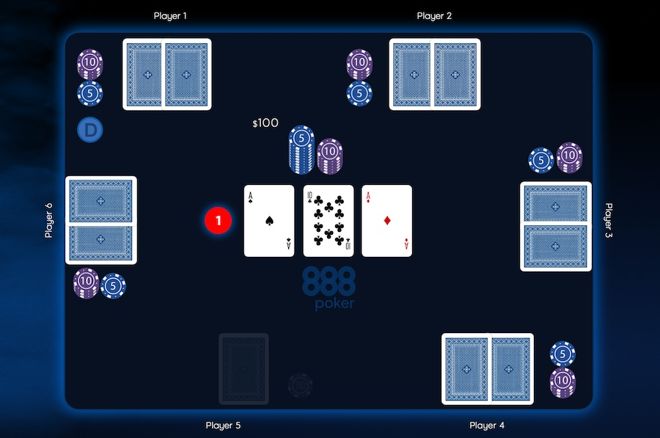 For those brand new poker, it really has never been easier to get into the game. Instead of having to go to a poker room and endure a trial by fire at the tables — and perhaps burn up some hard cash in the process — there's a wealth of information at our fingertips right here online to get started learning the rules and playing with no risk at all.
Adding further to the many resources available is a great new learning tool from 888poker, called simply "The Game." It's an interactive online program that spells out rules and game play for several different poker variants, even introducing some beginning strategy to help players get started when playing poker online or live.
Games covered in "The Game" include Texas hold'em, pot-limit Omaha, Omaha hi-lo, seven-card stud, and a "fast-fold" hold'em game found only on 888poker called SNAP.
Open up "The Game" and click around the animated interface to access an easy-to-follow presentation of rules and strategy for each variant.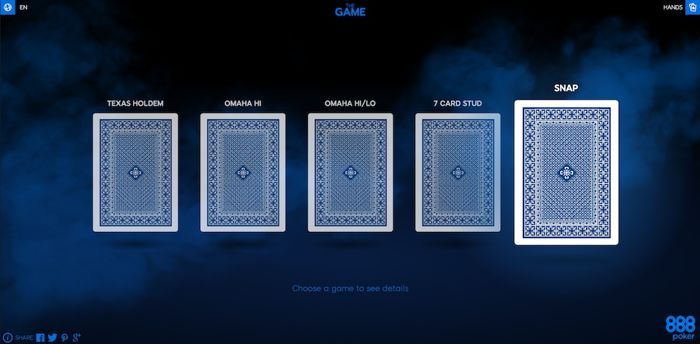 For example, clicking on "SNAP" takes you to an "Intro" section introducing the fast-fold format, followed by a short series of screens offering further explanation.
From there the program takes you to a cool, step-by-step animation that carries you through a hand of SNAP from preflop to showdown.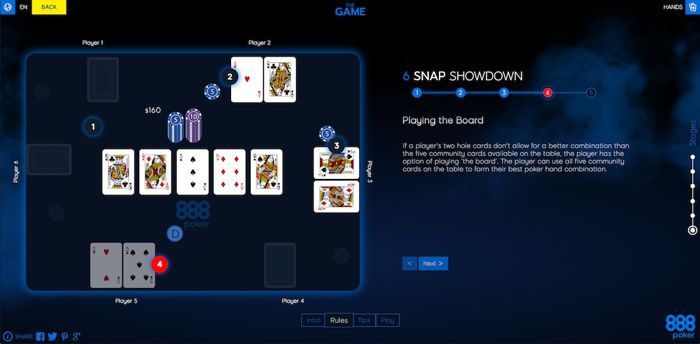 Finally, the discussion ends with a few "SNAP Tips" — some "fast-fold" strategy — to take to the tables.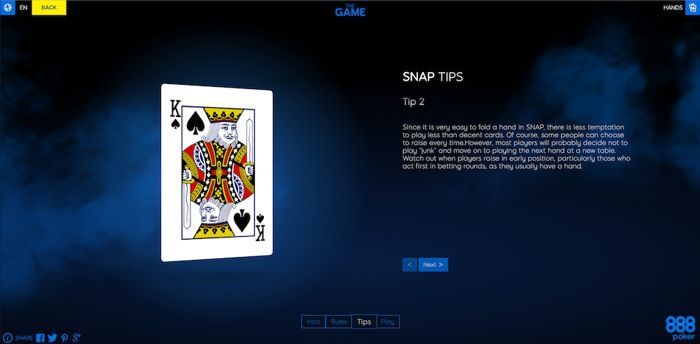 There's more to "The Game," including additional information about hand rankings and an invite to start playing right away on 888poker.
Speaking of, if you aren't already on 888poker, you can create your free 888poker account through PokerNews any time from today through March 31, 2017 using the bonus code "POKERNEWS10" and receive a free $88 bonus as soon as you sign up. Also available is a 100 percent matching bonus of up to $888 for depositors, plus another free $20 to play more real money games.
Meanwhile, for those new to poker, check out 888poker's interactive program "The Game" and get started learning how to play. It really is a snap.