fastforward Poker Strategy with PartyPoker's Jaime Staples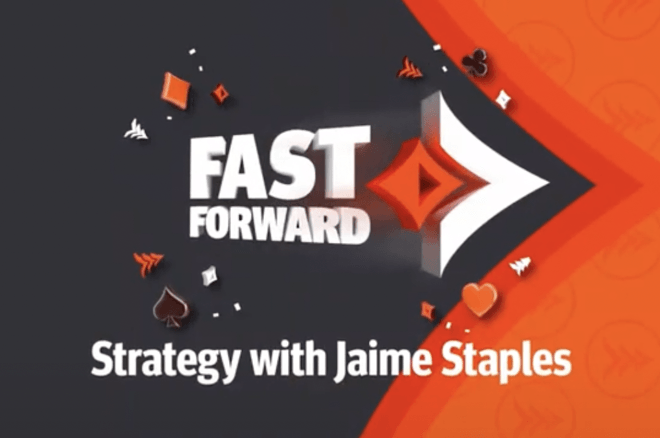 Fast Forward is one of the most popular games on PartyPoker. If you're unfamiliar with fast forward, it's like any traditional online cash game but when you fold your hand, you get moved to a new table with entirely new players and get dealt a new hand immediately. This way, you get to play a load more hands than you would if you were at a standard cash table.
And one person who knows a thing or two about fast forward cash games is PartyPoker ambassador Jaime Staples. In the video below, Staples reveals some tips about some of the differences that come along when playing this format.
Don't Be Afraid to Use the Fast Forward Button
By using the fast-forward button, you get to play so many more hands so it's something to really take advantage of.
As you get to play more hands, you get to practice more which can accelerate your learning curve. You will get a lot more opportunities playing fast forward rather than at a regular cash table, so don't be afraid to skip your bad holdings and move onto the poker hand.
The Best Five Poker Tournaments Under $5 on PartyPoker
Steal More From Late Positions
It's not a bad idea to try and try and steal the blinds more often with speculative hands when in the later positions. Opponents are more likely to fold as it's so easy to pick up another hand.
Staples notes that as opponents get to be pickier, stealing the blinds becomes a bit easier.
"It's less likely they're impatient because they haven't been dealt a [playable] hand, so they're not going to play a crappy hand because they're board," says Staples.
PartyPoker Is Your Online Poker Site for the Sunday Grind
Stick to Fundementals
If you're just starting out, you're not going to know much about the people you are playing against. You don't have any reads on any of your opponents and basically starting off with a blank canvas.
So, stick to fundamentals. It wouldn't be the wisest move to make hero reads or try to would read people as you don't have enough information yet. When you have a big enough sample on a player, where you know they'll over-bluff a specific spot, that's when you can start making some wider cools. Remember, information is key and at the beginning, you don't have enough of it.
Now Is The Perfect Time to Join PartyPoker
Thinking about joining PartyPoker? Now is the time to get off the fence and join the fun at PartyPoker. Download PartyPoker via PokerNews, create your free account, and make your first deposit safe in the knowledge that your deposit amount is matched 100% up to $600, plus you receive $30 worth of free tickets if you deposit at least $20!
Day 1: 1x $5 SPINS ticket + 1x $3.30 MTT ticket
Day 2: 2x $1 SPINS ticket + 1x $5.50 MTT ticket
Day 4: 1x $5.50 MTT ticket
Day 6: 2x $3 SPINS tickets + 1x$3.30 MTT ticket
Calum has been a part of the PokerNews team since September 2021 after working in the UK energy sector. He played his first hand of poker in 2017 and immediately fell in love with the game. Calum's proudest poker achievement is winning the only tournament he has ever played in Las Vegas, the prestigious $60 Flamingo evening event.