KellyInVegas: Your Proxy for 2020 Football Handicapping Contests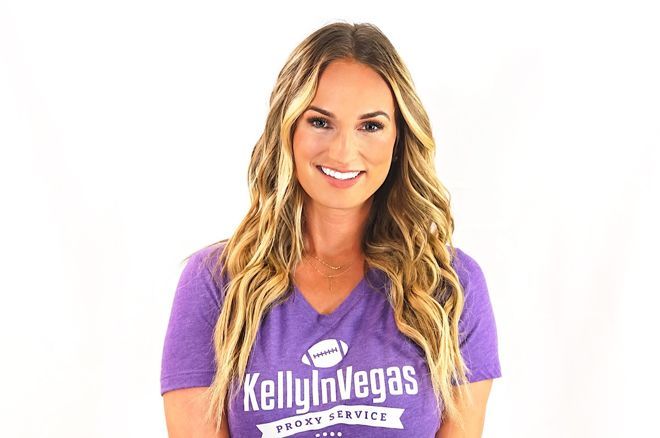 In recent years, football handicapping contests have exploded in popularity, a phenomenon not unfamiliar to poker players everywhere who know all about the incredible growth of the game following Chris Moneymaker's win at the 2003 World Series of Poker.
Just like the poker boom years, prize pools have grown hugely in these contests. The most famous and longest-running, the Westgate Las Vegas SuperContest, for example, has seen its participation increase eight-fold since its 2004 inception.
The success of the SuperContest has led to other major football handicapping contests popping up around Sin City, and each one offers its own unique take on the concept. However, the nature of the contests — being based in Las Vegas — means players located in other locales can join the fun but need a proxy after they signup in Las Vegas.
That's where a proxy service like the industry-leading KellyInVegas comes in.
What KellyInVegas Does
A proxy service simply enables a player who isn't in Las Vegas to participate in the contests. The player sends his or her picks to the proxy, who enters the picks for the player throughout the season in exchange for a fee.
Some proxies also take a cut of the prize money, but KellyInVegas differentiated themselves early on by laying out everything up front: a $250 flat fee. And customers who play multiple contests get a discount on the others, just $100 per contest.
All you have to do to get the ball rolling for the 2020 contests is schedule an appointment with KellyInVegas and then meet with them at the casino hosting your contest(s) of choice. There, a representative will help you through the sign-up process and get you log-in information so you can play the season out remotely on the KellyInVegas website and (hopefully) win millions of dollars in prize money.
That's how it worked out for the winners of both the 2019 Westgate SuperContest and the 2019 Circa Sports Million. KellyInVegas customers Eric Jensen and Matt Kucera partnered to win the SuperContest, while Isaac Meier cashed big in the Circa Million.
Oh, and if a mistake is made on your submission, you get a full refund — entry fee and proxy fee.
What Can I Win and How Can I Win With KellyInVegas?
As mentioned, KellyInVegas services four contests. Huge money is available in all of them.
The most well-known is the $1,500 Westgate SuperContest, which last year awarded $1,469,644 to the winner. In the SuperContest, contestants make selections from the full slate of NFL games, trying to pick five against the spread (ATS) winners each week. Lines are released on Wednesday and picks can be submitted until Saturday afternoon.
In addition to the massive winner's purse, seven six-figure prizes were awarded in 2019.
The new kid on the block is the $1,000 Circa Sports Million. Similar to the SuperContest, the Circa Million asks contestants to pick five NFL games ATS each week, with lines released Thursday morning and selections due Saturday afternoon.
Circa made a splash by guaranteeing $1 million for the winner last year, and that's exactly what the best entry won. This year, they've upped the stakes for $3 million in total prize money.
"KellyInVegas Proxy Service was an absolutely positive experience!" said 2019 Circa Million Winner Isaac Meier. "The signup process was seamless. Trust — I cannot emphasize the value of being able to sleep knowing that my picks were made on time and accurately. Kelly is a winner! I will only use KIV Proxy Service for any contest I ever participate in!"
And Circa is doubling their offering this year with the new $1,000 Circa Survivor. This new contest mimics popular survivor pools, with players selecting one team that they think will win each week of the NFL season plus Thanksgiving. Each team can be selected only once. Circa is guaranteeing another $1 million for the winner, and what's more, if that player should go undefeated, he or she will earn an extra $1 million.
Huge Potential 2020 Value
Those Circa guarantees represent huge potential value for the coming season. While last year's guarantee of $1 million raised some eyebrows around the industry, it was easily surpassed with 1,875 entries.
However, the 2020 season could be quite different.
Posted with the aforementioned raised guarantee, the 2020 Circa Sports Million is off to a slow start thanks to travel restrictions brought on by COVID-19. Many are reluctant to travel, and the result has been fewer than 80 sign-ups as of July 10. The Survivor had less than 25 entries at the same time.
Thousands of entries are still needed to meet these guarantees. Hook up with KellyInVegas to take your shot at these juicy, potentially overlaying prize pools. Contests that are serviced include: Westgate SuperContest, Circa Sports Million, Circa Survivor and Golden Nugget Football Showdown.
The $1,000 Golden Nugget Ultimate Football Challenge, formerly the Friday Football Showdown, is the Golden Nugget's contest format that incorporates both college and pro games. Spreads are released Wednesday, picks are due Friday night, and players pick seven games ATS each week.
Last year's winner banked $158,124.
Learn more about KellyInVegas Here