College Football: Against The Spread Picks Explained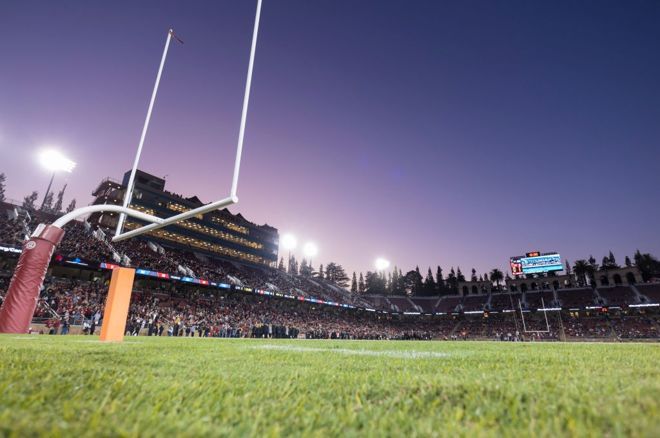 It wouldn't be an understatement to call college football a phenomenon in sports betting due to its enormous popularity and vast conferences. Division 1, for example, has 11 conferences alone, creating numerous betting opportunities during the college football months. The popularity of college football, along with its dedicated fanbase and packed-out stadiums, ensures it remains competitive with the NFL for ratings.
Among the most popular bets that college football fans like to place on the weekly match-ups are against the spread bets. In fact, the bulk of college football betting is against the spread. Let's look at what that means and how you can profit from spread betting on NCAA football.
How To Make College Football Picks Against The Spread
Against the spread betting works in a similar way to a handicap. Here's an example.
| | | |
| --- | --- | --- |
| Team | Spread | Final Score |
| UCLA | +6.5 (-110) | 30 |
| USC | -6.5 (-110) | 25 |
Here, the USC Trojans is a -6.5 underdog against the UCLA Bruins, which means that UCLA would need to win by at least seven points in order to beat the spread. A bet on USC would pay out even if they lost, as long as it is by 6 points or less. The figure in brackets is the amount you would need to bet to be $100 in profit. As UCLA failed to beat the spread, a bet on the Bruins would have failed to yield a return. A $110 bet on USC, however, would have increased your bankroll by $100.
One other aspect of spread betting is knowing which sportsbook to place your bet with. Here are a few of the more popular choices when it comes to making your college football picks against the spread.
BetMGM. When it comes to against the spread betting, BetMGM offers some nice odds compared to other sportsbooks. That's especially the case when it comes to college football. They also offer boosted odds on certain events, so it's always worth checking the "boosted bets" menu on the site when you log into your account.
FoxBet. College football is comprehensively covered at FoxBet, with a wide range of bets available, including against the spread. Like BetMGM, they also offer an Odds Boost feature to give you greater odds. In terms of bonuses, there's a free $20 bet available to new players, which doesn't even require a deposit, so that's a nice way to get started.
PointsBet. Australia's first sportsbook to offer spread betting, PointsBet has become hugely popular in the U.S. It has some nice features, too, including the ability to set a stop loss when betting against the spread. It also offers a rewards program where you can earn points just for betting that can later be redeemed for bonus bets.
Where can I find expert picks on college football?
You would have a better chance of betting on college football if you had access to handicapping experts who know what it takes to pick a team to beat the spread. Oddschecker does exactly that. When you use Oddschecker, you get the very best college football picks available, with advice from experienced experts.
Oddschecker looks at betting against the spread as an investment rather than a gamble, and here you can benefit from their honesty, hard work, and success. They've been helping people just like you to make money against the spread on college football for years. See below for their weekly expert against the spread pick.
NCAAF - LSU @ Clemson (Monday 13th January 2020)
| | |
| --- | --- |
| Game & Expert Pick | |
| Game: LSU @ Clemson | |
| Pick: LSU -5.5 @-110 | |
What are the best sites for college football picks against the spread?
The most common-sense idea for choosing the best sites would be to ask your friends or search for the ones you've seen promoted during the commercial breaks during sporting events. But looking at these sites individually can be confusing. Firstly, they make similar claims, and secondly, the most commonly known ones are not necessarily the best ones for the sport you're looking to bet on and the kind of bet you're looking to place.
The most important aspect of placing your bet is getting the best odds, and the only way of seeing all the odds side by side is to visit a comparison site like Oddschecker. While there may only be a small difference in odds offered by the various sportsboooks, they're greatly significant when it comes to making profit in the long run. Gaining an extra point against the spread can be the difference between a winning bet and a losing one. These slightly improved odds result in better payouts, of which you will notice in your bankroll over time.
Other Popular College Football Bets
Moneyline
In moneyline betting, you're tasked with predicting the winner of a game, without concerning yourself with the margin of victory. To accommodate disparities between the two teams, sportsbooks assign different odds to each team, so you're looking for a matchup where you feel confident in one of the teams winning the game, but with odds attractive enough to risk your money on.
Let's say Ohio State is playing against Penn State. In this example, Ohio State is having a great year, and Penn State is struggling, so FoxBet offers the following line.
| | | |
| --- | --- | --- |
| Team | Moneyline | Final Score |
| Ohio State | -225 | 21 |
| Penn State | +185 | 14 |
The system revolves around multiples of $100. A positive number indicates your potential profit on a $100 wager, and a negative number indicates the bet amount you'd have to place to be $100 in profit. Here, the -225 next to Ohio State means you'd have to bet $225 to give you a profit of $100. As Ohio State won in this example, you'd have walked away from the bet with an extra $100 in your sportsbook account.
Parlay bets
A parlay bet is a wager that combines bets on multiple games, either on the moneyline or against the spread. This gives you much higher odds, leading to a larger payout.
An example of a parlay bet would be if you want to bet on a favorite team, but where the odds are too short to make it an attractive bet on its own. If you parlay that bet with at least one other, however- even another game with a heavy favorite- you've made the bet a more interesting one with greater profit potential.
FAQ
Can the point spread change?
A number of factors can influence a change of spread, including injuries and the bets coming in for either of the two teams. The change can either be an advantage or disadvantage to the bettor.
I've heard the term "Pick'em" in relation to point spreads. What does it mean?
Pick'em (or PK) indicates that a game is so evenly matched that no favorite has been announced. In this case, whichever team you bet on against the spread just needs to win the game, with the margin of victory deemed irrelevant.
What is ATS win percentage?
This is how often a particular team covers the spread. A "push", which means that the favorite won by exactly the number of points predicted, isn't regarded as a loss, and isn't accounted for in the win total.
Oddschecker provides an odds comparison service so you can see all the odds, offers, and promotions from every single sportsbook in one place. They also provide free picks and analysis across every single sport. This means that at Oddschecker, you will always be able to see the best NFL odds and picks the market has to offer.
All odds correct and available at oddschecker.com/us at the time of publishing. Odds and offers available in New Jersey only. 21+