Sports Betting Terminology: Prop Bets Explained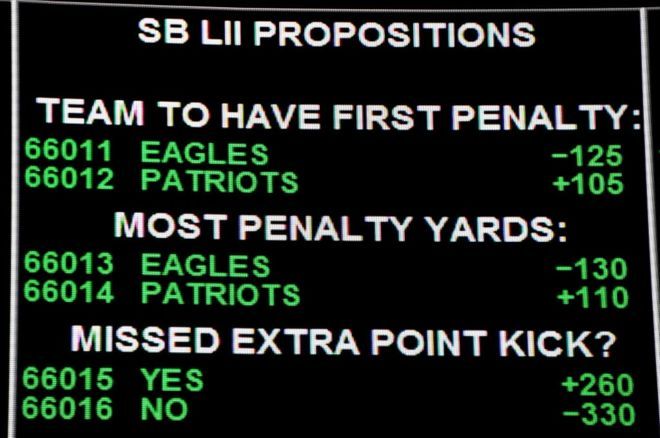 Prop bets are a great way to add even more excitement to sports betting. Entertainment value has always been a big selling point with prop bets. However, many people are surprised at the amount of profit potential they have, especially when it comes to a long-term sports betting strategy.
Sports bettors who win with prop betting have the ability to differentiate between entrainment bets and skilled bets for profit. Here, we're going to look at the latter, along with the different kinds of prop bets available, and where you can get started with a risk-free bet.
What are prop bets?
Prop bets allow you to place a wager on events that occur within an individual game or entire season. These bets aren't concerned with the overall result, as spread betting and the money line take care of that. Instead, you're looking to bet on statistics, individual performances, or lighthearted propositions that aren't even related to the game, e.g. "will the announcer tell us where he went for dinner last night?".
Individual sportsbooks offer different prop bets with regards to what you can bet on. Having said that, there are a number of standard bets that are always available. Prop bets like whether the star player will score a touchdown/point, etc., or who will score first, are almost unanimous across all sportsbooks.
Prop bets and odds
Because there are so many different kinds of prop bets, there isn't really one standard way of presenting the odds. However, one thing always remains true in a prop bet, and that's that they are usually an "a vs b" or "yes or no" proposition. So the line is always easy to understand. For example, there might be a proposition bet on how many touchdowns Tom Brady will throw for in the AFC Championship Game. The sportsbook will either leave it as a "yes or no" outcome or set a total. It might look like the following.
Tom Brady Total TD Passes In AFC Championship Game:
Over 1.5 (-105)
Under 1.5 (-120)
The prop bet could be even simpler, such as "will Tom Brady score a touchdown in the AFC Championship game?" In this case, you would choose "yes" or "no".
Here's another example, this time from an MLB game.
| | | |
| --- | --- | --- |
| | New York Mets vs New York Yankees | Team winning after first inning: |
| 10:05 PM | 447 New York Mets | +110 |
| | 448 New York Yankees | -140 |
Whether you win this prop bet or not depends more on your knowledge of baseball rather than luck. Of course, these odds suggest that the Yankees are the far better team in the first innings. However, there may be other reasons for the sportsbook making them the favorite, like the fact that they're playing at home, or have a better overall record. By studying other factors, such as form, you may decide that the odds offered for the Mets are worth a bet.
Types of prop bets
There's a wide variety of prop bets available on almost any sporting event at sportsbooks like FanDuel and FoxBet. Here are some of the most common prop bets you can expect to find.
Futures Bets: As the name implies, these are wagers on future occurrences. Examples of futures bets include "who will be named game MVP?", "who will score the most home runs?", and "which team will win the NBA championship?".
Will it occur?: This is a simple "yes or no" proposition. Examples include "will the Bills score a touchdown in the fourth quarter?", "will Phillip Rivers score more than two touchdown passes?", and "will the Atlanta Braves score three or more home runs?".
First on the Team: This one is also self-explanatory. You're making a prediction on who will do something first? Examples include "who will catch the first pass?", and "who will sack the quarterback first?".
Timing Wagers: Some prop bets are based on a set period of time to complete the wager. For example, "how many minutes will have gone by scored the first touchdown?", or "how long will the National Anthem last?".
Individual Performances: Here, the bet is on the performance of a particular athlete. A sportsbook might offer prop bets such as "who will be the game's leading rusher?" and "who will have the most receiving yards?".
Team Point Totals: This type of prop bet is based on the margin of victory or total points scores. Variations of this include the total number of points scored by a team in the third quarter and the exact margin of victory.
How can I get a free prop bet?
While almost all sportsbooks offer prop bets, and many offer free bets for new customers, Oddschecker recommends FanDuel and BetMGM. Not only are these two of the most reputable sportsbooks in the industry, but they also make it really easy to get started, thanks to their generous welcome offers. When you make your first bet with FanDuel, they have you covered by refunding your first bet up to $500 if you lose. So it's 100% risk-free. They will credit your account so you can place more bets, making prop betting even more fun. BetMGM makes the same offer and also has a nice range of prop bets available, so you might want to look at both FanDuel and BetMGM to find the right prop bets for you.
Oddschecker provides an odds comparison service so you can see all the odds, offers, and promotions from every single sportsbook in one place. They also provide free picks and analysis across every single sport. This means that at Oddschecker, you will always be able to see the best NFL odds and picks the market has to offer.
Offers available in New Jersey only. 21+
FAQ
What can I make a prop bet on?
There's are no limits as what prop bets can entail. You can bet on anything from the coin toss in an NFL game to the last player to score a touchdown. Check in with your favored sportsbook regularly to find out what prop bets are available.
How are prop bets paid out?
Prop bets are paid just like any other bet. Typically, each side of a prop bet has an equal payout in order to encourage betting on both sides.
Where did prop bets come from?
Prop bets initially became popular as a reaction to the excitement of the Super Bowl, with the first touchdown scored being among the first prop bets offered. The popularity of prop bets continues to grow, as most sportsbooks offer these kinds of bets for NFL games, as well as the NBA, MLB & NHL.