Sports Betting for Beginners: What Is Over/Under?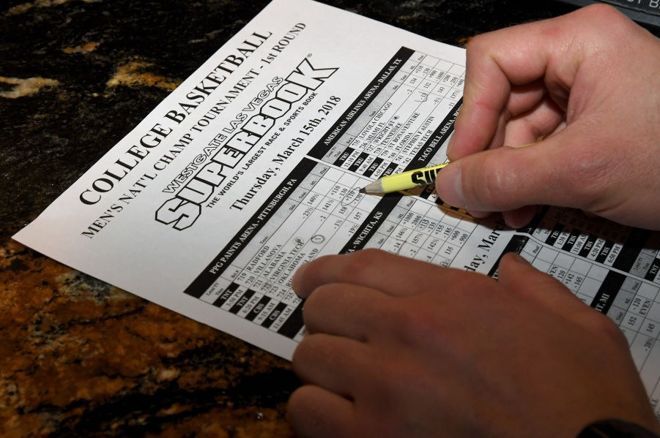 In an over/under bet, who wins a specific game is completely irrelevant.
When you place an over/under bet, you predict that the total amounts of points scored will be over or under a certain number.
Anything that can be counted during a sports game is eligible for an over/under bet.
When most sports fans start betting on their favorite sports, they tend to gravitate towards the moneyline market.
That's because the moneyline bet provides the most straightforward option when it comes to predicting the winner at the end of a game.
This is perfectly fine for a complete beginner.
But there are other markets out there to expand your betting options. One of the most popular markets is the over/under market.
What Is Over/Under?
Over/under betting is also known as totals betting.
Along with the moneyline, it is one of the most popular and easiest bets to make.
Pair this with the fact over/under bets are available for the majority of professional sports — and you will see why over/under betting in so popular these days.
In the majority of cases, when you place an over/under bet, you're predicting whether the combined number of points scored will be over or under a certain number set by the sportsbook.
Who wins and who loses the game is irrelevant.
The only thing that counts in an over/under bet is how many points are scored.
You can bet on the over/under of points/runs/goals in most sports games.
But that's not all.
In golf, for example, you can bet on the number of eagles during a specific round of a tournament, or even on a particular hole.
Anything that can be counted during a sports game is eligible for an over/under bet.
With this kind of bet, you can cheer for both teams to score a lot of points or root for a defensive battle. It depends on whether you have bet on the Over or the Under.
How Do the Odds Work with the Over/Under Bets?
Prior to the start of a game, there's typically a -110 bet available to bet Over or Under the total number of points scored.
If you bet $110, your stand to profit by $100.
If one side of the line attracts far more money than the other, the sportsbook might change the line. As some point, however, the total will be reset and the line will return to -110.
Let's look at an example:
| Team | Odds |
| --- | --- |
| Denver | +320 |
| Cleveland | -450 |
Let's say the over/under for this game opened at 48.
If you bet on the Over, you need a minimum of 48 points scored. Any points total below that would be a winner for those who bet on the Under.
As is the case with other kinds of sports bets, bettings options for over/under have expanded.
If you want to place an over/under bet, you are no longer restricted to the combined points at the end of a game.
You can now also bet over/under on combined points at the end of a quarter of half.
When an Over/Under Number Is Exact (The 'Push')
Generally, total betting lines are numbers that end with half a point. However, in some cases, sportsbooks set the line at a whole number.
If the combined number of points at the end of the game is the same as the line set by the sportsbook you placed your bet with, it's known as a 'push'.
In this case, your stake would be refunded. You have essentially tied with the sportsbook, so nobody should be paid on the bet.
Let's take the following example:
| | |
| --- | --- |
| Team | Result |
| San Francisco | 21 |
| Philadelphia | 14 |
If the over/under was set at 35, and the game ended at 21-14, that would be a push.
So no matter which side of the line you bet on, your stake would be returned to you.
Some bettors like to bet on lines with a whole number, as it gives them an extra safety net to avoid losing their stake entirely.
How to Get a Free Over/Under Bet
One particular sportsbook that we often recommend to bettors who want to try over/under bets is SugarHouse.
They're one of the first integrated sportsbooks of its kind outside of Vegas, and have a welcome offer for new bettors that makes betting your first over/under even more attractive.
When you make your first bet, they will match you dollar for dollar up to $250, which means that you have the potential of winning twice the amount you would from a standard bet.
To know more about this offer and get your free over/under bet, check out this page.
FoxBet is another sportsbook we recommend.
Known for its legendary FOX Sports Super 6 game, this sportsbook offers a two-tier welcome bonus.
First, you get $20 instantly credited to your account when you sign up (via this page), and then a 100% match bonus up to $100 when you make your first deposit.
It's a great way to get started with one of the most reputable sportsbooks in the industry and try betting over/under for the first time.
Click here to claim a free $20 bet on Fox Bet.
Over/Under Betting FAQ
Is an over/under bet suitable for beginners? Yes, an over/under is one of the simplest bets to make, especially if you have knowledge of a particular sport. In fact, it's a good idea to gain some experience of betting markets like over/under before you take on more advanced betting, such as permutation wagers and parlays.
How much should I bet on an over/under bet?

This depends on a number of factors. You should take into account the size of your bankroll, your knowledge of the particular sport in question, and your risk aversion.

If you don't yet have a bankroll management plan in place, you should make one as soon as you can. This will help you work out the exact percentage of your bankroll you feel comfortable risking.
What happens if the game goes to overtime?

It isn't uncommon for a sports match to go to overtime. This could be for one or more of a number of reasons, including:

Tied game
Stoppages
Injuries

When overtime occurs, however, it has no impact on your over/under bet. As far as your bet is concerned, the total number of points includes overtime.

Therefore, if you think that a game you're planning to place an over/under bet on has the potential to go to overtime, you should take that into account before placing your bet.
---
Oddschecker.com provides an odds comparison service so you can see all the odds, offers, and promotions from every single sportsbook in one place.
They also provide free picks and analysis across every single sport. This means that at Oddschecker, you will always be able to see the best NFL odds and picks the market has to offer.
All odds correct and available at oddschecker.com/us at the time of publishing. Odds and offers available in New Jersey only. 21+