How to Play FOX Super 6 and Win up to $250,000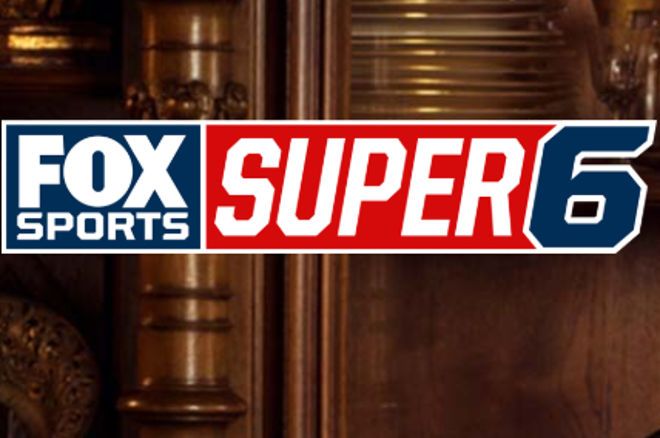 This is a complete guide to FOX Super 6 in 2020.
In this new guide, you'll learn:
What is FOX Sports Super 6
How to Play Fox Super 6
How much can you win from FOX Super 6
Lots more
In fact, you also find all the right links to get the FOX Super 6 app on iOS and Android and get your shot at a (massive) weekly cash prize for free.
Let's get started.
What is FOX Sports Super 6?
FOX Sports and FOX Bet have teamed up to create a nationwide, app-based game that cost you nothing, yet holds the potential to earn you up to $250,000 in cash.
Folks who enjoy sports and playing the odds will thrive in this game as it combines the tension of athletics with the thrill of experiencing a winning pick.
If you're looking for a primer on FOX Super 6, you've come to the right place.
Read on to learn more about how this innovative game works as well as where you can play FOX Super 6 every weekend during the appropriate sports seasons.
How does FOX Super 6 Work?
At its core, FOX Super 6 is an app-based game that allows players to make predictions on a variety of factors relating to major upcoming sports matchups.
These include:
The winner
The margin of victory
The point totals
And more.
As the game's name suggests, the goal is to make near-perfect predictions on all six listed matchups,
Whenever you do that, you win a slice of the larger jackpot.
How to play FOX Sports Super 6?
Getting started with Fox Super 6 couldn't be easier. Since this is a free-to-play game, you don't need to do much to play Super 6 and get your chance at a share of the cash on tap.
Here's how to join the game:
The Super 6 app is available for Android and on iOS (iPhone / iPad). The Super 6 apps are available on Google Play and Apple's AppStore, respectively.
After that, it's game on!
As soon as the week's professional and collegiate football games roll around, open the app and lock in all of your predictions before kickoff.
Presently, FOX Super 6 provides three distinct game modes:
Thursday Night Football
College football Saturday
NFL Sunday football
Each of these game modes has slightly different rules. To know more about them — download the Super 6 app here and find all the details.
How Much Can I Win from FOX Sports Super 6?
While it's fun to pick some predictions and play for bragging rights — Fox Super 6 would not be as popular as it is today if it didn't give you exactly what you want:
A big cash prize.
Most folks have been drawn into FOX Super 6 based upon its potential grand prize's value alone.
That should come as no surprise because winners in this prediction app all take home a share of $250,000 every week!
If you have been looking for a way to make winter months exciting and keep you interested in sports — how does this sound?
You open the app, take your picks, and you are in for a $250,000 grand prize. And if you don't win — you rinse and repeat a week later.
How Much Does FOX Super 6 Cost - Really?
With such a grand prize and simple gameplay mechanic, you might expect FOX Sports Super 6 to be expensive.
Or to come with a membership, at least.
s it turns out, FOX Sports Super 6 is entirely free-to-play (F2P.) You just register on this page, download the Super 6 app on your Android or iOS device, and play.
Where Can You Play FOX Super 6?
Unlike many similar prediction games, which require you to use a desktop browser, FOX Super 6 sets itself apart by giving you an unmatched level of flexibility and access.
That's because FOX Super 6 is entirely app-based, allowing you to log in and make your weekly predictions no matter where you are.
Many folks like to log into the FOX Super 6 and lock in their predictions while determining their weekly fantasy lineup.
Some may even choose to log in for a quick prediction system during their lunch break at work (we won't tell your boss!).
Regardless of your day-to-day schedule, you'll certainly find time to jump onto the app at least once a week.
If you win, those might turn out to be the best spent five minutes of the year!
Rating the FOX Super 6 App
Since it became available on Google Play / the AppStore, the FOX Sports Super 6 app has received rave reviews from all users.
As of the time of writing, for example, its rating on the AppStore is a stunning 4.8 out of 5 stars.
That's out of a whopping 21,000 reviews, so you can certainly tell that the app is both reliable and user-friendly.
Even if a bug or two crops up, FOX has done an excellent job at providing regular updates during the app's most active season.
How to download the FOX Super 6 App
Downloading the app shouldn't be any trouble at all, as long as you have experience downloading apps onto your mobile device.
Important Notice: Register before you download the app.
You need an account at Fox Bet to use the app, so visit this page before you download anything.
Once your free account is active, follow the instructions below:
Fox Super 6 iOS App
To download FOX Super 6 onto your iPhone or other iOS (Apple) device:
Launch the App Store
Type in "FOX Super 6"
Download the free app
Fox Super 6 Android App
To download FOX Super 6 on your Android device:
Launch the Play Store app
Type in "FOX Super 6"
Download the free app
Fox Super 6 FAQ
How old do I need to be to play Fox Sports Super 6?

You must be at least 18 years of age to play the Fox Sports Super 6 game.
Who can play Fox Sports Super 6?

The service is available to all US residents, excluding legal residents of the state of Washington. Employees of Fox Sports Super 6 and its affiliates are not eligible to win prizes on the app.
Where should I register to play Super 6?

Super 6 is a free-to-play game run in cooperation with Fox Bet, so you need a Fox Bet account to play. You can open a free one on this page.
How to download the Fox Super 6 app?

You find the official Fox Sports Super 6 apps on Google Play and the AppStore. Follow these instructions to register a free Super 6 account and download the right app to play.
---
The PokerNews guide to Fox Sports Super Six was first published on September 20, 2019. Last update: January 2020.