Fedor Kruse Accused of Using Solver to Cheat in High-Stakes Cash Games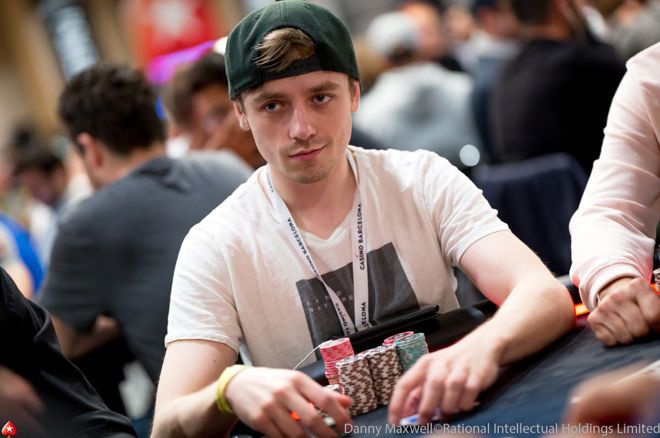 A fairly high-profile online poker player stands accused of cheating in high-stakes cash games, with his former roommates providing damning evidence in a TwoPlusTwo post from Sunday.
According to the roommates, Fedor Kruse used a two-computer setup designed to fool mouse-tracking systems. With it, he played poker on one computer while keep a solver open on the other. When playing a hand, he'd quickly pull out an applicable pre-solved spot and follow the decision tree therein to consistently make game-theory optimal decisions.
Known as real-time assistance (RTA), usage of such solvers during play is strictly forbidden at online poker sites.
Evidence Presented in TwoPlusTwo Post
To support their accusation, Kruse's former roommates, who identified themselves as "Manuel" and "Niklas," posted several screenshots of their conversations with Kruse, as well as photos of his setup.
The photos show three monitors set up at a grind station. One of the monitors has four tables of online poker open, three on Natural8 and one on America's Cardroom. The only active hand is on the latter, and a side monitor shows a solver in use with the river dealt out. There's no way of identifying the player in action.
As for the screenshots, they're a little more clear. The first shows a WhatsApp message. In it, a person alleged to be Kruse — "YoUtUbE sTaR" — sends a hand history in which he calls down with two pair on a four-flush board against multiple barrels in a $5/$10 no-limit hold'em game.
"I'm curious what you say about it," the sender says in German, translated via Google.
"Was gambled with solver anyway," comes the response.
"Yes but Sandro and I were both shocked that you can really 100% call OTR."
The screen name in the hand, "GlitchSystem," matches Kruse's PokerStars ID. The whistleblowers say "Sandro" is actually the person who built Kruse's setup, an individual playing as "nosuperstarr" on PokerStars and "forgermany" on GGPoker.
The next shots come from a Discord conversation between Kruse and Manuel. In it, Kruse warns Manuel that he'll be destroyed by the regulars if he doesn't make use of the "dream machine."
Further conversations on WhatsApp feature Kruse telling his roommates that he wants to play $1/$2 zoom games "without machine" and "won't be using solves I promise."
Who is Fedor Kruse?
According to VIP-Grinders, Kruse was once a popular streamer who played the "Call of Duty" video game franchise and amassed more than 400,000 subscribers. He began transitioning to poker around 2015.
A group of German players began to become suspicious, they said, when Kruse began quickly ascending the stakes from $100NL, which they said he was playing about a year ago. At $200NL, they characterized him as a break-even player and said he played mostly tournaments still.
Despite this, he rocketed up the stakes and has recently been seen playing as big as $200/$400 on GGPoker. During this rapid climb, the observers said Kruse made "very non-intuitive plays, which to very little surprise are all 'solver-approved.'" Also arousing their suspicions were the fact that he always played 100 big blinds deep — making for perfect solver translations — and used very exact bet-sizings the way a solver would be programmed.
One of the roommates provided a screenshot of an Excel spreadsheet documenting Kruse's cash game results while the roommate had a piece of his action.
Over the course of two weeks, Kruse started by mostly playing in $5,000 buy-in games. After an initial losing stretch, Kruse caught fire on May 24. He profited in about two-thirds of the remaining sessions under the stake, piling up $92,408 in winnings and moving up to mainly $10,000 buy-in games.
Kruse was also a regular participant in the big World Series of Poker tournament series at GGPoker recently. He made the final table of one of the bracelet events and even came second in a ring event during the online Circuit for $92K.
No Response from Kruse
The roommates acknowledged it was wrong of them to buy action from Kruse while they suspected wrongdoing, but they reported their suspicions to PokerStars. They said they evicted him from their apartment in Vienna as of Aug. 31 and decided to publicly accuse Kruse because no sanctions had taken place against him.
Patrick Leonard said on Twitter he'd spoken to Kruse and Kruse would be posting his side at some point.
Nothing has yet been released, though, and the sensitive nature of any potential cheating means the sites on which Kruse was playing have stayed expectedly silent on the matter thus far.