Inaugural Midway Poker Tour Marred by Payout Controversy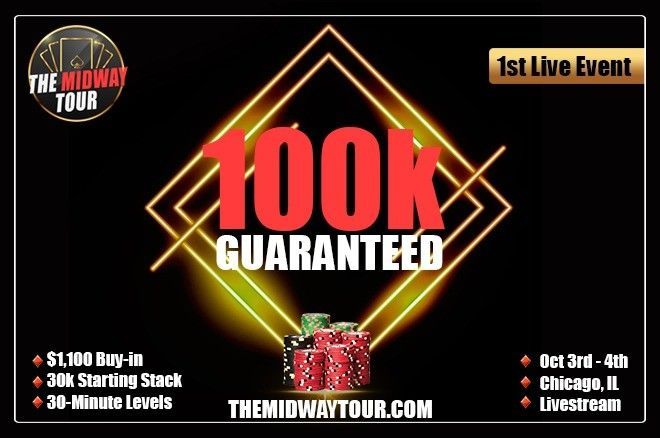 Table Of Contents
On Friday, a new mid-major poker tour officially launched (and ended?) with the inaugural Midway Poker Tour stop in the Chicagoland area. The $1,100 buy-in Main Event attracted 266 runners, and two days later a winner emerged, though the event proved to be poker's equivalent of Fyre Festival.
The tournament, which had a charity connection with 4 KIDS Sake, Inc. at the Sheraton Suites Chicago Elk Grove (held in various ballrooms to keep under the state-mandated pandemic limit of 50 people per room) went off without a hitch during the two starting flights on Friday and Saturday, but on Sunday things went sideways.
All 31 players returning players were guaranteed a $2,300 prize. However, due to the Illinois Charitable Gaming Acts and regulations (230 ILCS30), organizers were only able to pay out $500 in cash atop the cost of the buy-in. As such, players would only receive $1,600 in cash no matter their finish, while the remainder of their "prize" would be awarded in precious metals. They could then sell those metals for cash, or so they thought.
Essentially here's what organizers hoped to do in order to comply with the law – have a limited amount of gold on hand to award as a prize. Have someone nearby to buy-back that gold for the same amount as the tournament payout, and then reuse the gold for the next player to cash out. Rinse and repeat. It seemed to be a loophole that would allow them to hold a sizable tournament.
Some local players were aware of how the loophole worked – similar mechanisms have been used in other Illinois poker charity game – while many others from out of state were not. Those in the latter camp were unhappy with the situation and the fact the payout situation wasn't more clearly explained by tournament staff prior to the event.
What Happened?
There were several incidences that led to the downfall of the event, which was run by the tour with the charity facilitating prizes and payouts. First, Terence Shiel of the state Attorney General's office paid a visit to ensure the prizes (the precious metals) were actually on-site and accounted for. During that visit, they informed tournament organizers that their planned payout process (exchanging the precious metals for cash) could not be done by someone on-site. Not only that, they couldn't recycle the "prize" and needed individual prizes to represent each payout.
Scrambling ensued as the charity, the official license holder, had to find a way to obtain a large number of precious metals.
Come Sunday, the organizers seemed to have found a workaround. With $208K in precious metals acquired from Andy Mettille, co-owner of Wisconsin-based AMPM.999, players would receive their prize and be given contact information for someone willing to buy the metal off-site. It was viewed as an inconvenience, but at least players would be able to turn the precious metals into cash and the AG would be satisfied.
The problem was that a buyer either did not stick around or never existed. As such, players did not have an option to cash out.
The owners of AMPM.999 provided the following statement to PokerNews:
"Given the events at the Midway Poker Tour in the Chicagoland area, we wanted to give you our side of the story. First off, we had nothing to do with the tournament and had no knowledge that it was even going on. At 1 a.m. on Sunday morning we got a call looking for help because the tournament runners found out that they could not pay out cash and needed precious metals for the 'prize'. They said they needed $200,000 in silver. We had almost half of that on hand. On the way to the tournament, we found a dealer that agreed to provide us the rest of it, which we purchased and then sold to the tournament organizers. We had agreed on a price as what we had on hand was mostly premium silver, most of it retailing from $30-$40 per Oz. Again, we in no way were associated with the tournament. All we did was fill in an order for silver."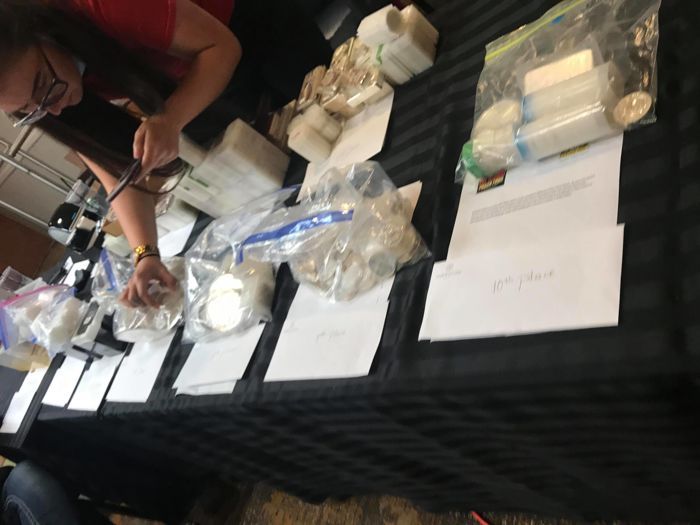 By most accounts, the 4 K.I.D.S. Sake charity was responsible for obtaining and distributing the prizes, but relied on their partner, the Midway Poker Tour, to facilitate it to the players.
4 K.I.D.S. Sake is an IRS recognized 501(c)3 charity based in Bolingbrook Illinois. It was started by a 17-year-old founder, Theresa Grzenia, in 2012. The small, family-run operation works to provide support to children throughout Northern Illinois as well as the greater Chicago-land areas.
For their part, representatives from the charity, who were not well-versed in tournament poker dynamics, remained on-site throughout the tournament.
Inconsistencies Raise Suspicion
Day 2 of the tournament seemed to be going smoothly until eliminated players began to take notice that the precious metals they were awarded did not equal the same value as the payout. It seems one of the reasons this was the case that the silver was purchased at an approximate $35 retail price point. Some of the silver coins were more, but some less.
In other words, the players were given silver at a retail price with no one there to buy it back at the same price. They were unexpectedly saddled with the problem of unloading the silver, which they wouldn't be able to do at the retail price point.
Nearly two dozen of the returning field had been eliminated before both those who fell and those still in the tournament began to grasp the payout situation. When it was confirmed no one was there to buy back the silver, pandemonium ensued.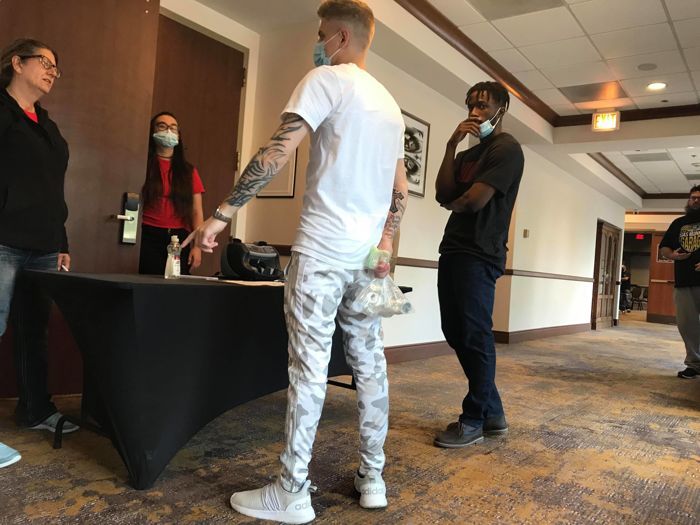 Players Opt to Play It Out
With 10 players remaining, the tournament was paused. Players were understandably upset with seemingly no leadership. Midway Poker Tour employees were noticeably absent either off-site or behind closed doors, while the charity officials had little to no experience with the poker side of things.
Representatives from the AG office returned for a scheduled visit to ensure the precious metals were indeed on-site. In their eyes, $208K in precious metals was accounted for so all was good. The gravity of the poker debacle unfolding was either unbeknownst or not understood by them. They soon departed the venue.
As for the players, there were fears an intervention by the authorities could lead to the remaining prize pool being seized as potential evidence, leaving them empty-handed. Given the precious metal situation, namely, the difficulty of putting an accurate price on each piece, any sort of deal/chop seemed too daunting. Eventually, the players agreed they'd rather play it out, determine their finishing order, and deal with the rest after the fact.
It took several more hours for the final table to play out before Renato Spahiu came out the victor.
Final Table Results
| Place | Player | Prize Value |
| --- | --- | --- |
| 1 | Renato Spahiu | $55,060 |
| 2 | Satoshi Tanaka | $38,180 |
| 3 | Joseph Paris | $25,800 |
| 4 | Rocco Pace | $18,320 |
| 5 | Amanda Heidbrick | $14,120 |
| 6 | Josias Santos | $11,600 |
| 7 | Steve Federspiel | $9,680 |
| 8 | Nicola Ditrapani | $8,150 |
| 9 | Bob Peppe | $6,680 |
| 10 | Frank Lagodich | $5,290 |
Bekavac Issues Statement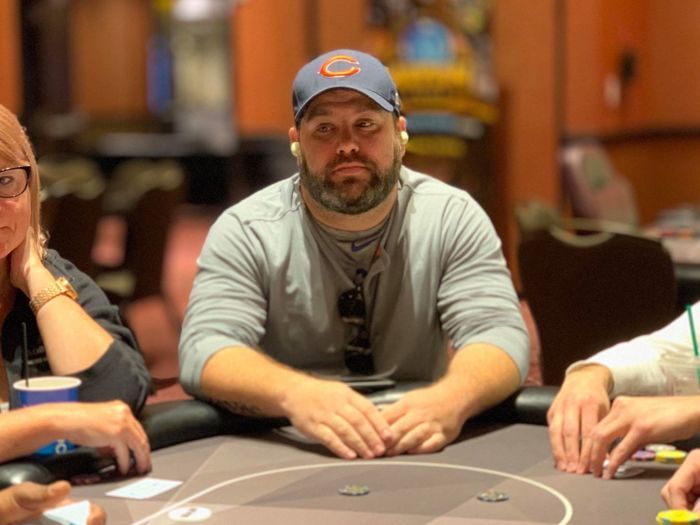 Midway Poker Tour owner/founder Dan Bekavac, who was not present during the final day of the tournament, issued the following statement on social media:
I would like to start by first apologizing to Jason Trezak, Jeremy Smith, Eric Anderson, and Chad Holloway and to anyone else I may have missed and try to set the record straight with everyone.

I busted my ass trying to bring live poker back for the players. I spent upwards of $55k of my own money getting this set up with the charity 4 KIDS Sake.

We were informed on Saturday that we could not have a gold buyer on property to buy gold prizes, I suggested paying the $1,600 maximum "cash" payout and give a certificate to pick up gold the next day at a coin dealer. If players were from out of town have it shipped to them securely the next day.

This isn't the option that was chosen. It was decided that silver would be purchased by a supplier at $35 per ounce or $11 overvalue per ounce. This was not my decision. Players are still being paid out. Just not as much as expected due to overpaying for precious metals.

I've spent a lot of money to bring this event to the players and will not receive one single penny back. I lost a ton of money trying to put this event together for everyone and had it blow up epically in our faces.

We had last-minute changes that were sprung on us that were completely out of our control. I truly wish it could have turned out better but I did not and will not receive one dollar in compensation for everything that was purchased, rent expenses, security, advertising etc.

So, if you think this was what I intended, I left this morning to try and seek a better option that didn't pan out. Again, there was absolutely nothing I could have done differently, and would like to personally apologize to the players that were affected by the payout differences. I've attached the screenshot of my suggestions to correct this issue last night, as well as the card of the attorney general that would not allow the gold buyer on-site.
While the one-and-done event is over, the story may not be. PokerNews will continue to bring you updates if and when they develop.
Executive Editor US, PokerNews Podcast co-host & 2013 WSOP Bracelet Winner.