Get to Know Natural8 Streamer Rebeca Rebuitti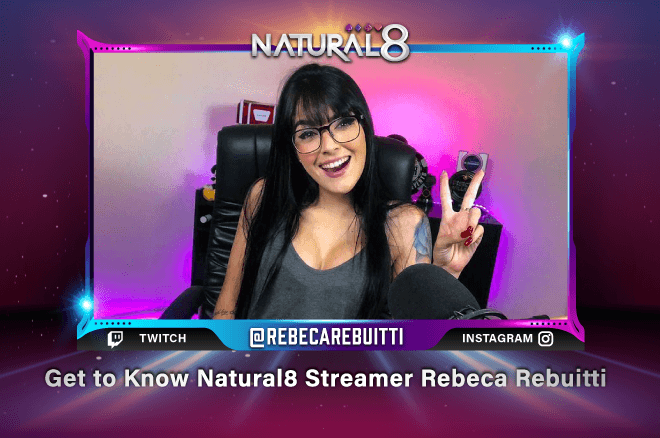 Table Of Contents
Natural8 is excited to welcome a brand new streamer to their team. Rebeca Rebuitti streams on Twitch to an audience of ardent poker fans, and she spoke with PokerNews about what viewers can expect, what she likes about Natural8, and about the poker goals she has for the future!
Head to the NEW Natural8 Hub
Want to stay up-to-date on all the latest Natural8 news right here on PokerNews? Why not try out the new Natural8 Hub!
From Playing for Fun to Streaming Online
Rebeca first started playing poker while on holiday with some friends. After learning the rules together, they just played for fun. But Rebeca wanted to learn more!
From going to poker rooms and playing online, she built up her poker skills and finished second in the first-ever tournament she played. Since then, she says, she's never stopped playing.
She soon transitioned into streaming on Twitch, and after a while her channel began to grow. People began interacting and supporting her, eventually meaning she could go live almost every day.
Her Relationship with Twitch Chat
One of the most important aspects of any poker Twitch streamer is the relationship they have with their chat. They can be cheerleaders, fanatics, and even armchair strategists - but for Rebeca - they're a community.
"I'm always excited to talk about the chat I have. We're such a community and there are too many people that are there every day. They give me amazing support, make my day better, even that days that we are running bad. They are always there asking for the river to bring my last out. They, for sure, make the grind easier."
Everyone remembers their biggest result, and Rebeca says her best result whilst streaming is "impossible to forget."
"...on the first stream back, I won three tournaments that day!"
"I had to stop playing for one week to recover from a small surgery. After that, on the first stream back, I won three tournaments that day. In my career, I have won several poker tournaments, and I am not sure if the money I made with those three prizes was bigger than my biggest single cash, but that day was, for sure, my best result while streaming."
Streaming on Natural8
Streaming her play on Natural8, Rebeca says she could spend a whole day talking about the most interesting features on Natural8. In the end, she managed to narrow it down to three:
"The staking tool in the tournament lobby. It gives to player the opportunity to play the tournaments he/she wants, paying just a piece of them. Besides that, the tool gives to investors the opportunity to support the players and make money on them."
"All the tournament info at the table. You don't need to go to the lobby to see the next pay jump, how many people left, how much you won in bounties till the moment, and the time left to the next blind level. All of the info is quickly available at the table. It's fantastic."
"Rakeback. The last one in my top three, but not the least important. It could be the first, for sure. The reward program that N8 offers is the best by far. It's so good. Being a professional player or a recreational player, the program gives back rewards to everyone who plays there. I love it. It's always a party when I spin the roulette in my streams to collect my weekly rake back."
Rebeca's Poker Goals
Rebeca says she loves the GGMasters on Natural8, with their structure and large attractive guarantees, but still holds ambitions of traveling to Las Vegas to play in the WSOP.
"It depends on the pandemic," she said. "First of all we need to overcome that as soon as possible and after that, we can start planning it.
"Talking about online poker, my goals for 2021 are: reaching $20,000 of profit this year and keep growing my average buy-in. I would like to be at the end of the year, playing daily tournaments with average buy-ins at around $60, and, of course, getting a good ROI."

She will hopefully achieve this as a Natural8 streamer, something she says is a great honour.
"Being part of the Natural8 team is amazing, the best poker streamers are there. It serves as feedback that I have been doing a good job.
It is easy to find reasons to explain why N8 has been growing so much in so "little time". Besides being one of the biggest and best poker room today, the Natural8 offers a sensational structure to work. It is easy to be excited to work there."
Will Shillibier is based in the United Kingdom. He started working for PokerNews as a freelance live reporter in 2015 and joined the full-time staff in 2019. He graduated from the University of Kent in 2017 with a B.A. in German. He also holds an NCTJ Diploma in Sports Journalism.