Negreanu and Hellmuth to Face Off Tonight in 'High Stakes Duel'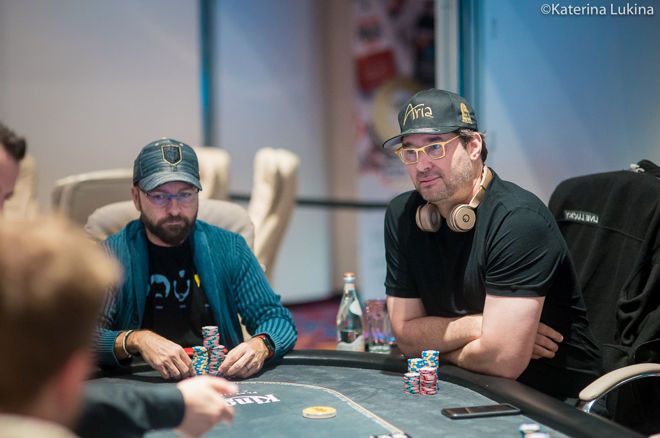 Table Of Contents
The day many poker fans have been eagerly awaiting has arrived: it's time for Daniel Negreanu versus Phil Hellmuth to face off head-to-head on PokerGO's "High Stakes Duel."
Action begins tonight at 8 p.m. EDT, with a "weigh-in" show preceding it by half an hour.
Remember, an annual subscription to PokerGO costs $99.99, but you can save $10 off by using promo code "PokerNews" at checkout.
Two Superstars at War
Of course, these two players need no introduction as two of the preeminent superstars in poker for the past 20-plus years. Both have earned huge fan followings not only for their excellent results on the felt, but for their colorful personalities both at and away from the poker table.
Here's a look at how the two compare in some select categories picked out by PokerNews for this edition of the heads-up match Tale of the Tape.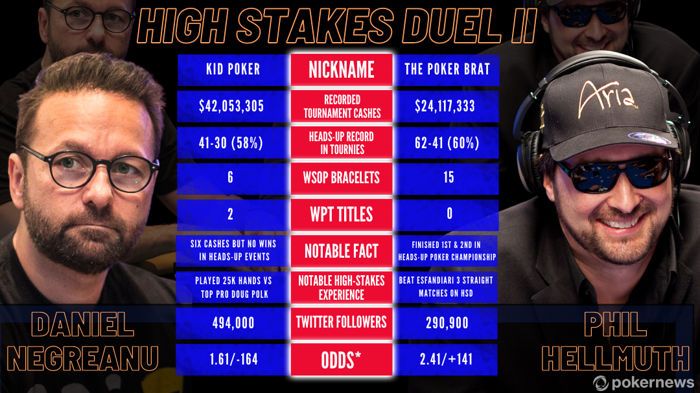 *As of March 11
As for how they compare, Hellmuth has been a bit more successful than Negreanu in heads-up formats over the years.
Not only does he have a better record when making the final two of tournament play — thought his edge is as slight as could be — but he has definitely been the more accomplished of the two when it comes to heads-up events. He fared particularly well in the old made-for-TV Heads-Up Poker Championship, with a win and a runner-up finish there. More recently, "The Poker Brat" won a $1,600 heads-up event at Borgata in 2019 and also took down Antonio Esfandiari with a 3-0 sweep when they battled in "High Stakes Duel" in 2020.
However, Negreanu has his own deep well of heads-up experience to draw from after a 25,000-hand match against acknowledged master of the format Doug Polk. While Polk handed him a convincing beating, there's just no way to walk away from an experience like that without a huge leap in skill level, which Negreanu is undoubtedly excited to bring to bear against a longtime rival.
As for the odds, they paint the picture of a likely Negreanu victory as the betting markets available continue to favor him with something like a 60% chance of winning.
The Format
Negreanu will not have anything close to 25,000 hands to prove his dominance over Hellmuth, however.
"High Stakes Duel" calls for the two players to start off by ponying up $50,000 each for a $100,000 initial match.
It's a sit-n-go format with 30-minute levels and extremely deep starting stacks — 50,000 stacks and 50/100 blinds. Things will move along quickly as each player has 30 seconds to act with five 60-second time banks available for the tough decisions.
The losing player has the first option to challenge at double stakes. If they decline, a new challenger can post up and take on the double-stake match within 30 days, or the series ends and the winner cashes out.
The winner can also cash out after three consecutive wins, or two consecutive wins if they occur later in the series when the stakes have doubles several times already.
The losing player can get up to three matches, and Negreanu already said he plans to exercise all of his rematches if things go poorly for him early on.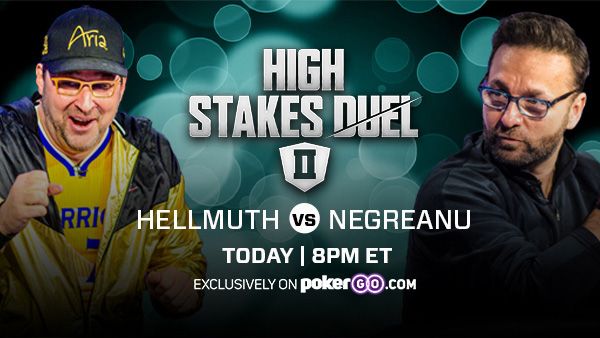 One-Sided Trash Talk
While Negreanu and Hellmuth have been going at each other for years in various poker formats, having shared tables at the WSOP and even in cash games like "High Stakes Poker," the usually friendly rivals got a bit testy after Negreanu's failed bid to upset Polk.
"I was disappointed in the way that Daniel played," said Hellmuth, who lost some money on a bet. "I was betting on Daniel's talent. If Daniel's gonna try to play Doug on pure GTO, Daniel's trying to fight fire with fire. I thought he should have tried to fight fire with Daniel."
Negreanu was less than pleased to see all of his hard work and long hours dismissed so easily. He responded by challenging Hellmuth to step to the plate himself.
"I'll play you a heads up match live, online, at any stakes you feel comfortable with for as many hands as you would like," he said.
Negreanu: "I don't see much of a chance for him winning."
He proceeded to call Hellmuth "bad" compared to the top players of today and they booked a bet on whether Hellmuth could beat the ARIA high roller series across 50 events. Hellmuth got 2-to-1 on his $200,000.
While he obviously accepted the action, for his part, Hellmuth has been mostly complimentary of Negreanu. He has repeatedly called him one of the best ever and seems to be taking to his underdog role, knowing that the pressure is mostly on Negreanu since he's done most of the trash talking.
Now, the time for talk has ended and their match will air tonight.
"My prediction for the match is it's gonna be very frustrating for Phil," Negreanu said on a recent hype show. "I don't see much of a chance for him winning."
"High Stakes Duel" is only available to PokerGO subscribers. If you're not currently subscribed, you can get a monthly subscription for $14.99, a three-month plan for $29.99, and an annual subscription for $99.99. You can also save $10 off an annual subscription by using promo code "PokerNews" at checkout.