Vanessa "Niffller" Kade Wins PokerStars Sunday Million 15th Anniversary ($1,514,920)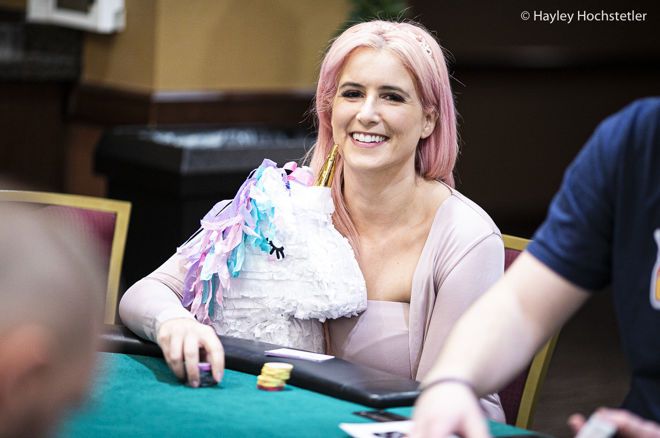 Table Of Contents
Canada's Vanessa "Niffller" Kade has etched her name in online poker history after defeating "Talibenes" in heads-up play to win the Sunday Million 15th Anniversary at PokerStars. Both the top two players snagged seven figures with Kade banking $1,514,920 and "Talibenes" taking home $1,035,358.
It's only the third time in 11 years — counting the 2018 redux — that the anniversary edition ended with an outright winner rather than a deal, and Kade's prize stands as the biggest ever awarded in the event.
A well-known streamer, Kade has made waves recently in a well-publicized clash with Dan Bilzerian, and she subsequently secured an equally high-profile sponsorship deal.
All of the turmoil in recent months ultimately led to the biggest win of her life, and she fired off a euphoric tweet to her many followers when the tournament ended:
In addition to Kade and many other poker players that went deep in the Sunday Million 15th Anniversary, PokerStars has something to be proud of as well. The nearly 70,000 entrants — 69,876 was the final count — generated $13,975,200 for the second-largest prize pool in Sunday Million Anniversary event history. Only last year's lockdown-boosted event was bigger.
Final Table Payouts
| Place | Player | Country | Prize |
| --- | --- | --- | --- |
| 1 | Vanessa "Niffller" Kade | Canada | $1,514,920 |
| 2 | Talibenes | Poland | $1,035,358 |
| 3 | PanchoVetin | Bulgaria | $707,640 |
| 4 | Transylvanian | Romania | $483,652 |
| 5 | peu3ep | Russia | $330,564 |
| 6 | malinga | Norway | $225,930 |
| 7 | ikkedus | Netherlands | $154,416 |
| 8 | kefirchik106 | Russia | $105,538 |
| 9 | Vvlankov | Russia | $72,132 |
Kade Builds from Dust at Final Table
The final day began with just 65 hopefuls remaining, each guaranteed a payout of at least $10,757 with their eyes on much more. Romania's "Transylvanian" began the day with the chip lead with Kade near the top of the pack in 13th place.
She went into the final table in seventh of nine with only around 20 big blinds, though, while "ikkedus" held the chip lead with more than 60.
However, that player couldn't find any footing and handed out a few doubles, the last in an unlucky hand where a short-stacked Kade, down under six big blinds, bested their ace-nine offsuit with jack-eight offsuit. ikkedus subsequently bowed out in a disappointing seventh.
"Talibenes", who busted them, held about two-thirds of the chips in play and looked to be the clear favorite at that point.
Kade began to build momentum and was in second place after her ace-queen held against the ace-seven suited of "malinga." Still, it was a distant second until she doubled through "Talibenes" when kings held against ace-ten to give her a comparable stack four-handed.
No Deal
A deal had been floated by three of the four remaining players before Kade's double but there was no response from Bulgaria's "PanchoVetin" and the action went on despite chop value being an average of about $900,000.
Kade then went on a roll to eliminate the final three players by herself. It began by sending Transylvanian to the rail in fourth place for $483,652 when her king-queen was good against king-jack.
PanchoVetin got down under seven big blinds but ran it up all the way into the lead, and all three players were close. However, a three-barrel bluff attempt failed against Kade's flopped two pair, and Kade took the rest when fives held against ace-king in a flip worth hundreds of thousands of dollars in equity.
Heads-up play lasted just two hands with Kade holding a monster chip advantage against "Talibenes", who laddered with 15 big blinds when PanchoVetin had him out-chipped more than 2-to-1. She jammed with eights and then won one last flip against king-nine to be crowned the champion.
Table of Sunday Million Anniversary Winners
| Year | Anniversary | Entries | Winner | Prize |
| --- | --- | --- | --- | --- |
| 2011 | Fifth | 59,128 | Luke "Bdbeatslayer" Vrabel | $671,094* |
| 2012 | Sixth | 33,732 | "slyfox151" | $480,761* |
| 2013 | Seventh | 49,827 | Andrius "benislovas" Bielskis | $836,324* |
| 2014 | Eighth | 45,586 | "DrUPSWING" | $1,038,540* |
| 2015 | Ninth | 50,432 | Brayden "BRAYDEN93" Fritzshall | $597,720* |
| 2016 | Tenth | 55,059 | "a.urli" | $970,000* |
| 2017 | Eleventh | 55,835 | "Xavi666" | $1,093,204 |
| 2018 | Twelfth | 43,975 | Luis "Hulk9950" Felipe | $960,000* |
| 2018 | Twelfth Take 2 | 56,310 | "Daenarys T" | $1,000,043 |
| 2019 | Thirteenth | 61,342 | "wangli0402" | $611,944* |
| 2020 | Fourteenth | 93,016 | Alex "AAAArthur" Brito | $1,192,802* |
| 2021 | Fifteenth | 69,876 | Vanessa "Niffller" Kade | $1,514,920 |
*reflects final table deal