WPT Russia: 19-Year-Old Sekretarev Wins Main Event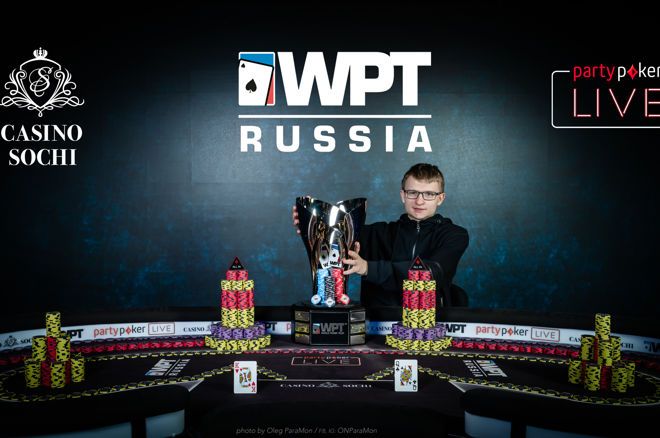 Table Of Contents
Sochi, Russia continues to be one of the few bastions for big-time live poker, and that continued this weekend with the conclusion of World Poker Tour Russia, which ran at Casino Sochi in conjunction with partypoker LIVE.
The ₽245,000 (~$3,300) Main Event was captured by Maksim Sekretarev, a little-known name due to his young age of 19. Despite the tender age, Sekretarev does have some experience and comfort live, having racked up around $20K in cashes previously at Sochi, and he's now got a big score of about $160K and a WPT title to go with that.
Official Final Table Results
| Place | Player | Home Country | Prize |
| --- | --- | --- | --- |
| 1 | Maksim Sekretarev | Russia | ₽11,996,600 (~$160,000) |
| 2 | Andrey Volkov | Russia | ₽7,998,200 (~$107,000) |
| 3 | Ravil Khamatgareev | Russia | ₽5,840,450 (~$78,000) |
| 4 | Vladimir Bozinovic | Serbia | ₽4,325,650 (~$57,000) |
| 5 | Vanush Mnatsakanyan | Russia | ₽3,249,750 (~$43,000) |
| 6 | Sergey Bobrik | Russia | ₽2,477,300 (~$33,000) |
Sochi drew its typical Russia-heavy field, and of the 251 entries, 32 were paid, including the likes of Andrey Kotelnikov and Aleksandr Merzhvinskiy.
Another notable, Maksim Pisarenko, reached the precipice of the official final table. However, after his king-jack made inferior two pair to the ace-jack of Sekretarev, according to the live updates, Pisarenko was left short and wound up bubbling in seventh place when Sekretarev finished him off.
Sekretarev Dominant Early
Play was sure to be fast-paced with only about 200 blinds in play to start the following day's final table, so it was no surprise that it wrapped in about three hours.
Sekretarev began the day with the chip lead at 67 big blinds with only one other player, Ravil Khamatgareev, above 25.
Sekretarev flexed his stack early on and his aggression paid off when he three-bet jammed
from the small blind against a button open, only to run into the pocket nines of Sergey Bobrik in the big blind. Bobrik couldn't fade it as a king flopped and he bowed out in sixth.
Moments later, Sekretarev followed by busting Vanush Mnatsakanyan with
over
, and that gave him more than half of the chips in play.
The hot run continued as Sekretarev three-outed Vladimir Bozinovic blind versus blind, taking his last crumbs by spiking a wheel on the river with king-five.
Three-Handed Swings
Andrey Volkov had by far the shortest stack three-handed, but he managed to make a run and make things interesting despite the best efforts of Khamatgareev and Sekretarev. He doubled several times, including once with
against Sekretarev's pocket kings, running out a straight to beat Sekretarev's flopped set.
Khamatgareev managed to grab the chip lead for a bit, but the short-stack doubles and big swings continued, and Volkov even moved into the lead at a point.
Such was the nature of play by that point that Khamatgareev was back in the lead only to bust in third less than 10 minutes later when a decisive flip went to Sekretarev, his ace-queen pairing up to beat Khamatgareev's jacks.
That gave Sekretarev a pretty big lead heads up and it wasn't long before a trap paid off as he limp-called
and won unimproved against Volkov, who shoved with
.
Prostorov Takes High Roller
There was also some high-stakes action in Sochi with the ₽388,000 (~$5,200) High Roller drawing 80 entries.
One of the more recognizable names in the modern high-roller scene online, Artur Martirosian, would make a run to the final table. However, he ran into a bit of a cooler when he made aces up only to fall to the bottom set of Stefan Prostorov to be relegated to a third-place finish worth about $50,000.
That left Prostorov heads up with Timur Musagambetov and Prostorov would prevail for about $112K, more than doubling his career live cashes.
| Place | Player | Home Country | Prize |
| --- | --- | --- | --- |
| 1 | Stefan Prostorov | Russia | ₽8,323,000 (~$112,000) |
| 2 | Timur Musagambetov | Kazakhstan | ₽5,548,900 (~$75,000) |
| 3 | Artur Martirosian | Russia | ₽3,699,150 (~$50,000) |
| 4 | Vasiliy Kurdin | Russia | ₽2,570,750 (~$35,000) |
| 5 | Aleksey Savenkov | Russia | ₽1,865,500 (~$25,000) |
| 6 | Vitaliy Strelchenok | Russia | ₽1,416,450 (~$19,000) |
Other Side Event Winners
| Event | Winner | Prize |
| --- | --- | --- |
| ₽57,750 WPT Opener | Artur Martirosian | ₽3,063,200 (~$41,000) |
| ₽38,300 NLHE KO Bounty | Vyacheslav Medvedev | ₽461,650 (~$6,200) |
| ₽15,400 NLHE (Ladies) | Alena Belousova | ₽120,750 (~$1,600) |
| ₽57,750 NLHE Super Bounty | Maksim Pisarenko | ₽418,390 (~$5,600) |
| ₽30,800 NLHE Big Stack Turbo | Lidiia Beliaeva | ₽680,400 (~$9,000) |
| ₽77,000 NLHE Big Stack | Anatoly Nikitin | ₽1,453,270 (~$19,000) |
| ₽38,500 NLHE Turbo Super Bounty | Konstantin Generalov | ₽473,550 (~$6,400) |
| ₽77,000 WPT Closer | Mikhail Zavoloka | ₽3,515,400 (~$47,000) |
| ₽30,800 PLO | Andrey Zakharov | ₽369,250 (~$5,000) |
| ₽38,500 NLHE Turbo Bounty | Denis Vladimirov | ₽435,400 (~$5,800) |
| ₽38,500 NLHE Bounty Hunter | Dmitriy Gnusaev | ₽431,900 (~$5,800) |
| ₽38,500 PLO Bounty | Ilyaz Dosikov | ₽194,250 (~$2,600) |