Hands of the Week: Aces vs. Kings vs. Queens Plus Set-Over-Set-Over-Set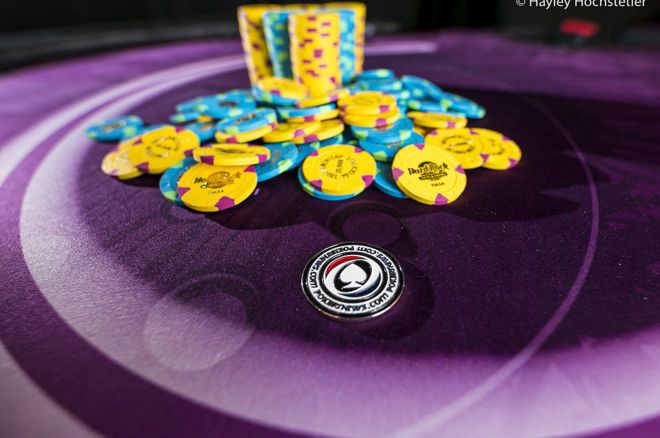 PokerNews is known throughout the world for our industry-leading live updates for both live and online events. In fact, right now we're offering various updates right here.
Over the years, we've captured memorable hands, many of which have become a part of poker history. In this new column, we will bring you some of the biggest hands of the week as reported in the PokerNews Live Updates.
Remember, if you're playing an event PokerNews is covering, you can get in the updates via the MyStack App. You can download the app for iPhone or Android now to get started. Then, create a new PokerNews account or update your current one to start updating your status immediately. Your followers can see all the live action that you're involved in.
Click here to download the My Stack app for iPhone, or click here to download the My Stack app for Android.
A Spectacular Aces vs. Kings vs. Queens Hand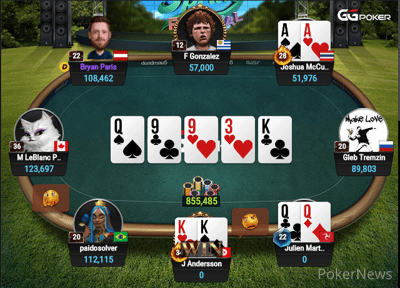 One series taking place right now – which you can follow here – is the 2021 GG Spring Festival.
In Level 10 (1,400/2,800/350) of GGSF Super MILLION$ ME-H: $10,300, $10M GTD, a massive cooler took place between Joshua McCully, Joakim Andersson, and Julien Martini. It was the latter who opened to 7,000 in early position. Behind him, Andersson made it 19.600 to go and action folded to McCully in the big blind.
McCully four-bet to 51,800, Martini five-bet shoved all in for 131,547, Andersson came over the top for 359,869, and McCully called all in for 308,609 to create a monster pot of over 800k in chips.
Julien Martini:

Joakim Andersson:

Joshua McCully:
McCully had both players covered and was looking at a possible 900k stack but the
flop gave Martini top boat to take the lead. The
on the turn changed nothing but Andersson drilled the
on the river to improve to a bigger boat, sending Martini to the rail and crippling McCully in the process.
Not Your Everyday Set-Over-Set-Over-Set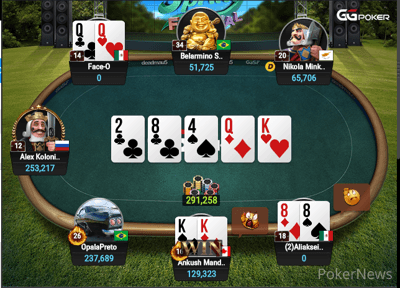 In the same tournament in Level 13 (2,000/4,000/500), Marc "Face-O" Carola raised to 8,000 in middle position and Aliaksei Boika, who made his third Super MILLION$ final table in a row earlier this week, three-bet shoved 106,193 from the small blind. Ankush Mandavia cold-called the shove from the big blind and Carola called all in for 67,372 to create a three-way showdown.
Marc "Face-O" Carola:

Aliaksei Boika:

Ankush Mandavia:
Boika smashed the
flop to hit top set and take a commanding lead in the hand. However, the
on the turn was the two outer Carola needed and he took over for the main pot.
Two outs could still win it for Mandavia and sure enough, the
was burned and turned to turn the best hand at the start into the best hand at the finish as well.
Mattsson Eliminated by Quads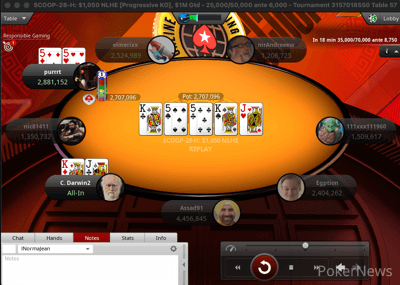 In the PokerStars SCOOP-28-H: $1,050 NLHE [Progressive KO], $1M GTD, it was Level 27 (30,000/60,000/7,500) when Simon "C. Darwin2" Mattsson opened to 101,000 in the hijack and was called by "purrrt" on the button, Andreas "mrAndreeew" Berggren defended the big blind. The flop fell
and the action checked to Mattsson, who bet 60,000. Only "purrrt" called and Mattsson then check-called the
turn for 125,000.
On the
river, Mattsson check-called all-in for 980,548 and tabled
for kings full of jacks. Only one hand could beat him and that's what "purrrt" turned over with
for flopped quads!
Michael "imluckbox" Addamo Runs Into Aces
In Level 26 (50,000/100,000/12,500) of SCOOP-43-H: $25,000 NLHE [8-Max, Super High Roller], $1.5M GTD with just four players remaining, Joao "Naza114" Vieira completed the blind and Michael "imluckbox" Addamo checked the option.
Vieira bet 100,000 on
and Addamo called. The
checked through and Vieira bet 150,000 on the double-pairing
river. Addamo made it 750,000 and Vieira shoved. Addamo had just shy of 1.2 million left.
He called off with
for a full house but was no good against the
of Vieira. Addamo was eliminated in fourth place for $197,483 while Viera went on to win for $469,987.
Hartmann Scores Three Bounties in One Hand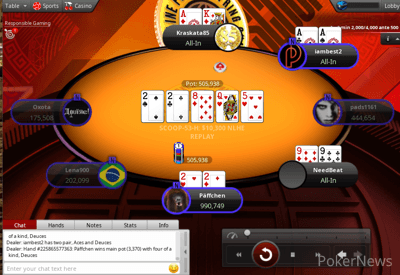 Finally, in SCOOP-53-H: $10,300 NLHE [8-Max, Progressive KO, High Roller], $1M GTD it was Level 5 (1,800/3,600/450) when "NeedBeat" shoved from under the gun for 165,994 for Pascal "Päffchen" Hartmann to three-bet jam from the middle position with the biggest stack at the table. "Kraskata85" called for the 166,575 they had behind on the button while Matthias "iambest2" Eibinger called for this last 44 in the small blind.
Matthias "iambest2" Eibinger:

"NeedBeat":

"Kraskata85":

Pascal "Päffchen" Hartmann:
The board ran out
for Hartmann to flop quads to eliminate all three opponents and claim their bounties.
Executive Editor US, PokerNews Podcast co-host & 2013 WSOP Bracelet Winner.