Old School Vs. New School: Negreanu Analyzes $400K High Stakes Poker Hand vs Hansen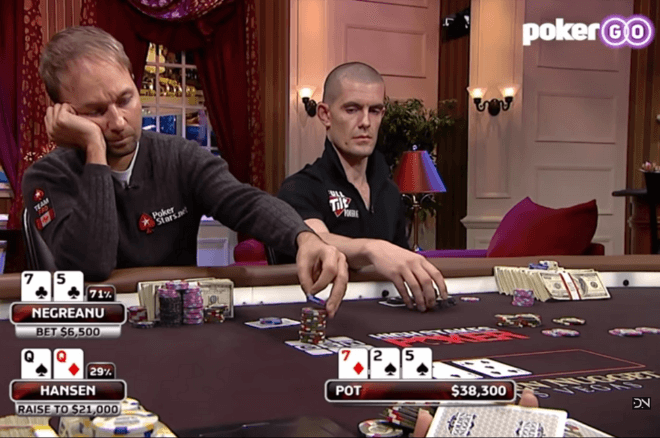 Table Of Contents
GGPoker Ambassador and six-time WSOP gold bracelet winner Daniel Negreanu launched a new series titled Old School VS New School Poker Analysis at his YouTube channel with his first episode checking out an old hand played a decade ago on High Stakes Poker against Gus Hansen.
Top Stories of 2020, #6: Daniel Negreanu vs. Doug Polk
The big heads-up grudge match between Negreanu and Polk made it into the PokerNews Top Stories of 2020 - check it out!
Old School vs. New School
Negreanu's poker analysis in the video focuses on breaking down old hands between an old school mentality and a new school mentality.
Many in the poker world would consider Negreanu old-school himself, but that perception may have changed following his epic heads-up battle against Doug Polk that finished earlier this year
Although Polk crushed Negreanu to the tune of $1.2 million, it appeared that Negreanu had recognized the need to embrace a new school mentality in order to compete at the highest levels.
Perhaps that is where Negreanu's new series has emerged from, comparing the old school tactics that saw him become one of the most recognizable names in world poker, with the new school tactics that he has utilized in the present day.
Negreanu vs Hansen
The hand in question comes from High Stakes Poker with blinds of $400/$800 with a $200 ante. Negreanu raises to $3,000 from under the gun with
and Gus Hansen flat-calls with
from the next position. Jason Mercier
also calls in the big blind.
Mercier checks the
flop and Negreanu continues for $6,500 with his two pair. Hansen raises to $21,000 and Mercier quickly folds. Negreanu then re-raises to $71,000. Hansen shoves and Negreanu calls.
The pair agree to run it twice, with Negreanu scooping both pots on the
and the
boards.
---
Related: Gus Hansen Logs 652 hours in 70 days at Bobby's Room
---
The Analysis
Negreanu shares analysis from two separate perspectives that serve as examples of how poker and poker analysis has evolved.
"We're going to first go through it from an old school mentality, in terms of how people thought about poker a decade ago," Negreanu says in the video. "Then we're going to do the exact same thing but we're going to do it with a much more modern game theory approach to the situation."
You'll have to check out the video yourself to discover exactly what Negreanu explains is different, but he does say that different people will take different things away from the video.
"For some of you, the old school is going to be much easier to digest because it's a little more simple and it's easier to understand if you never really studied at a deeper level," Negreanu explains.
"For others, you are going to gain a lot more value from a modern approach. A lot of the newer players today, it's the lingo they use and it's the way they think about poker - and it is better, there is no question about that."
Negreanu says that more hand analysis will be coming soon.
"We're going to do some more hands over the years that I've played that we can look back at," he says. "Some we'll laugh at, some we'll cry at and some we'll cheer over!"