GGPoker Streamer Lukas "RobinPoker" Robinson Brings A-Game to WSOP Online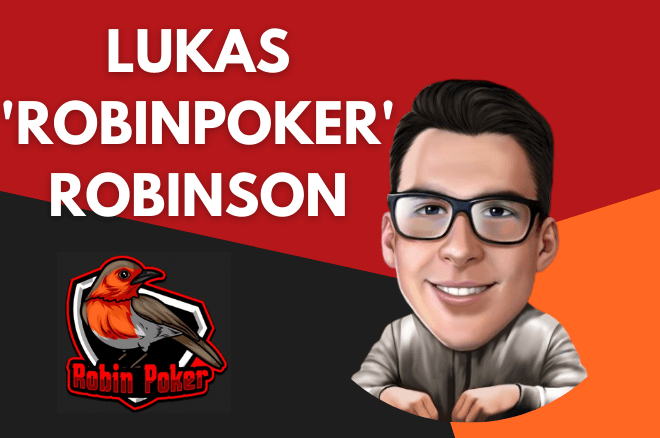 While the last 18 months have been strange for most people in the poker world, it could be said that it's been much stranger for Lukas 'RobinPoker' Robinson.
If you don't know him, Robinson is a Twitch poker world record holder who streamed 1,000 hours in 100 days and has since gone on to quit his job and become a member of the GGPoker Twitch Team. It's a whirlwind story from start to finish, but now the professional poker player from Northern England is ready for yet another milestone - playing in the World Series of Poker Online.
We caught up with Robinson to find out how he was preparing, what he's going to be doing differently for his assault on the Series, and how it would feel to win a bracelet of his own.
Check Out the WSOP 2021 Schedule
GGPoker has unveiled the full schedule for the WSOP Online 2021 festival with 33 bracelets up for grabs
Dreams Become Reality
Whether it's articles being written about him, a $22,000 SCOOP score, or buying his mum a car, Robinson said he could never have expected 2021 to have turned out like this.
"My whole life has changed completely since the start of the year," he told PokerNews. "These things I have been dreaming about for so long and it still honestly doesn't feel real!"
Want to know how much value there is in the @GGPoker WSOP Bracelet events? Here is your answer ⤵️# https://t.co/76Sy0FBmq8

— Robin Poker (@RobinPoker_)
Robinson says he plans to stream on Twitch ten hours a day, six days a week during the WSOP Online, which shouldn't be a challenge to the streamer that streamed 1,000 hours in 100 days - a new world record. But he says that there will also be work going in away from the online tables.
"I have been setting myself a target to study at least one hour per day, studying content and going over hands with other pros that are better than me.
"I feel I have put in a lot of work since my challenge ended, and so I am feeling so confident in my game going into the WSOP Online. Before I turned pro I didn't get much time to study with working full-time and then streaming around that. So going into the lab and really working on my game for the first time has been amazing."
---
Read More: WSOP 2021 Main Event Satellites From $80 Hit GGPoker
---
Eyeing Up the Bigger Events
Any player's eyes would light up if they took a look at the WSOP Online schedule, and Robinson is no exception. He says he's eyeing up the $1,500 Millionaire Maker as one of the events that he's really excited to play.
"I don't get to play many $1ks in general as I only play up to $150 buy-ins online, so I cannot wait to play all the bigger events like this one during the WSOP Online."
As an Ambassador, we asked Robinson if he felt any extra pressure while at the tables, but he says that he doesn't feel that way.
"I feel like as a GGPoker ambassador I need to play as many WSOP bracelet events as possible. As long as I try to play my A-game and not make too many mistakes, I will have no regrets. I know I have put in a lot of hard work with studying, so I will stick to what I have been learning and play my best. I am more excited to just play/stream my first WSOP grind!"
Just When You Think the WSOP Online Couldn't Get Any Bigger!
Selling Action
With fans able to buy and sell action in their favorite players and streamers, Robinson is one of those who has put up his schedule available for people to take a piece of.
"...it just adds a bit more excitement to it whilst watching and sweating the game"
"This is the biggest online series on GG every year, and people like to sweat the action whilst watching the stream. I love that GGPoker offers the feature of being able to sell action via the client because otherwise, I wouldn't be able to play in all of the bigger WSOP bracelet events.
"It's a bit like betting on the football say in Euro 2020 - it just adds a bit more excitement to it whilst watching and sweating the game. I also have sold all my action with zero mark-up so hopefully, it can be a +EV investment for people who want to sweat me playing a bracelet event, but who also want to try and make some profit too!"
Preparation is Key
With the schedule is tough and the demands of a top-class streamer even more so, Robinson knows that he'll need to focus to remain on top of his game.
"Adding WSOP bracelet events [to my schedule] really adds a layer of excitement and helps the motivation when trying to stream six days per week. The thought of streaming this amount of hours, along with playing for some WSOP bracelets really excites me.
"I will also be eating healthy every day, no cheat meals. No drinking alcohol and partying (Although I don't do much of this anyway). And I will be in the gym six days per week. All of these things, along with getting at least eight hours of sleep per night, really allow me to stay on top of my game. These are all the things which I followed during the 1,000 hours in 100 days challenge, and it certainly seemed to work for me."
And if it all comes together, and Robinson walks away with a WSOP gold bracelet at the end of everything?
"It would be a dream come true," he said."I grew up watching the WSOP all my life, dreaming of one day playing in the Main Event, but also winning one of those gold bracelets.
"Just like a footballer's dream would be winning the World Cup, for me as a poker player, winning a WSOP bracelet would be the pinnacle and is something I will work hard to achieve one day."
Jump Into the WSOP Online Armed With a $600 Welcome Bonus
You are going to need a GGPoker account if you want to play in the WSOP Online. Download GGPoker via PokerNews, create your free account, then make a deposit into your account. Your initial deposit is matched 100% up to a maximum of $600. This bonus money then releases into your account in $10 increments each time you generate 6,000 Fish Buffet Points, or the equivalent of $60 in rake or tournament fees.
New players can get their GGPoker careers off to a flying start by coupling the welcome bonus with the site's Honeymoon promotion. The Honeymoon promotion runs for the first 30-days after creating your GGPoker account and sees you complete missions for tournament tickets and cold, hard cash.
Will Shillibier is based in the United Kingdom. He started working for PokerNews as a freelance live reporter in 2015 and joined the full-time staff in 2019. He graduated from the University of Kent in 2017 with a B.A. in German, and then studied for a NCTJ Diploma in Sports Journalism at Sportsbeat in Manchester.