UKIPT London Part of "Unparalleled" PokerStars Live Experience, says James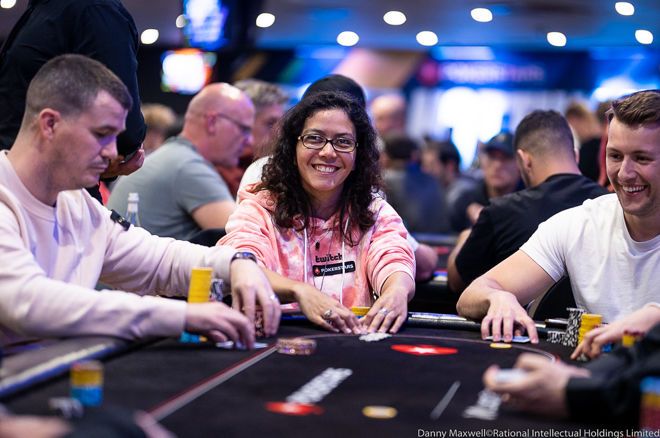 Table Of Contents
"I'm not really a live player!" admits Georgina James, better known as GJReggie. James says that she mostly plays online but has had the opportunity over the past few months to attend a few live events, including UKIPT Nottingham and the record-breaking European Poker Tour Barcelona festival.
"It's been really great to have the opportunity. And it's so much fun. It feels like live poker is absolutely thriving now."
And the buzz around live poker continues, with the EPT London festival beginning next week, starting with the UKIPT London Main Event and High Rollers.
UKIPT Nottingham Experience
The popular Twitch streamer says that her experiences at UKIPT Nottingham and EPT Barcelona were "surreal".
"People come up to you all the time and say hello, people from your community who have come along to the event," she told PokerNews. "Even some of the dealers — that surprised me! They came up to ask me about the stream. It's really good fun."
Live events offer the opportunity for poker fans to meet and rub shoulders with streamers and get to know them before they head back to the online felt.
"It's just the best thing about live events. Meeting people and getting the chance to chat with them and see how their experiences are. And hopefully make sure they have a memorable and fun time while they're there!"
---
WOW! PokerStars EPT Barcelona Smashes Record for Biggest Main Event Field
---
What to Expect from UKIPT London
EPT London returns to the live poker calendar for the first time in eight years and James says she hopes the inclusion of the UKIPT helps the event become more accessible and affordable.
"UKIPTs feel like a much more friendly community-based event, as the buy-ins are a bit smaller. It just makes it more accessible and affordable. I reckon a lot of people there would one day like to build up to come to an EPT or a bigger event. It's more of a relaxed atmosphere.
"There were lots of people in Nottingham who were there just to have fun down their local casino, hang out and meet some people. I think it's great the UKIPT is back. Hopefully they'll continue to be as successful as they have been."
With off-the-felt activities and exciting player experiences planned for London, James says it's no surprise that players continue to enjoy the PokerStars live offering.
Want to get more of GJReggie in action? Check out her Twitch stream by clicking here!
"I feel like Stars are just a bit unparalleled when it comes to these events. They have the best dealers, the setup is always immaculate. And they put on events and activities outside of the poker as well which I think is important.
"If you don't have a good day at the tables, then it's good to have those extracurriculars on the side. I think the UKIPTs are just a great experience!"
Will Shillibier is based in the United Kingdom. He started working for PokerNews as a freelance live reporter in 2015 and joined the full-time staff in 2019. He graduated from the University of Kent in 2017 with a B.A. in German, and then studied for a NCTJ Diploma in Sports Journalism at Sportsbeat in Manchester.