"A Tournament Like No Other" Spraggy Effuses Over PokerStars Sunday Million Ahead of 17th Anniversary Edition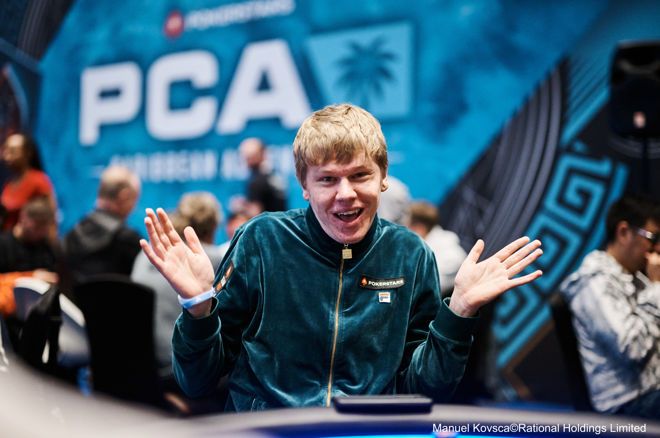 It's almost here! The 17th Anniversary Sunday Million on PokerStars takes place this weekend, and poker players from far and wide will be looking to add their names to the list of poker players to have won this legendary tournament.
One player holding the Sunday Million in particularly high regard is PokerStars Ambassador Ben "Spraggy" Spragg who spoke with PokerNews ahead of this weekend's tournament — which comes with a whopping $7.5 million guarantee.
Sunday Million is "Unmissable"
So what makes the Sunday Million so special to him?
"In short, it's history," he told PokerNews. "It represents so much in poker. It represents a chance for every player, every grinder, every pro or non-pro to have a score that will change their life. Every week the Sunday Million sits in the lobby as a reminder of the dream, the dream that brought so many of us into this great game. It's done that for 17 years and I hope it will continue to do it for many more."
"Every week, the Sunday Million sits in the lobby as a reminder of the dream, the dream that brought so many of us into this great game"
Spraggy says his first memories of the Sunday Million came back when he wasn't even an online tournament grinder, instead choosing to play cash games.
"It was the only tournament I played with any regularity. It was and still is, unmissable. Unfortunately, I never really had a deep run in my cash game days, I remember playing some anniversary editions but not with any success. Fair to say though, it wasn't for a lack of trying. But it's a tournament like no other."
That all changed in March 2021 with a 17th-place finish in the Sunday Million. Spraggy says the memory, although an exciting one, is a painful one at the same time.
"That deep run includes one of the most misplayed hands of my career where I made a big and incorrect laydown with
. The excitement in those moments was palpable, both for me, and I think my audience at the time. Outside of the monetary value of a win I think those deep runs are heightened because of the prestige and the nostalgia of winning the Sunday Million."
Advice for Novice Sunday Million Players
So what advice does the PokerStars Ambassador have for players perhaps playing their first Sunday Million this weekend?
"Enjoy it," he said. "If you've got in through a satellite or a ticket giveaway of some kind, just enjoy being a part of a great tournament. In one event with such a massive field, you're gonna have to run good to go deep so don't beat yourself up if things don't go your way.
"Try not to overthink your spots. There's gonna be a lot of players in the same boat as you in a tournament that they wouldn't ordinarily play. This isn't going to be a field of elite players, so don't feel intimidated or over-adjust from how you'd play regularly."
Spraggy says it's important to be wary of just how much of a grind the Sunday Million can be as players get deeper.
"The field is going to be massive, so early on, it's important to think in terms of the marathon nature of it. Don't get disheartened if a few hands don't go your way early. The structure should allow for recovery. As always, be aware of approaching the money, consider the risks you are taking after late registration closes, and start heading towards the money.
"As for how to deal with the approach to, and maybe the final table, it's very hard to say how best to approach playing cards for $1,000,000 for 1st when you've potentially qualified in for a dollar or two. Hold your nerve, and trust in yourself. If you're that deep and already struck gold, anything else is a bonus."
Start the Road to the PokerStars Sunday Million From $0.55
Sunday Million Satellites
Satellites to the Sunday Million start from as little as $0.55, and they're still available in the PokerStars client. The opportunities are so vast that even Spraggy aims to lock up a ticket for a few bucks.
"There are so many great value satellites out there," he says. "But once you're in, you just have to treat it like any other tournament from a strategy perspective.
"On stream we will be covering every hand I play and hopefully sweating some of the audience members coming through in the satellites, and hopefully far beyond. It should be a fun weekend and fingers crossed for some run good!"
Start Your PokerStars Journey With PokerNews
Those of you who do not already have a PokerStars account can download the excellent software via PokerNews. There are always plenty of exciting deposit offers, and by signing up through PokerNews you guarantee to get the best welcome bonus possible.
Will Shillibier is based in the United Kingdom. He started working for PokerNews as a freelance live reporter in 2015 and joined the full-time staff in 2019. He graduated from the University of Kent in 2017 with a B.A. in German. He also holds an NCTJ Diploma in Sports Journalism.