Fun Filled Winamax SISMIX Returns to Marrakech From May 24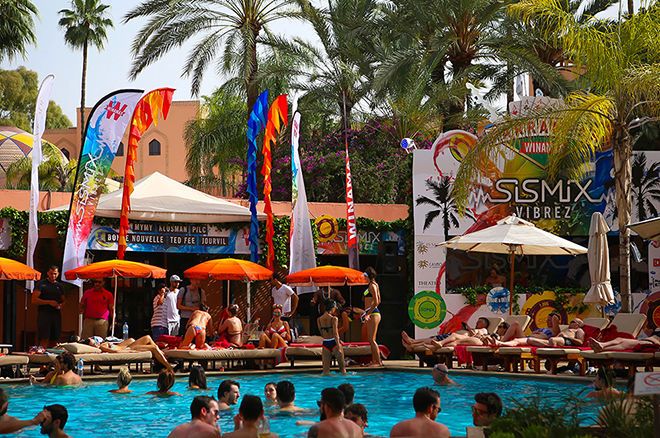 One of the most popular stops on the live poker tournament calendar, the Winamax SISMIX, returns to Marrakech, Morocco, from May 24, and PokerNews will be there bringing you all of the live updates from the Main Event.
The Winamax SISMIX is a six-day affair where the off-the-felt activities are as eagerly anticipated as the tournaments adorning the schedule. If there is one thing that Winamax knows how to do perfectly, it is hosting a fun-filled poker event.
The 2023 Winamax SISMIX Marrakech festival runs from May 24 through May 29, and PokerNews' live reporting team will be with you every step of the way for the MAD5,500 ($550) No-Limit Hold'em Main Event.
That main event features four flights before a Day 2 on May 28 whittles down the field, before the champion is crowned on May 29.
Find the Winamax SISMIX Marrkech Updates Here
Don't miss any of the 2023 Winamax SISMIX Marrakech Main Event action
Each Day 1 sees players sit down with 50,000 chips, and play to a 30-minute clock (15 minutes on Day 1D) where the blinds and antes start at 100/200/200a. Late registration is open for 13 levels, during which time a single re-entry per flight is permitted.
The clock extends to 35 minutes on Day 2, and then to 40 minutes on the final day. All play occurs on six-handed tables.
Past Winamax SISMIX Main Event Champions
The Marrakech edition of the Winamax SISMIX has always proven popular, so PokerNews expects a bumper crowd for the 2023 edition. The tournament took place for five consecutive years between 2014-2018 before the SISMIX festival called Spain home.
There was a brief hiatus thanks to the COVID-19 pandemic, with Winamax deciding to return to Morocco for the sixth time.
Davidi Kitai won the inaugural Winamax SISMIX event in 2014. Other champions include rap star Bruno "Kool Shen" Lopes, and Adrian Mateos, the latter taking down the 2018 edition, which was the last time Marrakech hosted this incredible festival.
| Year | Entrants | Prize Pool | Prize Pool (USD) | Champion | Prize | Prize (USD) |
| --- | --- | --- | --- | --- | --- | --- |
| 2014 | 670 | MAD3,618,000 | $440,221 | Davidi Kitai | MAD635,000 | $77,264 |
| 2015 | 872 | MAD4,172,000 | $424,602 | Jerome Sgorrano | MAD700,000 | $71,241 |
| 2016 | 901 | MAD4,703,200 | $481,837 | Bruno Lopes | MAD850,000 | $87,081 |
| 2017 | 1,078 | MAD5,627,200 | $566,244 | Hugo Larachiche | MAD1,000,000 | $100,626 |
| 2018 | 1,252 | MAD6,533,600 | $693,401 | Adrian Mateos | MAD1,000,000 | $106,128 |
Relive all past Winamax live updates
Winamax SISMIX Marrakech Schedule
As you can see from the table below, Winamax SISMIX Marrakech's schedule is packed to the brim with tournaments running around the clock. In addition to the various events, cash games are planned to run 24/7.
Winamax SISMIX is not only about poker but parties, entertainment, and having fun in the sun. Head to the Moroccan capital for the festival and have the time of your life with pool parties, a welcome party, Beer Pong competitions, a Moroccan Party, and much much more.
| Date | Time | Event | Approx. USD Buy-in |
| --- | --- | --- | --- |
| Wed 24 May | 12:00 p.m. | MAD3,000 No-Limit Hold'em Starter | $300 |
| | 1:00 p.m. | MAD8,500 No-Limit Hold'em Battle Royale Bounty Day 1 | $850 |
| | 4:00 p.m. | MAD1,700 No Limit Hold'em PKO | $170 |
| | 7:00 p.m. | MAD1,200 Hit & Run Satellite to Main Event | $120 |
| | 9:00 p.m. | MAD1,700 No-Limit Hold'em Sprint | $170 |
| Thu 25 May | 12:00 p.m. | MAD5,500 No-Limit Hold'em Main Event Day 1A | $550 |
| | 1:00 p.m. | No-Limit Hold'em Battle Royale Bounty Day 2 | |
| | 4:00 p.m. | MAD1,700 No-Limit Hold'em Tornado PKO | $170 |
| | 7:00 p.m. | MAD1,200 Hit & Run Satellite to Main Event | $120 |
| | 9:00 p.m. | MAD1,700 No-Limit Hold'em Sprint | $170 |
| Fri 26 May | 12:00 p.m. | MAD5,500 No-Limit Hold'em Main Event Day 1B | $550 |
| | 4:00 p.m. | MAD1,700 No-Limit Hold'em Sniper PKO | $170 |
| | 9:00 p.m. | MAD1,700 No-Limit Hold'em Sprint | $170 |
| Sat 27 May | 12:00 p.m. | MAD5,500 No-Limit Hold'em Main Event Day 1C | $550 |
| | 4:00 p.m. | MAD1,700 No-Limit Hold'em Desperado PKO | $170 |
| | 7:00 p.m. | MAD5,500 No-Limit Hold'em Main Event Day 1D | $550 |
| | 9:00 p.m. | MAD1,700 No-Limit Hold'em Sprint | $170 |
| Sun 28 May | 12:00 p.m. | Main Event Day 2 | |
| | 1:00 p.m. | MAD4,000 No-Limit Hold'em Monster Stack | $400 |
| | 2:00 p.m. | MAD15,000 No-Limit Hold'em High Roller Day 1 | $1,500 |
| | 4:00 p.m. | MAD1,700 No-Limit Hold'em Rodeo PKO | $170 |
| | 5:00 p.m. | MAD3,500 Pot-Limit Omaha – Royal Omaha | $350 |
| | 9:00 p.m. | MAD1,700 No-Limit Hold'em Sprint | $170 |
| Mon 29 May | 12:00 p.m. | MAD2,200 No-Limit Hold'em Mystery Bounty | $220 |
| | 12:30 p.m. | Main Event Final Day | |
| | 12:30 p.m. | Monster Stack Final Day | |
| | 1:00 p.m. | High Roller Final Day | |
| | 5:00 p.m. | MAD1,700 No-Limit Hold'em Pistolero PKO | $170 |
| | 9:00 p.m. | MAD1,700 No-Limit Hold'em Sprint | $170 |