PokerStars Casino Offers Chance To Win Epic Las Vegas Formula One Experience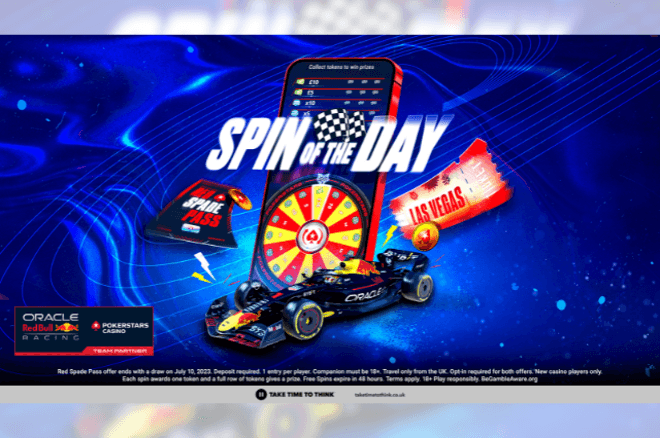 Table Of Contents
There has never been a better time to join PokerStars Casino, as they launch a new first deposit bonus that could send you to the Formula One Las Vegas Grand Prix. This new Red Spade Pass experience is part of PokerStars' extended deal with Oracle Red Bull Racing.
Oracle Red Bull Racing has become a source of several prize package giveaways under the Red Spade Pass banner.
PokerStars Casino also offers new players ten Spin Of The Day tickets just for creating an account. Spin Of The Day is an exclusive new game on Poker Stars Casino that allows players to win cash prizes and free spins.
All this is on top of the standard bonus offer of a 100% PokerStars Casino matched deposit bonus of up to £200.
Red Spade Pass To The Vegas Grand Prix
PokerStars and Oracle Red Bull Racing have worked together on previous Red Spade Pass experiences at F1 events. This time around, with the Las Vegas Grand Prix penciled in later this season, the synergy really pops.
Oracle Red Bull Racing currently holds the pole position in the 2023 F1 series, with their stellar team of Max Verstappen and Sergio Perez taking first place in all five races and second place in four of them. Only an aberrant fifth-place finish for Perez in Australia ruined the team's perfect run of 1-2 finishes.
There are several Red Spade Passes available for the LV Grand Prix, but by far, the lowest-effort way to earn a shot at one is simply to make your first deposit with PokerStars Casino.
Anyone who makes a first-time deposit of £20 or more between May 5 and July 10, 2023, will be entered into a draw. There is one pass up for grabs. The winner of this pass will get the following for themselves and a plus one:
A VIP viewing experience in the three days leading up to the Grand Prix.
Economy return flights from the UK to Las Vegas.
Four or five nights in a shared four-star hotel room in central Las Vegas.
Transport between the hotel, viewing experience, and airport.
Other exclusive activities TBC.
Previous Red Spade Pass winners have been sent to the Grand Prix at Monte Carlo, Silverstone, and Sao Paulo.
There have also been Red Spade Pass experiences that extend beyond the race track and have included experiences at the hockey rink and even a Joe Stapleton hosted basketball and poker experience.
Click to Download PokerStars Casino
Get Ten Free Spins Of The Day
The PokerStars Casino exclusive, Spin Of The Day, is a free-to-play game launched by PokerStars on March 15 and running until July 10.
Spin Of The Day offers players an opportunity to win cash prizes and free spins. Anyone who signs up for an account while Spin Of The Day before July 10, will receive ten free goes on the wheel.
It is a nice chance to get some free cash with no playthrough requirements and no requirement to make a deposit.
Players who sign-up for an account with PokerStars Casino and then do go on to make a deposit can also take advantage of the PokerStars Casino 100% matches deposit bonus. This awards player up to £200 in bonus funds.
It is worth noting that the playthrough requirements for the deposit bonus are a little counter-intuitive if you're used to the world of poker bonuses, so make sure to give the Ts and Cs a thorough going over to make sure you make the most of your bonus.
Between The Lines Episode 1 is live ⏯️, explore the parallels between F1 and poker at the highest level.#… https://t.co/neNmXNNx77

— Oracle Red Bull Racing (@redbullracing)