The New 888Poker Subreddit Gives Players An Easy Place To Get In Touch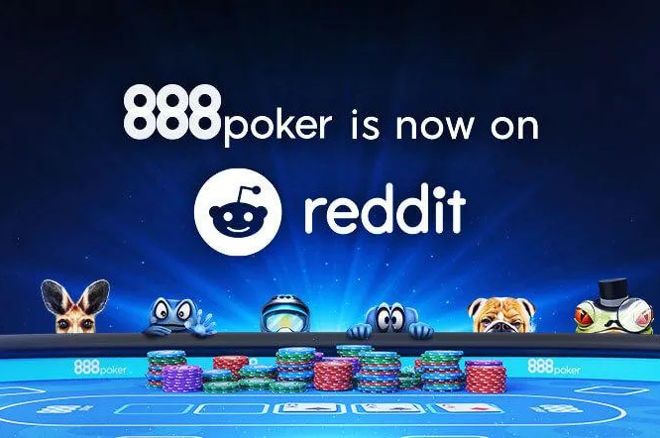 888poker has just launched its own subreddit.
Players now have another place to share hands, talk strategy, contact 888poker's customer service, and check out 888poker specific news.
As well as personal responses from a dedicated customer service team, /888pokerofficial has a pinned FAQ and regular updates on software changes and maintenance times. There is also a specific flare for suggestion posts, allowing you to suggest improvements to the software.
Reddit is well-suited to this sort of interaction. Recent and useful posts quickly rise to the top of the subreddit's feed thanks to Reddit's upvote-fuelled algorithm. The subreddit is also a great place to keep track of new promotions and the occasional corporate meme.
Other Ways To Follow 888poker
Reddit isn't the only place to keep tabs of 888poker. The company also runs a Discord server for anyone who plays cards on its poker client.
The 888poker Discord grants you direct access to the 888poker sponsored pros as well as members of the 888poker StreamTeam. The Discord is particularly useful if you want to keep track of when the streamers are performing on Twitch and when new 888poker Youtube videos drop.
If Discord, Twitch and Reddit aren't to your taste, 888poker is also Facebook, Instagram, and Twitter.
Each of these sites is monitored by members of the 888poker team directly.
Click For More About The 888poker Discord Server
Find The Action With The PokerNews Online Tournament Calendar
If you want to keep track of the upcoming tournament action on 888poker, check out the PokerNews Online Tournament Calendar.
The Online Tournament Calendar is our free-to-use tool that keeps you up to date on every tournament run by PartyPoker, 888poker, and PokerStars.
888poker Freeroll Poker Tournaments
Get Exclusive 888poker Freeroll Passwords Here!
Upcoming 888poker Tournaments — PokerNews Online Tournament Calendar
How To Sign Up With 888poker
If you don't already have an 888poker account, remember to download 888poker via PokerNews and create your free account.
You can use our PokerNews bonus codes to get $65 (about £50) worth of tournament tickets when you make your first deposit of more than £10 using the bonus code "GET50". The tickets will be received as follows:
First day after deposit: 15 tickets of $1 each
Each day from the second to the sixth day after deposit: 10 tickets of $1 each
The GET50 bonus code is only valid for residents of the United Kingdom
Alternatively, you can opt for a 100% matched deposit bonus. This has a maximum value of $1,000. However, unlike the tournament tickets, you will have to meet playthrough requirements before you can access the bonus funds. Check out the terms and conditions for full details of how to clear the bonus.
You can also click the button below to see our review of 888poker and find out more details about 888poker's bonus offers and how to download the 888poker software.