Have You Joined the Awesome 888poker Discord Channel?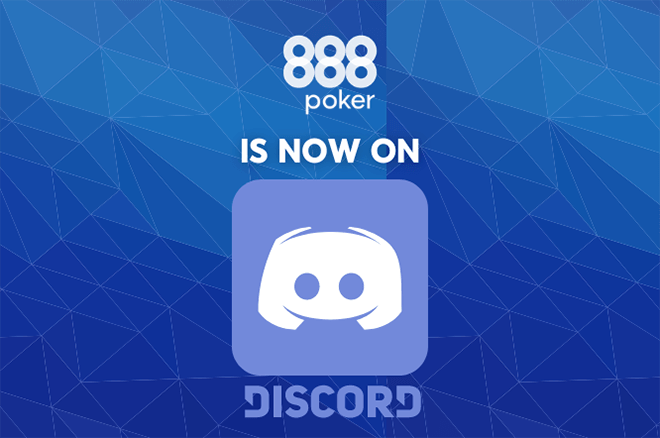 888poker is dedicated to bringing together its vibrant community and recently continued in that direction by creating a dedicated 888poker Discord channel. Discord is a feature-rich instant messaging platform that is free to use. Made popular by video gamers, an increasing number of poker players are frequent Discord users, and now 888poker has its own channel.
Joining the 888poker Discord channel grants you direct access to the amazing 888poker ambassadors and StreamTeam members, in addition to connecting you to with like-minded players from the 888poker community.
The 888poker Discord channel will quickly become your one-stop shop for everything 888poker-related. All of the online poker site's content is in one place, you can receive notifications when new streams go live or a new video is published, in addition to being able to connect with fellow 888poker players and asking for hand reviews and poker strategy advice. Best of all? It is all free!
888poker Named EGR Poker Operator of the Year
Navigating Through the 888poker Discord Channel's Servers
There are currently a dozen servers within the 888poemr Discord channel, each serving a specific purpose. Once you have joined the 888poker Discord channel, you will be greeted with the following servers.
#Server Info and #Welcome are your first ports of call. The Server Info contains all the rules to adhere to while using the 888poker Discord channel. There is nothing ground-breaking or restrictive in there, just be respectful of your fellow users or you could be hit with a temporary or permanent ban.
There are also sections for #Announcements and #Stream Schedule, which are self-explanatory. Moving down the list, you find #Streaming and #YouTube. These servers automatically ping you when 888poker goes live on Twitch or YouTube, so you never need to miss a stream or show again.
Under #self-roles, you can assign yourself content roles in order to stay up to date on a variety of subjects, including receiving a notification whenever 888poker has a giveaway.
Then you have #Social Links and #Stream Team Links, which show the links to the various 888poker and 888poker ambassador and StreamTeam's Twitch channels.
More Than $2M Gtd in the 888poker KO Games From Nov. 6
Interact With Your Fellow 888poker Players
As a member of the 888poker Discord channel, you not only get to stay up-to-date with everything related to 888poker but also have the chance to chat and interact with your fellow 888poker players.
There is a general chat section, a server to share your favourite memes, and a dedicated section for the foodies among you. It is in this section where the 888poker team picks up on any suggestions you may have, and where you can share hand histories for reviews from your fellow players.
One section that is sure to prove to be extremely popular is #Ask a Poker Pro. Here, you get to bounce ideas and ask questions to professional poker players within the 888poker Discord channel. You can pay a lot of money to liaise with professional poker players, but everything on this channel has zero cost implications, which is cool in itself.
888poker Celebrates 20th Anniversary with Busy LIVE Madrid Festival
Check out the 888poker Discord Channel For Yourself
Why not check out the 888poker Discord channel for yourself? Create a free 888poker account via PokerNews, claim your 100% up to $400 first deposit bonus, then head to the 888poker Discord channel and get involved with the online poker's site's fun and friendly community. You know it makes sense.