How Winning the Goliath Opened Poker Doors for Kyle Jeffrey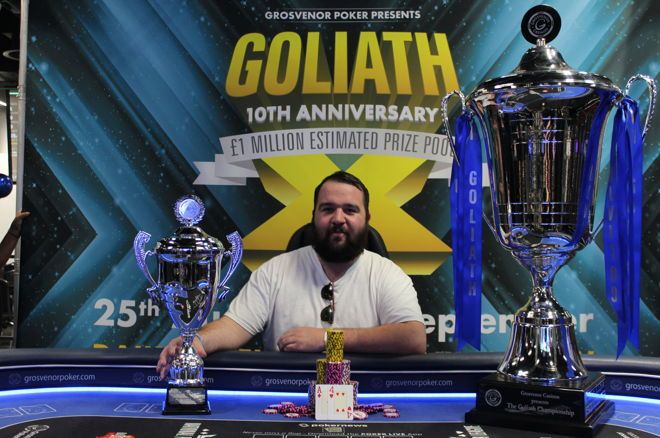 Taking down a prestigious poker tournament for a large score opens doors for poker players. Being known in the community as a poker champion gains the respect of your peers, while a bankroll-boosting score goes some way to giving you more freedom over which event you can play and where.
On September 5, 2022, Scunthorpe's Kyle Jeffrey's poker dreams came true. After three intense days of poker action, Jeffrey had outlasted a record 10,583 opponents in the 10th anniversary edition of the Goliath Main Event, and turned his £150 investment into a colossal £200,000.
A Solid Day 2 Performance
PokerNews' Live Reporting team were on the ground from Day 2 of the Goliath X, the largest-ever Goliath tournament in history. Jeffrey finished Day 2 with a healthy 7,200,000 stack, which was enough for 11th place with only 42 players remaining. At that point, Jeffrey had locked in £1,460 and was only two pay jumps from a new career-high haul, which at the time stood at £1,695, his reward for a runner-up finish five years earlier.
Day 3 shuffled up and dealt at 11:00 a.m. on September 5, and Jeffrey got off to a blistering start, finding pocket kings when an anonymous player jammed with an inferior pair of fours in the hole.
He then won a flip with ace-queen against David Meager's pocket eights to find himself with 11,000,000 chips in the opening level of the final day's play.
Jeffrey must have thought this way his day when his lowly king-deuce improved to a full house to beat the ace-four of Jack Harris with only three tables remaining, but there was still plenty of poker to be played.
Jeffrey's stack dwindled, but he earned a reprieve when his king-jack came from behind to beat Sean Hopkins' pocket sevens, which kept Jeffrey's Goliath dreams alive.
Kyle Jeffrey wins the Goliath X Main Event
Here's a recap of Jeffrey's victory.
Final Table Reached
By the time the nine-handed final table was set, Jeffrey found himself armed with 28,000,000 chips, enough for fifth place, but he trailed the chip leader, David Reed (77,650,000) by a considerable distance.
The champion-elect was keeping his head above water in the early stages of the final table, but doubled through Young Seo Yoon with pocket fives against ace-jack to give his stack a boost; Jeffrey never looked back from that point onwards.
With only five players remaining, the tournament clocked was paused, and discussions about a deal followed. An ICM deal was dismissed, then the offer of everyone taking home £100,000 and playing on for £20,000 never gained traction, so play continued with the original payout structure.
Jeffrey sent Georgian Georgescu to the rail in fifth, and his stack swelled to 112 million. He then busted Reed in fourth before finding himself heads-up against Luke Cheslin after Cheslin sent Charlie Tarimo to the showers.
The Hand That Changed Jeffrey's Life
Heads-up was a brief affair and saw Jeffrey open to 12,000,000 with ace-four, and Cheslin call with queen-eight of spades. The ace-nine-deuce flop contained two spades. Jeffrey bet 7,500,000, and Cheslin called. Another deuce on the turn resulted in Cheslin jamming for 75,000,000 and Jeffrey calling. Jeffrey faded the flush draw on the river when the nine of diamonds completed the community cards. Cheslin fell in second place, and Jeffrey became the Goliath champion and recipient of £200,000.
2022 Grosvenor Goliath X Main Event Final Table Results
| Rank | Player | Country | Payout (GBP) |
| --- | --- | --- | --- |
| 1 | Kyle Jeffrey | United Kingdom | £200,000 |
| 2 | Luke Cheslin | United Kingdom | £134,000 |
| 3 | David Reed | United Kingdom | £89,120 |
| 4 | Charlie Tarimo | United Kingdom | £60,960 |
| 5 | Georgian Georgescu | Romania | £39,020 |
| 6 | Saied Yolmeh | United Kingdom | £26,820 |
| 7 | Young Seo Yoon | United Kingdom | £20,730 |
| 8 | Gareth Cresswell | United Kingdom | £17,070 |
| 9 | Peter Norton | United Kingdom | £14,630 |
A delighted Jeffrey spoke to PokerNews shortly after his incredible victory.
"When the payout got to £4,000, I was thinking that's massive. Then it kept on getting bigger and bigger. When I was playing, I didn't really think about the money. Once I got chips I just played because I felt like could win.
"I play a lot of hyper turbos online, so that was massive for me. So towards the end, I was just putting pressure on everyone; that's what paid off. And I got some cards as well!"
Amazingly, Jeffrey's friend, Elliott Marais, triumphed in the 2017 edition of the Goliath for £85,760. Jeffrey saw the difference such a sizable score did for his friend.
"The money is life-altering. I can do so much with it. I can't wait. But I'm going to be doing a lot more poker, that's what I'm looking forward to doing going forward."
True to his word, Jeffrey has used his new-found fortune to travel far and wide playing tournaments. A trip to Belgium in May 2023 saw him finished 19th in the €800 buy-in PokerStars LIVE Belgian Poker Challenge, and a trip to the United States bore fruit.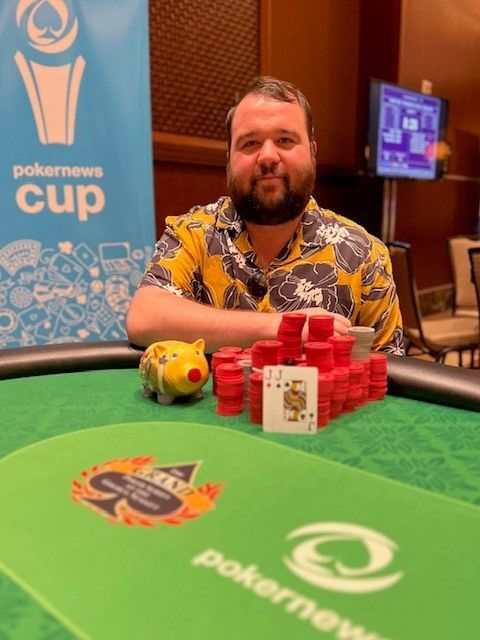 Although Jeffrey did not manage to cash in a 2023 WSOP event, he did come out on top in a $300 buy-in Mystery Bounty tournament at the Golden Nugget for a $55,485 payday, overcoming more than 2,350 opponents. It seems large field events are now Jeffrey's thing.
Heading to Coventry to Defend His Title
It goes without saying that Jeffrey is heading to Coventry in an attempt to become the Goliath's two-time champion. There is every chance that this year's Goliath will boast a £1.5 million prize pool by the time late registration slams shut on the final flight, and Jeffrey has plenty of ammunition at his disposal if he wants to take full advantage of the re-entry format.
Day 1A starts at 12:00 p.m. on July 29, with a turbo-structured Day 1H starting at 6:00 p.m. on August 4. Will Jeffrey manage to do the unthinkable and win back-to-back Goliath's, or will it be your name displayed across PokerNews' pages after the final hand is played?
Could the 2023 Goliath Award £1.5 Million in Prize Money?
Everything points to the 2023 Goliath being the biggest ever.
2023 GUKPT Goliath Schedule
Check out the full 2023 GUKPT Goliath schedule in the table below, which details the Goliath Main Event, all side events, and satellites.
| Date | Time | Event | Buy-in |
| --- | --- | --- | --- |
| Thu 27 Jul | 12:00 p.m. | GUKPT Day 1A | £1,000 |
| | 7:00 p.m. | GUKPT Satellite Cashout | £110 |
| Fri 28 Jul | 12:00 p.m. | GUKPT Day 1B | £1,000 |
| | 7:00 p.m. | High Roller Satellite Cashout | £220 |
| | 9:00 p.m. | GUKPT Day 1C | £1,000 |
| Sat 29 Jul | 12:00 p.m. | Redtooth Poker Malta52 Open | £120 |
| | 12:00 p.m. | Goliath Main Event Flight A | £150 |
| | 1:00 p.m. | GUKPT Day 2 | |
| | 4:00 p.m. | Ladies Event | £110 |
| | 7:00 p.m. | Redtooth Poker Open | £120 |
| | 7:00 p.m. | High Roller Satellite Cashout | £220 |
| Sun 30 Jul | 12:00 p.m. | Redtooth Poker Bounty Open | £100 |
| | 12:00 p.m. | Goliath Main Event Flight B | £150 |
| | 1:00 p.m. | High Roller Satellite Cashout Turbo | £220 |
| | 2:15 p.m. | Ladies Event Day 2 | |
| | 2:15 p.m. | GUKPT Day 3 | |
| | 4:00 p.m. | High Roller Day 1 | £2,000 |
| | 7:00 p.m. | Redtooth Poker Turbo Open | £100 |
| | 7:00 p.m. | Mystery Bounty Day 1A | £440 |
| Mon 31 Jul | 12:00 p.m. | Goliath Main Event Flight C | £150 |
| | 2:15 p.m. | High Roller Day 2 | |
| | 7:00 p.m. | Mystery Bounty Day 1B | £440 |
| Tue 1 Aug | 12:00 p.m. | Goliath Main Event Flight D | £150 |
| | 6:00 p.m. | Pot Limit Omaha | £200 |
| | 7:00 p.m. | Mystery Bounty Day 1C | £440 |
| Wed 2 Aug | 12:00 p.m. | Goliath Main Event Flight E | £150 |
| | 4:15 p.m. | Mystery Bounty Day 2 | |
| | 7:00 p.m. | Joker's Wild Does Carer's Trust | £100 |
| Thu 3 Aug | 12:00 p.m. | Goliath Main Event Flight F | £150 |
| | 12:00 p.m. | SHR Satellite Cashout Turbo | £370 |
| | 2:00 p.m. | Super High Roller | £3,500 |
| | 4:15 p.m. | Mystery Bounty Day 3 | |
| Fri 4 Aug | 11:00 a.m. | Goliath Main Event Flight G | £150 |
| | 6:00 p.m. | Goliath Main Event Flight H Turbo | £150 |
| Sat 5 Aug | 11:00 a.m. | Goliath Main Event Day 2 | |
| | 2:30 p.m. | Goliath Cup Day 1 | £550 |
| | 4:00 p.m. | Redtooth Poker Tag Team Open | £200 |
| | 6:00 p.m. | APAT Open Championship | £120 |
| Sun 6 Aug | 11:00 a.m. | Goliath Main Event Day 3 | |
| | 12:00 p.m. | Redtooth Poker Tour Leg 2 | Members Only |
| | 12:00 p.m. | Seniors | £150 |
| | 1:00 p.m. | Turbo | £170 |
| | 1:00 p.m. | APAT Open Championship Final Day | |
| | 2:30 p.m. | Goliath Cup Day 2 | |
| Mon 7 Aug | 7:00 p.m. | £50,000 Gtd Online Closer | £110 |
| Tue 8 Aug | 7:00 p.m. | £50,000 Gtd Online Closer Day 2 | £110 |