World Series of Poker 2023: Read Phil Ivey's Top WSOP Tips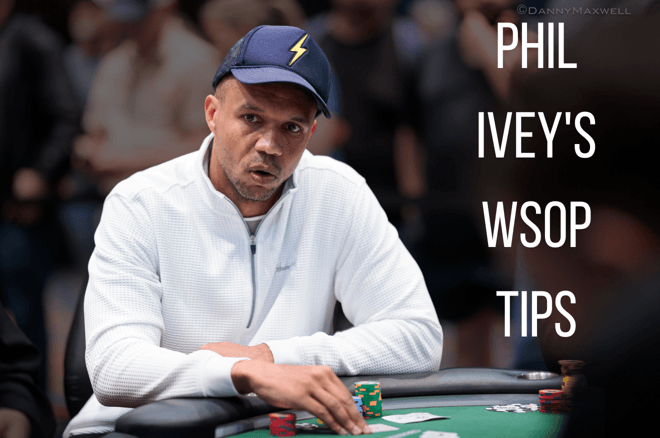 When it comes to strategy tips for the 2023 World Series of Poker (WSOP), you really want to be hearing from the absolute best in the business.
So how does getting to hear from ten-time WSOP bracelet winner Phil Ivey sound? Ivey's cashed for over $9.2 million at the WSOP alone, and although he hasn't picked up a bracelet since 2014 he's still considered one of the greatest to ever play the game.
He's currently tied for second in the all-time bracelet list with 10 alongside Johnny Chan and Doyle Brunson, with only Phil Hellmuth having won more bracelets (16).
Here are a few pieces of advice from the poker great, who recently bubbled the $250,000 Super High Roller at the 2023 WSOP.
2023 World Series of Poker Hub
Bookmark this page! All you need to know about the 2023 WSOP is here.
Bankroll Management is Key
With almost 20 years of experience playing at the World Series of Poker - Ivey first cashed at the 2000 WSOP - the poker legend recognizes just how arduous playing at the Series can be.
"It's a long thing so pace yourself," he told Joey Ingram in a 2021 interview. "It's a grind."
One of the things that Ivey stressed is not to "play over your head." That is, to play within the bankroll you have available, or the budget that you have set to play with at the World Series of Poker. That way you can enjoy the tournament, and aim for success and glory while still being able to enjoy it.
"Playing over your head puts yourself in a bad place financially," says Ivey. "It doesn't have to be that way. If you're new to poker, it can be an enjoyable game and can be a great hobby to have. If you don't go overboard, pace yourself and move up in stakes at the right time it will be a much more enjoyable experience."
Ivey says bankroll management goes hand in hand with the ability to enjoy yourself. And that way you'll be able to make it through the whole Series.
Prioritize What's Important
"There's no greater teacher than experience."
With so much experience, Ivey says it's important to prioritize what's important to you and what really matters. That way, you can put yourself in the best position possible to excel not just at the World Series of Poker, but in poker in general.
And if something matters to you, it's important that you give it your full attention. That applies to stuff off away from the poker tables as well, says Ivey.
"It's important to have a routine, exercise or food. It's important who you surround yourself with. I actively pursue relationships with people instead of just being by myself."
"If poker really matters, then that's what you're naturally going to be doing," says Ivey. "There's no greater teacher than experience."
Phil Ivey's WSOP Strategy Tips
So there you have it! Some WSOP strategy tips from the legend himself. To recap, here are the three main tips that Ivey has for playing at the World Series of Poker:
Don't play over your head
Work on your routine
Surround yourself with people to help you improve
You can watch Ingram's full interview with Ivey here!
Will Shillibier is based in the United Kingdom. He started working for PokerNews as a freelance live reporter in 2015 and joined the full-time staff in 2019. He graduated from the University of Kent in 2017 with a B.A. in German. He also holds an NCTJ Diploma in Sports Journalism.