WSOP Legend: 10-Time Bracelet Winner Phil Ivey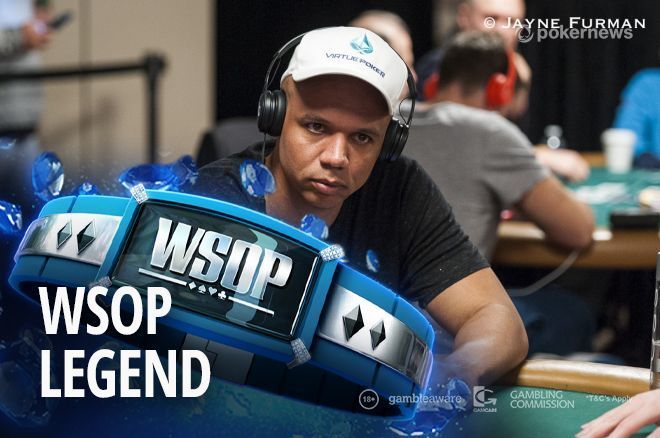 COVID-19 forced the postponement of the 2020 World Series of Poker in Las Vegas. In lieu of being able to live report this year's summer series, PokerNews has decided to relive some of the memories of past WSOPs. This Day in WSOP History will harken back to the most poignant moments of WSOPs from 2005-2019.
Few poker players have captured the attention of the poker universe quite like Phil Ivey. There have been plenty of champions of the game who crushed it at the felt, but none who built up the mystique of Ivey, who remains to this day arguably the most magnetic player in poker despite results that no longer match his days of utmost dominance.
A day after the anniversary of Ivey's induction into the Poker Hall of Fame, PokerNews examines the legacy of his WSOP success.
Get a FREE $1k Super Bowl Bet!
Register your e-mail address for your chance to win a $1,000 free bet - right on time for the Super Bowl!
REGISTER HERE
Ivey Takes WSOP By Storm
Prior to 2000, Ivey didn't have any recorded WSOP cashes.
The 23-year-old didn't waste any time establishing himself as one of the top up-and-coming players. That year, after already making one final table and finishing fifth, Ivey secured his first bracelet. He beat none other than fellow Hall of Famer Amarillo Slim Preston heads up to win Event #14: $2,500 Pot-Limit Omaha, a rebuy event, for his first bracelet and $195,000. Three other Hall of Famers — Chris Bjorin, Phil Hellmuth and David "Devilfish" Ulliott — also competed at that final table, so shipping it was about more than just getting his first taste of gold. Ivey showed he could beat the best in the business.
Two years after that, though, would be when Ivey really showed he was the present and future of the game. In 2002, Ivey showcased his skills at limit poker in a big way.
He didn't waste any time, taking down Event #5: $1,500 Limit Seven Card Stud for $132,000. Then, he showed he could play a little split-pot poker as well when he won Event #16: $2,500 Limit Seven Card Stud Hi-Lo just over a week later for $118,440. Another week after that, he made Event #23: $2,000 Limit S.H.O.E. his stomping ground and banked $107,540.
Oh, and he also made two other final tables and ran to 23rd place in the WSOP Main Event, starting a theme throughout his career of fine performances on poker's biggest stage.
All told, he collected more than $400,000 in prize money and had four bracelets at a time when most poker players' careers are in their infancies.
More Bracelets and Main Event Glory
It would be a few more years before Ivey tasted gold again, but he didn't fail to build his legend in the interim.
In 2003, he had a pair of near misses with top-three finishes and then memorably bulldozed his way to a 10th-place finish in the Main Event. To many, his excruciatingly unlucky bustout — he memorably got it in as a huge favorite with one card to come only for Chris Moneymaker to suck out with his coolered hand — remains the great "What if?" moment in poker. Had Ivey's hand held, he'd have been in fantastic position, and perhaps the Moneymaker boom never happens.
Ivey put the unlucky beat behind him, though, and after a down year in 2004 with just one cash, he showed strong in 2005. He shipped his fifth bracelet and the biggest prize of his poker career to that point, winning $635,603 in Event #27: $5,000 Pot-Limit Omaha. He then made another Main Event run, but despite a big stack heading to Day 6, everything went wrong and he crashed out in 20th.
Ivey continued to post strong results at the WSOP but a bunch of top-fours does not a bracelet make. Finally, 2009 saw him return to his bracelet-winning ways. Then, the legend earned his sixth bracelet in his fifth different discipline — this time conquering Event #8: $2,500 No-Limit 2-7 Lowball Draw. He followed up with another win in Event #25: $2,500 Omaha/Seven Card Stud Hi-Lo 8 or Better.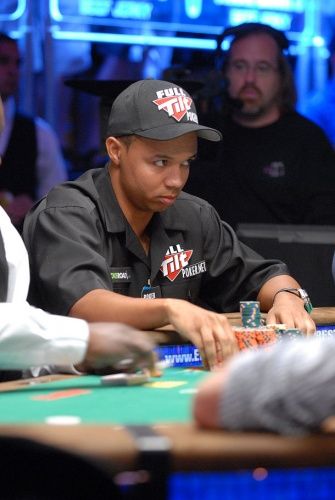 Then, he pulled off the greatest of all his WSOP Main Event runs. With the whole poker world watching, he advanced to the November Nine. Unfortunately for Ivey, all of the cards conspired against him from there as he lost a flip to eventual champ Joe Cada and then couldn't have ace-king hold against ace-queen for his remaining chips.
Still, the seventh-place run only added to his legend, leaving people wondering what would ever happen if perhaps the game's greatest player had some luck go his way at the end of the biggest tournament in poker.
Reaching Double Digits
After his incredible 2009, Ivey added his eighth bracelet the very next year, taking Event #37: $3,000 H.O.R.S.E. in a stacked final table that included Chad Brown, David "ODB" Baker, John Juanda and Jeff Lisandro.
With eight bracelets at the age of 33, Ivey seemed a mortal lock to wind up as the all-time bracelet king. Phil Hellmuth was just three up on him, and his pace over the previous decade did not match Ivey's. Plus, Ivey was scooping all of his bracelets in non-hold'em events that had far more manageable fields than the no-limit ones Hellmuth was occasionally conquering.
However, Ivey's career took an unexpected turn a few years later. Having already bagged bracelet No. 9, just before he reached double digits in 2014, he became embroiled in what would become a long-running legal war with East Coast casino Borgata. Ivey and a gambling partner had taken the casino for millions with an advanced — and illegal, according to the casino — strategy that involved using tiny imperfections on the cards to gain an edge. None the wiser, Borgata had paid out before filing suit.

Brighter Days Ahead?
After that, Ivey largely disappeared from the public poker eye. He made appearances here and there, usually ducking into the Rio for a quick stint in the WSOP Main Event, though that didn't even happen every year.
It was commonly believed Ivey was spending all of his grinding time in private high-stakes games in Asia, something he hinted at in a 2015 interview with PokerNews.
He also said he needed bracelet bets to motivate himself for the small-stakes events, and that evidently finally happened in 2018 as Ivey could be seen throughout the summer firing stuff from $565 on up. While he did rack up nine cashes in 2018-19, he only came within shouting distance of an 11th bracelet twice — both times with top-10 finishes in the $50,000 Poker Players Championship.
An appearance in Europe in 2019 gave him a real shot at a bracelet as he played a slew of small-field high rollers. A few decent runs followed but resulted in nothing better than an eighth-place finish.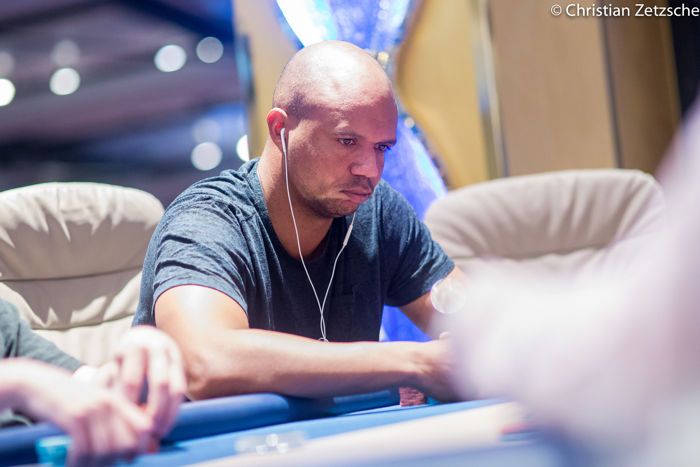 And that's where Ivey sits to this day. Few would have believed when he won his 10th piece of gold in 2014 that he'd still be sitting on that admittedly lofty number six years later.
However, a recent development has to give fans hope. If ever there was a clear sign for Ivey to steer clear of the WSOP, it was when Borgata was able to garnish the $124,410 he won in the 2019 PPC for his eighth-place finish. But, Ivey finally put all that to rest in July when he settled the seemingly endless court battle.
So, the stage appears set. Does Ivey still have a push in him to catch Hellmuth? "The Poker Brat" has raced ahead of the field in Ivey's absence and run his total to 15 bracelets.
Ivey has a history of making history, and if anyone can do it, it's perhaps the foremost legend in the game today.
Phil Ivey's WSOP Bracelets
| Year | Tournament | Entries | Prize |
| --- | --- | --- | --- |
| 2000 | $2,500 Pot-Limit Omaha | 100 | $195,000 |
| 2002 | $1,500 Limit Seven Card Stud | 253 | $132,000 |
| 2002 | $2,500 Limit Seven Card Stud Hi-Lo | 126 | $118,440 |
| 2002 | $2,000 Limit S.H.O.E. | 143 | $107,540 |
| 2005 | $5,000 Pot-Limit Omaha | 134 | $635,603 |
| 2009 | $2,500 No-Limit 2-7 Lowball Draw | 147 | $96,367 |
| 2009 | $2,500 Omaha/Seven Card Stud Hi-Lo 8 or Better | 376 | $220,538 |
| 2010 | $3,000 H.O.R.S.E. | 478 | $329,840 |
| 2013 (WSOP APAC) | A$2,200 Mixed Event (8-Game) | 81 | A$51,840 |
| 2014 | $1,500 8-Game Mix | 485 | $166,986 |