WSOP History: Looking Back at the November (and October) Nines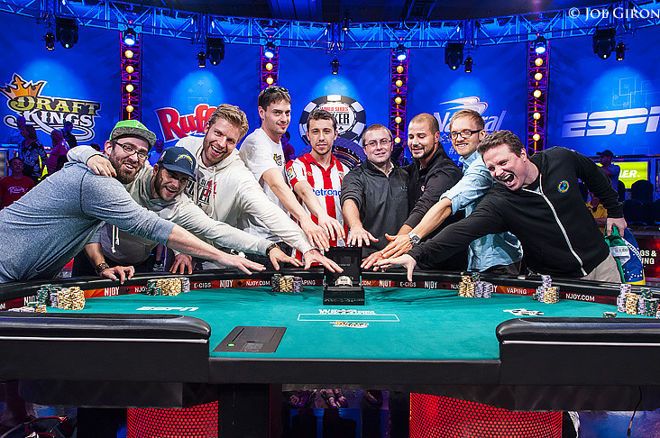 COVID-19 forced the postponement of the 2020 World Series of Poker in Las Vegas. In lieu of being able to live report this year's summer series, PokerNews has decided to relive some of the memories of past WSOPs. This Day in WSOP History will harken back to the most poignant moments of WSOPs from 2005-2019.
No stage in poker stood as a bigger goal for a tournament player than the final table of the WSOP Main Event. For years, that meant going to sleep knowing you had the chance of a lifetime, to go down in poker history in the next few days as the cameras captured your every bet, raise and fold.
All of that changed in 2008.
The year after Jerry Yang's Main Event victory was broadcast to all on ESPN's standard tape delay, organizers made a decision to try to increase the excitement and anticipation around the final table: after the final nine was reached, play would be paused. At that point, everyone left would go home with 9th-place money and the players would reconvene a few months later to play out the final table on a short tape delay.
Check Out the WSOP Online Bracelet Schedule
A total of 85 bracelets will be won online from July to September this year. Find out more information right here on PokerNews!
November Nine Concept
The idea had a few points of reasoning behind it.
For one thing, players would have a chance to garner sponsorships and build up their star power within the poker world and without. Local news could trumpet them as heroes while they made deals with poker sites that would net them thousands of dollars in extra earnings.
For another, the concept of editing and displaying a final table months after it happened was starting to become less tenable thanks to the reach of the internet. If all of the viewers already knew who won because the results were leaked, they'd be less inclined to tune in once the actual broadcast hit the airwaves.
Plus, the actual quality of the poker would likely improve as the players had a chance to increase their skill levels in the intervening months.
Early Years of November Nine
While not everyone was thrilled with the idea, the WSOP went ahead and implemented it starting in 2008.
Peter Eastgate emerged as the event's youngest champion, winning $9.1 million. While he didn't exactly become a household name in the aftermath, he did parlay the win into a memorable appearance on "High Stakes Poker" before he ultimately faded out of the spotlight and stopped appearing at poker tournaments.
The following year, a major moment materialized when universally respected superstar Phil Ivey made the final table, albeit with one of the shorter stacks.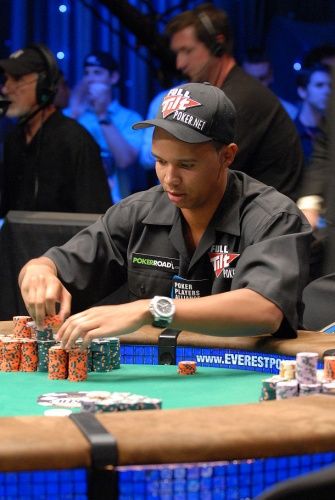 Ivey managed to put himself in good position to chip up, but the cards simply wouldn't fall his way. Ivey had Joe Cada at risk in a flip for his tournament life, but the eventual champ had a bulletproof vest on that whole final table as he survived a slew of all-in pots, including this one with fours against ace-eight. Then, 175 hands in, Ivey got it all in and way ahead, ace-king against the ace-queen of Antoine Saout. However, fans everywhere were crushed as a queen-high board ran out to send Ivey packing in seventh and end the epic sweat.
Michael Mizrachi made it two straight years with a star, albeit a lesser one this time, at the final table when he got there in 2010. Like Ivey, though, he'd be unable to make it happen as he ultimately settled for fifth place as Jonathan Duhamel steamrolled through with his big stack.
Poker Landscape Changes
The 2011 final table would see another European champ emerge then shun the spotlight as Pius Heinz, a little-known German, prevailed.
However, by that time, the poker world had already experienced a radical transformation. The events of Black Friday, which saw the leading online poker sites sanctioned by the U.S. federal government, reshaped the sponsorship landscape, and not for the better from a player perspective. Suddenly, sponsorship dollars dwindled as poker sites no longer had more money flowing in than they knew what to do with thanks to their U.S. customers being frozen out.
Two of the most memorable final tables being played in the following couple of years when Greg Merson won a three-handed battle of record length in 2012 and Martin Jacobson pulled off a short-stack clinic in 2014 — Ryan Riess took one home for the WSOP Circuit grinders in between — but the concept of the November Nine was wearing thin.
For one thing, the "immediacy" of a short delay began to become slow by modern standards. The introduction of livestreaming had made poker fans used to immediately being able to follow major final tables, and social media allowed people in the Amazon Room to broadcast results to thousands of followers in real time, beating the delayed broadcast.
Less than exciting final tables the next two years didn't help matters. A boring Joe McKeehen win in 2015 saw everyone else seem to play for second place, reducing the drama to zero. The actual poker was far more enthralling in 2016, but Qui Nguyen's earning of the bracelet came as folks on the East Coast were waking up for work the next day.
Follow all the latest from the WSOP - LIVE!
The cards are in the air in the WSOP.com portion of the event. The PokerNews live reporting team is on top of all things WSOP. Don't miss a beat!
Instant Gratification
Whether or not that was the last straw, the concept was shelved after 2016. A move to a more traditional — these days, anyway — 30-minute delay was implemented as PokerGO and ESPN began teaming for the broadcast.
"Times change," said the WSOP's Seth Palansky in late 2017. "You either change with them or become extinct. We live in a world of immediacy and live and nothing being kept under wraps."
That's been the new normal ever since. While the November Nine was termed "a great success" by Palansky, few have pined for the days of delayed WSOP Main Event final tables, and it seems that slice of poker history will remain just that.
Rosters of Delayed WSOP Main Event Final Tables
2008
| Seat | Player | Chips | Finish | Prize |
| --- | --- | --- | --- | --- |
| 1 | Dennis Phillips | 26,295,000 | 3rd | $4,517,773 |
| 2 | Craig Marquis | 10,210,000 | 9th | $900,670 |
| 3 | Ylon Schwartz | 12,525,000 | 4th | $3,774,974 |
| 4 | Scott Montgomery | 19,690,000 | 5th | $3,096,768 |
| 5 | Darus Suharto | 12,250,000 | 6th | $2,418,562 |
| 6 | Chino Rheem | 10,230,000 | 7th | $1,772,650 |
| 7 | Ivan Demidov | 24,400,000 | 2nd | $5,809,595 |
| 8 | Kelly Kim | 2,620,000 | 8th | $1,288,217 |
| 9 | Peter Eastgate | 18,375,000 | 1st | $9,152,416 |
2009
| Seat | Player | Chips | Finish | Prize |
| --- | --- | --- | --- | --- |
| 1 | Darvin Moon | 58,930,000 | 2nd | $5,182,928 |
| 2 | James Akenhead | 6,800,000 | 9th | $1,263,602 |
| 3 | Phil Ivey | 9,765,000 | 7th | $1,404,014 |
| 4 | Kevin Schaffel | 12,390,000 | 8th | $1,300,231 |
| 5 | Steve Begleiter | 29,885,000 | 6th | $1,587,160 |
| 6 | Eric Buchman | 34,800,000 | 4th | $2,502,890 |
| 7 | Joe Cada | 13,215,000 | 1st | $8,547,042 |
| 8 | Antoine Saout | 9,500,000 | 3rd | $3,479,670 |
| 9 | Jeff Shulman | 19,580,000 | 5th | $1,953,452 |
2010
| Seat | Player | Chips | Finish | Prize |
| --- | --- | --- | --- | --- |
| 1 | Jason Senti | 7,625,000 | 7th | $1,356,720 |
| 2 | Joseph Cheong | 23,525,000 | 3rd | $4,130,049 |
| 3 | John Dolan | 46,250,000 | 6th | $1,772,959 |
| 4 | Jonathan Duhamel | 65,975,000 | 1st | $8,944,310 |
| 5 | Michael Mizrachi | 14,450,000 | 5th | $2,332,992 |
| 6 | Matthew Jarvis | 16,700,000 | 8th | $1,045,743 |
| 7 | John Racener | 19,050,000 | 2nd | $5,545,955 |
| 8 | Filippo Candio | 16,400,000 | 4th | $3,092,545 |
| 9 | Soi Nguyen | 9,650,000 | 9th | $811,823 |
2011
| Seat | Player | Chips | Finish | Prize |
| --- | --- | --- | --- | --- |
| 1 | Matt Giannetti | 24,750,000 | 4th | $3,012,700 |
| 2 | Bob Bounahra | 19,700,000 | 7th | $1,314,097 |
| 3 | Eoghan O'Dea | 33,925,000
 | 6th | $1,720,831 |
| 4 | Phil Collins | 23,875,000 | 5th | $2,269,599 |
| 5 | Anton Makiievskyi | 13,825,000 | 8th | $1,010,015 |
| 6 | Sam Holden | 12,375,000 | 9th | $782,115 |
| 7 | Pius Heinz | 16,425,000
 | 1st | $8,715,638 |
| 8 | Ben Lamb | 20,875,000 | 3rd | $4,021,138 |
| 9 | Martin Staszko | 40,175,000 | 2nd | $5,433,086 |
2012
| Seat | Player | Chips | Finish | Prize |
| --- | --- | --- | --- | --- |
| 1 | Russell Thomas | 24,800,000 | 4th | $2,850,494 |
| 2 | Jake Balsiger | 13,115,000 | 3rd | $3,797,558 |
| 3 | Jeremy Ausmus | 9,805,000 | 5th | $2,154,616 |
| 4 | Steve Gee | 16,860,000 | 9th | $754,798 |
| 5 | Greg Merson | 28,725,000 | 1st | $8,531,853 |
| 6 | Jesse Sylvia | 43,875,000 | 2nd | $5,295,149 |
| 7 | Rob Salaburu | 15,155,000 | 8th | $971,252 |
| 8 | Andras Koroknai | 29,375,000 | 6th | $1,640,461 |
| 9 | Michael Esposito | 16,260,000 | 7th | $1,257,790 |
2013
| Seat | Player | Chips | Finish | Prize |
| --- | --- | --- | --- | --- |
| 1 | Sylvain Loosli | 19,600,000 | 4th | $2,792,533 |
| 2 | Michiel Brummelhuis | 11,275,000 | 7th | $1,225,224 |
| 3 | Mark Newhouse | 7,350,000 | 9th | $733,224 |
| 4 | Ryan Riess | 25,875,000 | 1st | $8,361,570 |
| 5 | Amir Lehavot | 29,700,000 | 3rd | $3,727,823 |
| 6 | Marc McLaughlin | 26,525,000 | 6th | $1,601,024 |
| 7 | JC Tran | 38,000,000 | 5th | $2,106,893 |
| 8 | David Benefield | 6,375,000 | 8th | $944,593 |
| 9 | Jay Farber | 25,975,000 | 2nd | $5,174,357 |
2014
| Seat | Player | Chips | Finish | Prize |
| --- | --- | --- | --- | --- |
| 1 | Billy Pappas | 17,500,000 | 5th | $2,143,794 |
| 2 | Felix Stephensen | 32,775,000 | 2nd | $5,147,911 |
| 3 | Jorryt van Hoof | 38,375,000 | 3rd | $3,807,753 |
| 4 | Mark Newhouse | 26,000,000 | 9th | $730,725 |
| 5 | Andoni Larrabe | 22,550,000 | 6th | $1,622,471 |
| 6 | William Tonking | 15,050,000 | 4th | $2,849,763 |
| 7 | Dan Sindelar | 21,200,000 | 7th | $1,236,084 |
| 8 | Martin Jacobson | 14,900,000 | 1st | $10,000,000 |
| 9 | Bruno Politano | 12,125,000 | 8th | $947,172 |
2015
| Seat | Player | Chips | Finish | Prize |
| --- | --- | --- | --- | --- |
| 1 | Zvi Stern | 29,800,000 | 5th | $1,911,423 |
| 2 | Pierre Neuville | 21,075,000 | 7th | $1,203,293 |
| 3 | Josh Beckley | 11,800,000 | 2nd | $4,470,896 |
| 4 | Max Steinberg | 20,200,000 | 4th | $2,615,361 |
| 5 | Thomas Cannuli | 12,250,000 | 6th | $1,426,283 |
| 6 | Joe McKeehen | 63,100,000 | 1st | $7,683,346 |
| 7 | Patrick Chan | 6,225,000 | 9th | $1,001,020 |
| 8 | Federico Butteroni | 6,200,000 | 8th | $1,097,056 |
| 9 | Neil Blumenfield | 22,000,000 | 3rd | $3,398,298 |
2016
| Seat | Player | Chips | Finish | Prize |
| --- | --- | --- | --- | --- |
| 1 | Jerry Wong | 10,175,000 | 8th | $1,100,076 |
| 2 | Griffin Benger | 26,175,000 | 7th | $1,250,190 |
| 3 | Vojtech Ruzicka | 27,300,000 | 5th | $1,935,288 |
| 4 | Fernando Pons | 6,150,000 | 9th | $1,000,000 |
| 5 | Qui Nguyen | 67,925,000 | 1st | $8,005,310 |
| 6 | Cliff Josephy | 74,600,000 | 3rd | $3,453,035 |
| 7 | Michael Ruane | 31,600,000 | 4th | $2,576,003 |
| 8 | Gordon Vayo | 49,375,000 | 2nd | $4,661,228 |
| 9 | Kenny Hallaert | 43,325,000 | 6th | $1,464,258 |