Top 10 Stories of 2017, #4: PokerGO Changes the Way WSOP is Consumed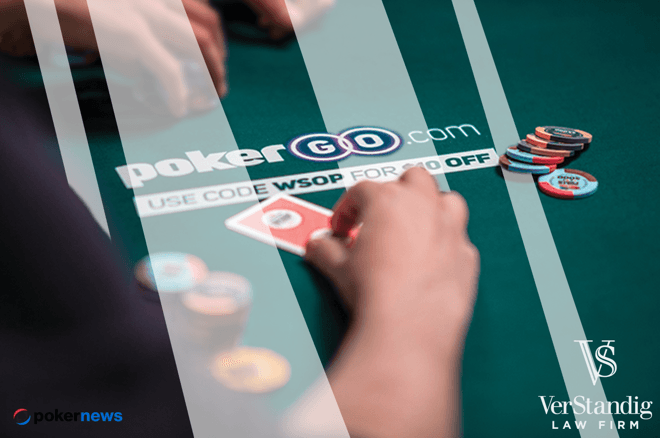 This year's Top Stories are brought to you by the VerStandig Law Firm, LLC. Combining a keen understanding of the gaming world and an equally keen understanding of the law, Mac VerStandig and his colleagues are devoted to fighting on behalf of the poker community and its members.
Tracing the history of poker, there isn't any question who ushered in the poker boom that spawned the "modern" era of the game. It's Chris Moneymaker.
The Tennessee accountant famously played the role of David against a field of professional Goliaths at the 2003 World Series of Poker Main Event, bringing the game front and center into millions of living rooms. He showcased one of the truly beautiful things about the game: anyone can win.
But, if a Moneymaker wins a tournament in a dark, dusty, soon-to-be obsolete venue in downtown Las Vegas and nobody's watching, did it ever really happen? More importantly, does the modern era of poker happen?
The point is, you can gather up all of the finest actors in the world, but unless you're into Whose Line?-style comedy, they're fairly useless without a stage. So, while Moneymaker undoubtedly did great things for the game, less heralded but just as instrumental was ESPN's iconic coverage of the event that allowed Moneymaker and the other lively personalities to shine on the felt.
The WSOP Main Event coverage from 2003 and subsequent years played a huge role in growing interest in poker and expanding the game. So, when the ESPN contract with the WSOP rolled into its final year without an extension hammered out, it was big news and seemed to portend changes were incoming to poker's most-watched coverage.
Enter Poker Central
Poker Central launched in 2015 with the dream of delivering round-the-clock poker content on a dedicated TV channel, serving as a veritable haven for poker fans everywhere. However, that dream took a sharp turn at the close of 2016 with the announcement that the TV channel would be abruptly shut down in favor of producing digital content and TV content that would air on partner channels.
Meanwhile, the ESPN has never been accused of making the WSOP its top priority. And why should it? While popular among a niche crowd and useful for filling late-night time slots, the WSOP can't hold a candle to mainstream programming.
Not helping matters has been the timing of the coverage in recent years. In 2016, for example, the WSOP aired from Sept. 6 through Nov. 20. A few other things air during some or all of that timeframe. Like, college and professional football. College and professional basketball. The MLB playoffs. That's just to name a few, and all of those are massively preferred by all audiences aside from the most ardent of poker fans.
And the November Nine, meant to be a showcase of poker's greatest event and on its greatest stage, finished up at something like 8 a.m. on the East Coast last year. That's hardly the grand showing of poker's biggest prize that the Nine was supposed to be about since its inception in 2008.
It seemed obvious something needed to change if poker was to get the exposure it deserved, and decision-makers at the WSOP clearly agreed. They devised an all-new coverage strategy for 2017 in partnership with both Poker Central and ESPN.
Coverage would continue on the mainstream sports channel, but in a "live" format – on a slight delay to comply with gaming regulations – rather than being edited for later consumption. The digital content specialists would carry extra coverage to supplement the shows carried by the worldwide leader.
New Coverage of Poker's Oldest Event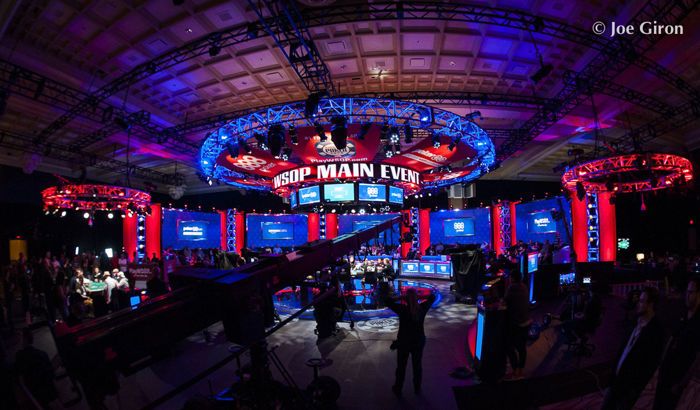 Crucially, that meant everything would air during the summer, traditionally one of the deadest periods in the sports calendar, with stuff like softball and the Little League World Series airing on sports channels.
The November Nine would also be nixed, with the final table playing out after a short break to crown a champion in July.
"We looked at the move as a great opportunity to continue to reinvent ourselves on television and to be able to gain many more hours of exposure on America's foremost sports channel," said Seth Palansky, Caesars VP of corporate communication. "In a day and age where poker programming is dying on television for everyone besides the WSOP, the ability for us to double down and greatly expand the hours dedicated to the WSOP Main Event was a no-brainer."
"Times change. You either change with them or become extinct."
While Palansky called the November Nine experiment "a great success," both Palansky and Poker Central VP of Content Sam Simmons said all parties agreed that shifting back to showing the final act of the WSOP during the summer was the clear play.
"Our belief is that live sports is at its best when cohesive storylines and narratives have an opportunity to play out together," Simmons said.
One of the chief reasons for creating the November Nine was to build hype for the event and allow participants to seek sponsorship opportunities in advance of a blockbuster finale in front of millions of viewers. However, the modern landscape of poker is appreciably different.
For one thing, the Black Friday exit of major online poker operators from the U.S. market meant the chief source of sponsorship dollars dried up.
Plus, it's just more natural to allow the tournament to play out immediately. Instead of being a contest of wits, cunning and nerves, the November Nine partially became a contest of who could hire the best poker coach and cram the most high-quality lessons into a few months.
Also, the exploding popularity of live streamed events – both poker and otherwise – has created a market of consumers who crave instant gratification more than ever before.
"Times change," Palansky said. "You either change with them or become extinct. We live in a world of immediacy and live and nothing being kept under wraps."
The Introduction of PokerGO
Clearly, the folks running Poker Central agree with that sentiment. So, almost in tandem with the announcement of their partnership with the WSOP came the introduction of PokerGO, Poker Central's new digital content platform.
PokerGO would provide both live streaming and on-demand content at a subscription cost to the viewer. Content would include coverage of live poker and original content like the rebooted Poker After Dark and Pokerography, a series delving into the backstories of popular poker players.
"A year or so after the launch of our 24/7 linear television network, we were not satisfied with our progress in securing carriage across satellite and cable," Simmons said. "At the same time, we saw our core viewers — millennial males — cutting the cord in favor of skinny bundles and a la carte entertainment packages.
"We felt that Poker Central's diverse array of poker content from live events to original programming would make a great fit for such a service catered to the most passionate fans and the more casual enthusiasts alike – and PokerGO was born."
Subscribers could pay either $99 for a full year or go with a monthly membership model for $10 per month. Poker Central brass arrived at that price point after careful consideration and study of similar premium content streaming models like UFC Fight Pass and WWE Network. The cost equates to less than $1 per day of live poker over the course of the year, Simmons pointed out, and that's before considering the original content.
"All in all, we felt the combination of high-quality live and on-demand content made a $10 per month or $99 per year price point reasonable, and offered unmistakable value for would-be viewers," he said.
The WSOP on PokerGO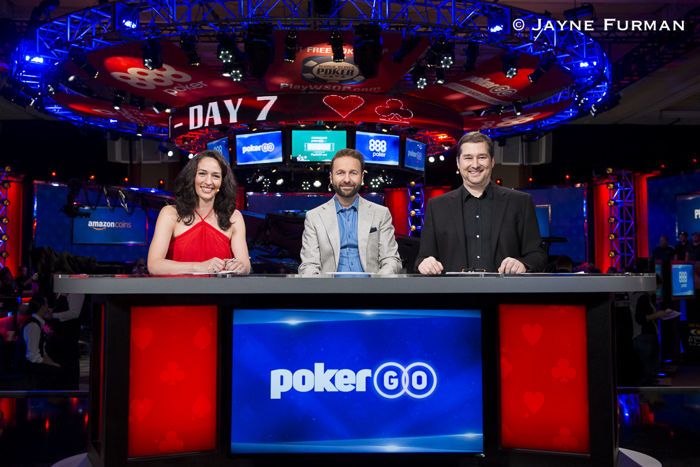 One of the first and most important tasks for PokerGO would be handling the supplemental WSOP coverage.
More so than most audiences, poker viewers are used to consuming content digitally, having been trained to tune in to live streaming coverage of big final tables across the globe. Even smaller regional tours and events have introduced live streamed final tables.
That made selling the switch relatively painless, but the execution would still have to be on point.
Fortunately for everyone involved, the transition seemed to go relatively smoothly. The production team helped build up colorful characters like Mickey Craft and John Hesp, engaging audiences on the way to Scott Blumstein's ultimate win.
The coverage resulted in positive feedback and strong ratings, according to Simmons. Points that he and the team are targeting for improvement into 2018 and beyond include additional coverage of mixed games – including the Poker Players Championship – and even more live streamed final tables.
There's plenty of time to continue shaping and improving the product, as 2017 was merely the first in a four-year agreement between Poker Central, Caesars and ESPN.
Palansky said the WSOP team also heads into 2018 confident that 2017's moves will continue to bear fruit.
"The 2017 WSOP on television was a huge success for all involved," he said. "We all got the best of both, a commitment to the back story to be told, while giving the loyalists live coverage like today's world demands."
The VerStandig Law Firm, LLC represents poker professionals, sports bettors and advantage players across the United States. The firm assists clients in connection with legal issues including personal LLC formation and operation, tax planning that focuses on gaming deductions and exemptions, casino disputes, and personal matters spanning from divorce to criminal dust-ups.