Top 10 Stories of 2017, #5: Online Poker Advances in the U.S.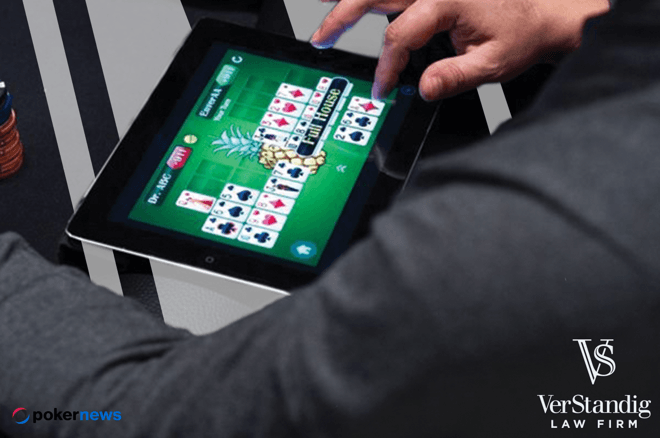 This year's Top Stories are brought to you by the VerStandig Law Firm, LLC. Combining a keen understanding of the gaming world and an equally keen understanding of the law, Mac VerStandig and his colleagues are devoted to fighting on behalf of the poker community and its members.
Regulating Online Poker in the U.S. — An Abridged History
More than six years after the devastating event we call "Black Friday" in the poker world, we sit at the end of 2017 with tinges of hope for "the return" of online poker in the U.S. Now, many U.S. residents can finally play on legal, regulated sites from the comfort of their homes yet again. Must be nice, residents of Nevada, New Jersey, Delaware and soon to be, Pennsylvania.
But none of that was new this year. Nevada and Delaware have enjoyed regulated online poker for some time now after the Silver State passed legislation in 2011 and Delaware followed in 2012. Nevada's online poker operations got underway in April, 2013 and in November of that same year, Delaware became the first state to launch full-scale online gambling with casino games, slots and online lottery tickets, and the second to offer regulated online poker.
"New Jersey is a very big domino to fall."
New Jersey passed their comprehensive iGaming bill in February, 2013 and by 2014 all three states had online poker up and running, with additional casino games available in New Jersey and Delaware.
Executive Director of the Poker Players Alliance John Pappas commented in 2013 following the passage of iGaming in the Garden State, "New Jersey is a very big domino to fall. Hopefully it will reignite some enthusiasm for other states to move forward. I think people view it as much more significant progress because it's in a state that's not just a gaming state. In Nevada, gaming is ubiquitous throughout the state. In New Jersey, it's just in a small pocket."
The leading sponsor of the bill, State Sen. Ray Lesniak, told PokerNews in a phone interview following the long-anticipated passing of the online gambling legislation, "We need to get aggressive in courting other states to hook up with us.
"The governor has an aggressive budget progression for revenue in Internet gaming, so to meet those one of the ways is to take the lead with other states. I expect the momentum to grow once states see the success we're having with it in New Jersey."
While much promise arose from New Jersey joining the online poker force, there was a bit of a lull between 2014 and 2017, with nary another state getting the job of passing iGaming legislation done. And while New Jersey remained on its own, the small-market states of Delaware and Nevada joined forces to share player pools in 2014.
But Jersey remained off on the shore by itself — isolated in its segregated player pool.
Pennsylvania Joins the Fray
Despite the lull, a couple extraordinary breakthroughs took place in 2017 that injected life back into the optimism surrounding the hope of online poker stateside, and both came in the latter part of the year.
The first was Pennsylvania's Congress passing a bill to legalize online poker and DFS in late October, which was signed into law by Gov. Tom Wolf. With this move, the Keystone State became the fourth to pass iGaming legislation, which is expected to take effect in 2018.
From last month's PokerNews article outlining the outlook of online gaming in Pennsylvania, the picture for Pennsylvania looks promising, not only for the state itself but also for the industry as a whole. For PA industry predictions, experts extrapolate from the example set by New Jersey, the most comparable state in terms of gaming law and population.
"Even though it's been slow progress getting to where we are now, I think we'll see a domino effect of regulation over the next decade."
New Jersey operators generated almost 20 million in online poker gross gaming revenue (GGR) during the first three quarters of 2017, on pace to finish the year around $25 million. Gaming industry analyst and publisher of OnlinePokerReport Chris Grove predicted in his report entitled Analysis: Pennsylvania Moves to Regulate Online Gambling, an almost immediate boost to the state's revenue with an estimated $120 million in licensing fees alone.
In addition, based on market size and other factors, Grove predicts Pennsylvania to have an online GGR larger than $41 million for the first year and $43 million for subsequent years, assuming they join in on shared liquidity with the other states' online poker markets.
"The biggest difference is if you look at New Jersey during Year 1, it was a much bigger market than the current status quo," said Grove. "We think a similar thing will happen in Pennsylvania where there is an initial interest and there will be a flood of liquidity at the outset as opposed to casino goes the other way where it grows over time. Poker works a lot differently than casino in New Jersey and we think that will come into play."
In addition to the obvious revenue gains that the state will begin seeing very soon, Pennsylvania could also prove to be the key state to get the ball rolling on legislation elsewhere. A well-known proponent of online poker in the U.S. Jason Somerville thinks so.
"It's great to finally see another state join the regulated poker ranks, especially one as critical as Pennsylvania. I think Pennsylvania's successful implementation of regulated online poker will influence other key nearby states like Ohio, New York, Massachusetts to seriously consider it themselves. Even though it's been slow progress getting to where we are now, I think we'll see a domino effect of regulation over the next decade."
New Jersey Joins Shared Player Pool
The second major move of the year for online poker in the U.S. was the signing of a pact wherein New Jersey would be joining Nevada and Delaware in sharing player pools. While the latter two states have had shared liquidity for more than two years, adding New Jersey to the mix is an important step that many experts, including Grove, believe will set a critical precedent for future states who pass iGaming laws.
Somerville explains how multiple stakeholders will benefit from the shared liquidity move by New Jersey, and how it may also set the stage for other states to get involved.
"I was very happy to see New Jersey declare they'd be sharing players with Delaware and Nevada. This makes it far less likely that we'll have competing networks of states with patchwork regulation. Building one large liquidity pool will mean higher appeal to players and increased revenue to the operators and states — which will hopefully entice poker sites to invest more and encourage other curious states to dive in."
The addition of New Jersey to the shared liquidity ring will have obvious and immediate implications for online poker traffic — and revenue — for stakeholders. And the thought of Pennsylvania joining liquidity — which should naturally follow not long after PA enters the market — adds even more potential value to the overall operations. All we have to do is look at a population comparison to glimpse the possible boosts.
Population Comparison by State
| State | 2017 Population | Rank |
| --- | --- | --- |
| Pennsylvania | 12,805,537 | 5th |
| New Jersey | 9,005,644 | 11th |
| Nevada | 2,998,039 | 33rd |
| Delaware | 961,939 | 45th |
Based on July 1, 2017 Census.gov estimates
As you can see from the state population comparison alone, adding New Jersey's market to the player pool of Delaware and Nevada more than triples the market potential in terms of numbers.
Pennsylvania, as the fifth-most populated U.S. state, represents a population nearly equal to the total of the three other states combined, thereby doubling the potential population to draw from for the shared player pool of the foreseeable future.
Interaction Effects
In Experimental Psychology and other scientific studies, researchers design experiments to test whether certain "independent" variables have a statistically significant effect on a specific outcome or outcomes (dependent variables). As many social and psychological phenomena are extremely complicated, they often test for interaction effects — that is — does the level of one variable coupled with the level of another variable affect the outcome in a way that neither variable would do by itself?
We may be in for some interaction effects moving forward in online poker in the U.S. The point is, while Pennsylvania implementing online gambling including regulated online poker may not in and of itself lead to other states rapidly adopting similar legislation, that factor along with shared liquidity very well could.
"I think it is certainly reasonable to say in a shared environment that you can see tournament series that realistically break the $3 million mark in guarantees."
While it was previously thought that New Jersey would be the fuel to get the U.S. online poker train rolling, Pennsylvania and shared liquidity together may prove to be the true catalyst for online poker in 2018.
According to Grove, a shared network between all four states could mean reaching 1,000 simultaneous cash games and 500 tournaments per week. We can also expect hefty increases in tournament guarantees, especially major tournaments and scheduled poker festivals.
In addition to predicting upwards of $100,000 guarantees for major tournaments and up to $400,000 or even $500,000 for online series Main Events, Grove also commented, "I think it is certainly reasonable to say in a shared environment that you can see tournament series that realistically break the $3 million mark in guarantees."
With the heightened success New Jersey has enjoyed in 2017, coupled with the boosts that are sure to follow in 2018 as Pennsylvania enters the market and shared player pools become the norm, legislators in other states that have had iGaming on the table may finally have the irrefutable support to back the fight for online gaming in their respective jurisdictions.
At the least, proponents of online poker in the U.S. can look forward to the substantial progress that has been made in 2017 carrying over into the new year, with hopes that the proverbial dominos continue to line up and start falling in due course, as interaction effects get to work in the online poker marketplace.
The VerStandig Law Firm, LLC represents poker professionals, sports bettors and advantage players across the United States. The firm assists clients in connection with legal issues including personal LLC formation and operation, tax planning that focuses on gaming deductions and exemptions, casino disputes, and personal matters spanning from divorce to criminal dust-ups.
Finding a trustworthy room to play online poker can be a monumental burden. That's all the more true if you're just looking for a place to play poker for free. We've listed five of the best play-money poker sites to enjoy and help hone your skills.