Top 10 Stories of 2017, #1: Chris Ferguson Wins World Series of Poker POY
This year's Top Stories are brought to you by the VerStandig Law Firm, LLC. Combining a keen understanding of the gaming world and an equally keen understanding of the law, Mac VerStandig and his colleagues are devoted to fighting on behalf of the poker community and its members.
"Chris Ferguson Wins WSOP Player of the Year."
After 74 events in Las Vegas, 11 tournaments in Europe, and the complete Full Tilt Poker debacle, this is not a headline many in poker world expected – or hoped for. Whatever the case, a year after jumping back into tournament poker on the world's biggest stage, Chris "Jesus" Ferguson amassed a big run to take the title.
Whatever one thinks of him personally, Ferguson certainly has skills at the table. The winner of the 2000 Main Event, Ferguson was one of the mainstays in poker during the 2000s before Black Friday exposed his company's improprieties and led to a self-imposed five-year exile from poker.
An enemy to the game to many, Ferguson returned to the tables in 2016 and capped a big WSOP run by winning his sixth bracelet in Europe in Event #7: €1,650 Pot-Limit Omaha Hi-Lo 8 or Better. Ferguson took home €39,289 after topping a field of 92, bringing his lifetime winnings to almost $9 million.
In a year that saw him cash in 17 events in Las Vegas and six in Europe, Ferguson made three final tables including a runner-up result in the $10,000 Seven Card Stud Championship for $151,700 and fourth in the $10,000 Pot-Limit Omaha Hi-Lo 8 or Better for $150,929.
The POY Controversy
The POY race brought plenty of scrutiny in 2017 with players like Daniel Negreanu arguing that the system rewards min-cashes in the smaller buy-in events with larger fields than in the $10,000 buy-in championship events.
"It is much tougher to cash in a 100-player field in a $10,000 event than it is to cash in a large field event that pays hundreds of spots," Negreanu wrote in a blog post at FullContactPoker.com, in which he recommended improvements to the system. "It takes roughly three times more play, the structures are slower on day two, and you are also fighting against top notch competition in the championship events when you near the bubble."
Whatever the case, Ferguson played well within the system and his consistency and his bracelet earned him the title. Certainly many in the poker were steamed with the results.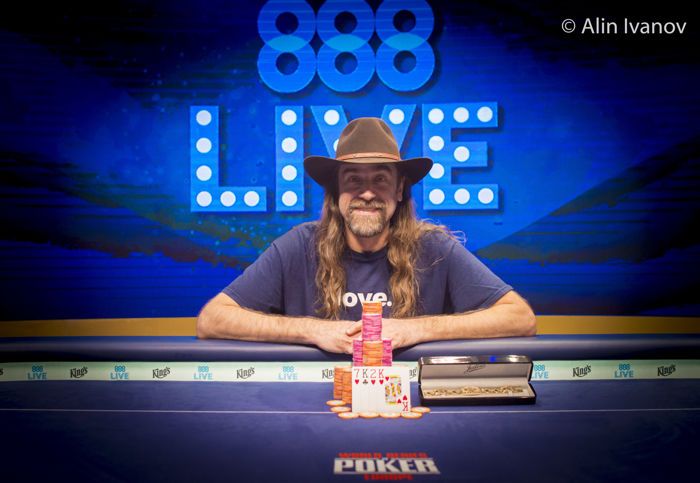 The Community's Response
Montreal's Pablo Mariz had an impressive WSOP this summer – notching six cashes including his first bracelet in the $1,500 Millionaire Maker for $1.2 million and a runner-up finish in the $ 1,000 No Limit Hold'em Tag Team event for $46,537. Mariz believes paying a large percentage of the field and POY rules that favor just cashing made it easier for Ferguson to earn the title.
"I think it's a disgrace and a slap in the face of the online poker community," he says. "From what I've seen, he had a lot of points from having multiple small cashes, which I think is not the best. A final table should be valued way more.
"I'm pretty sure he plays the same way as 10 years ago, which shouldn't be too optimal. But In live poker where 95 percent of the fields are recreational/bad regs, I guess it's not too hard to sneak in the money a lot – especially when you have a large bankroll which is not even your money from the Full Tilt Poker scam. So overall, I'm not impressed by his performances, nor I hope he gets any congratulations from people that dont know the full story."
"I think it's a disgrace and a slap in the face of the online poker community."

John Monnette made a big run at the WSOP and was in the mix for POY, finishing fifth. He believes the formula for determining the top spot at the WSOP should be revamped.
"I don't have a strong feeling about Chris or his place in the poker world," he said. "I do believe that the POY formula is obviously flawed when playing all the small gimmicky tournaments is rewarded. Chris skipped the 50k to play an $888 tournament with unlimited re-entries where you are essentially buying POY points. That isn't a formula that rewards the best overall players, it's a formula that rewards the person who knows who to manipulate the system the best."
Many players expressed shock that Ferguson is back playing tournament poker and some even favor rules to ban Ferguson.
"I guess it's just frustrating that he has the nerve to even play the WSOP after what he was a part of at Full Tilt," said longtime tournament pro Blair Hinkle. "Chris was an owner of a company that screwed over millions of poker players, yet I don't even think he ever apologized. You would think he might have enough self awareness to at least do that. I guess he just doesn't care and that's why he decided to return and in some ways disrespect the poker community."
Hinkle is one of those who favor a ban on players like Ferguson who have run afoul of the poker world in something as big as the Full Tilt scandal.
"As far as the WSOP goes, I wish that there was some sort of way to police the small percentage of players that have scammed the poker community," he says. "I, for one, think he should be banned from poker tournaments. If people want to sit with him in a cash game that is their decision."
A few in the poker world have been more forgiving including poker legend Doyle Brunson. In July, with Ferguson battling for the title he noted on Twitter: "I think Chris is a good guy and has done nice things for people that nobody talks about. I wish him well."
Fourteen-time bracelet winner Phil Hellmuth posed for a selfie with Ferguson after he won the bracelet in Europe. The Tweet became the scorn or many and Hellmuth received plenty of negative feedback.
Welcome back to the @WSOP winners circle Chris Ferguson!! #ChrisFergusonsSixthWSOPWin #WSOPBraceletHunting… https://t.co/erSts4SOoB

— phil_hellmuth (@phil_hellmuth)
Hellmuth responded: "I believe one of the worst things we can do as human beings is persecute innocent people. Also, I believe in forgiveness."
Some poker players note that Ferguson never asked players for forgiveness after the entire Full Tilt Poker fiasco.
Love him or hate him, Ferguson made waves throughout the summer and into November when he locked up one of poker's most prestigious honors. It was enough to earn him the biggest story of 2017 from the PokerNews staff.
The VerStandig Law Firm, LLC represents poker professionals, sports bettors and advantage players across the United States. The firm assists clients in connection with legal issues including personal LLC formation and operation, tax planning that focuses on gaming deductions and exemptions, casino disputes, and personal matters spanning from divorce to criminal dust-ups.