Top 10 Stories of 2017, #3: Doug Polk Wins One Drop and the Internet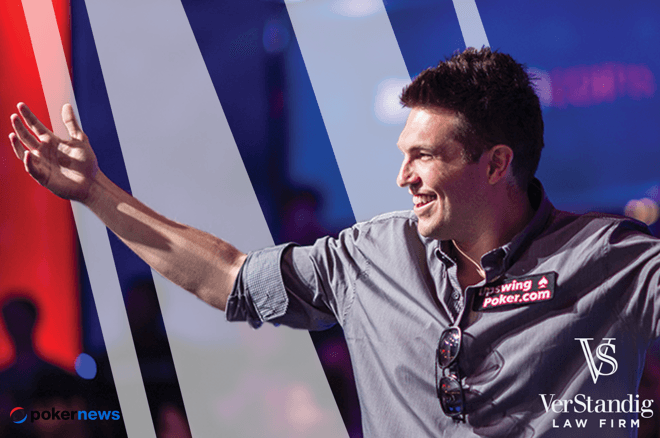 This year's Top Stories are brought to you by the VerStandig Law Firm, LLC. Combining a keen understanding of the gaming world and an equally keen understanding of the law, Mac VerStandig and his colleagues are devoted to fighting on behalf of the poker community and its members.
As if winning $3.6 million wasn't enough, Doug Polk had to go out and win the Internet, too. That sentence pretty much sums up 2017 for Polk, who has been busy building a brand and taking his efforts, both on and off the felt, to the bank.
Talking about Polk isn't easy because he is anything but the typical poker pro. To accurately describe him, you could say he is a businessman, comedian, poker commentator, social media socialite, and an eccentric, live-streaming personality.
But don't let all that fool you, poker is still central to everything he does. He is a high-stakes poker pro, a heads-up specialist and the face of Upswing Poker who has amassed nearly $9.5 million in career earnings, with over $4 million of that attributed to this year.
Polk Wins at Poker
Unless you've been living under a rock, you know by now that Polk won his third WSOP bracelet this year in Event #6: $111,111 High Roller for One Drop.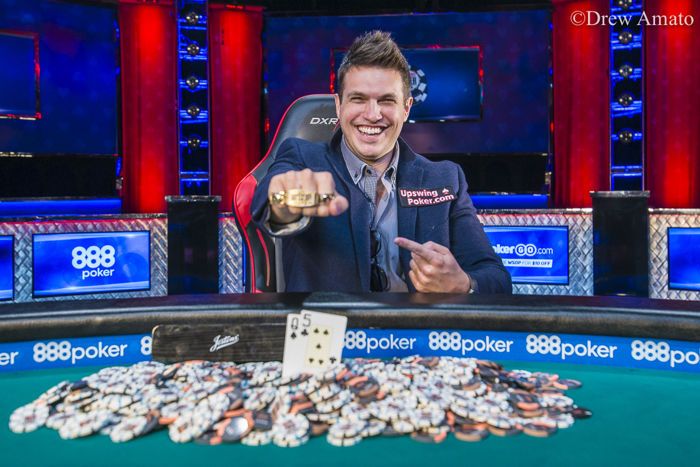 What you may or may not know, is that this bracelet stands apart from the other two, and not because of the big payday either. This bracelet seemed to legitimize his skill, not only in his eyes but in the eyes of other players as well.
"I'll say it for you: a real one," Polk said when asked if this bracelet felt different than the other two. "It does feel much better. To win that much money against tough people in a world-class event, it's way different."
Polk continued to show he can play with the big boys when he made two back-to-back final tables in the $50,000 buy-in Poker Masters series in September. And while he didn't win, he did show he can hold his own, placing fifth and second against the big boys, aka the Germans, as we lovingly refer to them.
Polk Wins the Internet
While Polk was busy winning at poker, he simultaneously went all in live streaming.
What's the best way to grow your YouTube Channel and win the Internet if you are a live-streaming poker-playing machine? Bink a big tournament on your stream, that's how.
In an eight-hour-plus live-streaming session, Polk navigated a field of 274 players in the partypoker Powerfest Event 294 to win $271,272.
And while this win alone didn't actually win the Internet for Polk, he started to gain significant traction following this win and heading into the summer at the WSOP.
Polk on YouTube
It was the summer of 2016 that Polk launched his YouTube Channel and in his very first video introducing the channel, he made a point of saying, "We're going to try and let the creative juices flow a little here. So, we're going to have some really funny stuff."
Can you say, "Nailed it?"
And it seems as if over 150,000 other people agree. On October 29th, Polk posted about winning the Silver Play Button from YouTube for reaching over 100,000 subscribers.
One of the big reasons for his success is the fact that his content is entertaining. And while Polk made that note about the creative juices flowing, it's his personality and quirky sense of humor that continues to attract fans.
For those of us that make our living inside the industry, we often forget that more people than not come to the tables to escape real life. Not everything about poker has to be so serious. We even saw the hashtag #makepokerfunagain gain some traction this year.
Polk's channel really started to gain ground when the entertainment value began to outweigh the poker value. Don't misunderstand, his videos are positive for poker, but not for the reasons you may think.
Polk is successfully attracting fans that aren't serious poker players. He is bringing fun poker content that is interesting to those outside the community. And that's how you win the Internet.
It Wasn't All Winning Though
Polk, lauded for his heads-up play found himself in a heads-up battle with another "bigger-than-life" poker personality, Phil Hellmuth in the first round of the Poker Night in America "King of the Hill" competition.
Polk did what he does best heading into the match and that is talking smack. In a King of the Hill promo video, Polk teasingly yells, "I'm coming for you, Phil. They're going to be laughing, Phil. They're going to be laughing at you."
It was Hellmuth who had the last laugh, though, because he would go on to win the first King of the Hill, beating Polk along the way. During King of the Hill II, Helmuth won a prop bet against Polk, when he sunk a cold three-point shot, once again at Polk's expense.
Even Hellmuth admits on Polk's vlog that Polk is "great for poker. Great for the game." And that, "almost everyone loves him."
But when you step back and really look at it, all that hype just drove more traffic to his channel. So even when he's losing, he's winning.
What's Next for Polk
Recently Polk announced the launch of a new cryptocurrency website and YouTube channel. Considering our Twitter feeds are full of crypto talk anyway, Polk is hoping to parlay the industry's fascination with the currency into an expanded reach beyond the poker community with his same entertaining style.
It's more fun making news video in crypto becuase there is actually news.

— Doug Polk (@DougPolkPoker)
But make no mistake about it, there is a method to his madness.
If anyone has been debating jumping into YouTube and has some crypto knowledge now is the time to do it.

— Doug Polk (@DougPolkPoker)
After announcing his new project, Polk tweeted, "I look forward to this new challenge, and will do my best to ensure anyone looking for accurate information will find it."
Whether you love him or love to hate him, Polk has a voice that people are listening to. Even on serious topics, he brings a levity to the conversation that helps diffuse the tense nature that seems to be hovering in our Twitter feeds of late.
The way we see it, Polk's game, both the poker kind and the vlogging kind, had quite the evolution over the year and we are eagerly awaiting to see what 2018 will bring.
The VerStandig Law Firm, LLC represents poker professionals, sports bettors and advantage players across the United States. The firm assists clients in connection with legal issues including personal LLC formation and operation, tax planning that focuses on gaming deductions and exemptions, casino disputes, and personal matters spanning from divorce to criminal dust-ups.