Top 10 Stories of 2017, #6: Fedor Holz and the Germans Continue High Roller Dominance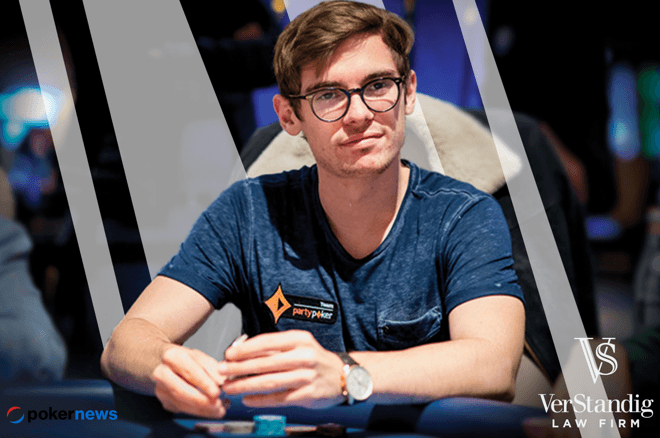 This year's Top Stories are brought to you by the VerStandig Law Firm, LLC. Combining a keen understanding of the gaming world and an equally keen understanding of the law, Mac VerStandig and his colleagues are devoted to fighting on behalf of the poker community and its members.
High Roller and Super High Roller events dominated tournament poker coverage in 2017. For years, television production companies had wondered how they could get as many recognizable faces on a poker table as possible, so their tv shows would attract a bigger audience. It turned out, upping the buy-in did just that as only the best of the best could afford to buy in, and those players were usually famous already.
The high roller community is a tight-knit group, a relatively small pool of players that travels all over the world to battle it out in events for which regular players have to save up several years. One group within the high roller community is especially dominant. Four of the Top 10 biggest money earners of the year hail from Germany, and 15 of the Top 100. "The Germans," or "Ze Germans" as they're referred to sometimes, are seen as the elite force within live tournament poker.
Germany has a long history of performing well in the world of high stakes poker. Players like Tobias Reinkemeier, Fabian Quoss, Philipp Gruissem, and Benny Spindler were all at one point seen as the best of the best. Then, Ole Schemion reigned supreme for some time before a second big wave of German players flooded the high roller scene. Fedor Holz led the way, followed by players like Steffen Sontheimer, Christoph Vogelsang, Stefan Schillhabel, Dominik Nitsche, and many more.
2017 has been an excellent year for the German legion of high rollers. In the majority of the High Roller final tables, a German poker player headlined.
Stats
| | 2017 Earnings | 2017 Money List | Biggest score 2017 | Cashes 2017 | GPI | All time money list | Germany all time money list | Total Live earnings |
| --- | --- | --- | --- | --- | --- | --- | --- | --- |
| Christoph Vogelsang | $8,090,382 | 3 | $6,000,000 | 12 | 306 | 23 | 2 | $15,446,599 |
| Steffen Sontheimer | $7,052,324 | 4 | $1,512,000 | 26 | 43 | 96 | 11 | $7,548,922 |
| Fedor Holz | $6,380,187 | 5 | $2,100,086 | 15 | 7 | 5 | 1 | $26,701,371 |
| Stefan Schillhabel | $5,490,286 | 8 | $2,400,000 | 24 | 11 | 90 | 10 | $7,747,955 |
| Dominik Nitsche | $4,855,601 | 11 | $4,064,026 | 13 | 102 | 45 | 5 | $11,445,601 |
| Koray Aldemir | $4,616,111 | 13 | $1,292,509 | 27 | 14 | 97 | 12 | $7,529,354 |
| Dietrich Fast | $4,180,530 | 18 | $2,138,915 | 25 | 33 | 133 | 15 | $6,301,473 |
| Manig Loeser | $3,902,719 | 21 | $2,162,644 | 38 | 48 | 161 | 16 | $5,579,551 |
| Christian Christner | $3,375,871 | 26 | $1,454,720 | 12 | 129 | 263 | 20 | $3,984,685 |
| Rainer Kempe | $3,368,467 | 29 | $576,000 | 26 | 9 | 43 | 4 | $11,596,463 |
| Andreas Eiler | $2,564,125 | 38 | $2,511,762 | 6 | 2,845 | 346 | 22 | $3,382,186 |
| Ole Schemion | $2,058,590 | 45 | $532,103 | 13 | 71 | 27 | 3 | $13,535,870 |
| Jan Eric Schwippert | $1,795,313 | 51 | $368,750 | 19 | 37 | 246 | 19 | $4,243,504 |
| Johannes Becker | $1,497,167 | 69 | $862,649 | 3 | 1,934 | 993 | 40 | $1,567,922 |
| Julian Stuer | $1,349,075 | 83 | $1,107,522 | 10 | 67 | 478 | 26 | $2,731,400 |
| | | | | | | | | |
| | $60,576,748 | | | 269 | | | | $129,342,856 |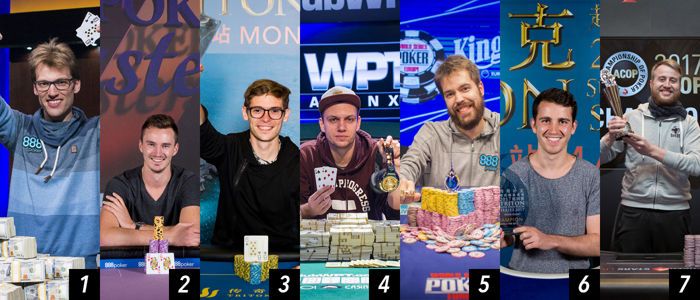 Why Are the Germans So Good at Poker?
There are more Americans in the Top 100 than Germans, but there's also a much larger group of American players. And in the Top 10, there are more Germans than Americans.
| Country | # in Top 100 | Country | # in Top 100 | Country | # in Top 100 |
| --- | --- | --- | --- | --- | --- |
| United States | 35 | France | 3 | Belarus | 1 |
| Germany | 14 | Italy | 3 | Bulgaria | 1 |
| Canada | 7 | Australia | 3 | Hong Kong | 1 |
| United Kingdom | 7 | Czech Republic | 2 | Indonesia | 1 |
| Spain | 5 | Taiwan | 2 | Malaysia | 1 |
| Russia | 4 | Sweden | 2 | Poland | 1 |
| Argentina | 3 | Austria | 1 | Romania | 1 |
Why are the Germans doing so well? How come every other final table is crushed by a German player? How come the majority of poker trophies have found a mantle in Germany this year? To find out, we spoke to some of ze Germans themselves: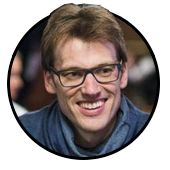 Christoph Vogelsang thinks a lot of it is just randomness: "Sometimes I feel in life, the reason for things is just randomness. And then afterward we try to find cause and explanations."
Vogelsang, however, does have some idea what might have something to do with it: "I think, what just happened is German players did well in the past, like the crew around Igor [Kurganov] with Fabian Quoss, Philipp Gruissem, and Tobias Reinkemeier and Max Altergott. There were German people who invested in them who made money. Then new players came up. Now that the game is maybe a little bit more based around solvers and people who have invested their time in this have connections [to those investors in earlier German players]."
"there's probably more money in that network or that circle of friends who are willing to invest in players." -
Christoph Vogelsang
There was money in the German community because of the first wave of great players and results, and the upcoming players found the bankroll there to take it to another level, the level of super high roller events.
Those new players, with a solid understanding of game theory through a long background in the toughest games online, all had something to look up to, the results of players from the German contingent. Vogelsang continues: "Fedor did super well and others did really well, and I think it motivates you if the people around you are doing well, so you spend more time studying. And also, there's probably more money in that network or that circle of friends who are willing to invest in players."
With that circle of friends, Vogelsang is partly also talking about himself. He amassed quite the bankroll, and isn't afraid to invest in others: "I'm actually myself also quite involved in staking. I think the nationality doesn't play a role, but it seems sometimes natural that someone who's German would ask other German people for investments and so that's a small advantage."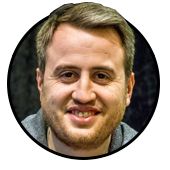 Dietrich Fast agrees with Vogelsang, though he reasons a bit more from his own perspective first. "I can just talk for myself. I'm putting in the hours and I'm working on my game. Since 2014, I'm getting better every year. I think the old school guys just don't sit on the computer and look up what the GTO solution could be and in which extent they want to deviate from that. A lot of players are just feel based players."
"the most important reason that we're doing well, is we're putting in more hours and exchanging information." Dietrich Fast
While Fast bases some of the success on the willingness of himself and other German players to put in the hours to find solutions to common "problems," Fast sees there's still room for success with the opposite approach as well: "I mean, Bryn Kenney is the best example [of a feel player]. He's right now number 1 [in the GPI] and made tons of money last year and this year as well, so why would you change a winning system, right? But I think the most important reason that we're doing well is we're putting in more hours and exchanging information."
Putting in the hours isn't enough, though. Fast agrees with Vogelsang that part of it is randomness as well, or running hot is the expression he chooses. "Just speaking for myself, I just ran pretty hot as well, and that's a key factor as well. For example, Dominik [Nitsche], he didn't win anything this year. But then in October, he had like a nice month with the deep finish in the Main Event in Macau and then he hit three and a half million [dollars winning the WSOPE One Drop]. Before that, there was an empty sheet on his Hendon Mob. And he puts in tons of hours and tons of money as well, so it doesn't mean that just because you put in the hours, you always end up winning. So there's still a lot of variance to consider. I think there's not a big difference between 2016 or 2015 or 2017. I think just this year, the Germans ran a bit better and next year might it be some other country."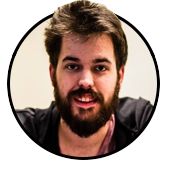 Dominik Nitsche adds another, logical reason to the equation: "One thing is that there's a lot of us, and we play a lot of tournaments. So it's only expected that we win because we're good players and we play a lot."
Still, that doesn't explain how they got to that level of play, a level where half a field might be German if you up the buy-in to $25,000 or more. Nitsche gives some insights: "It's not a secret that there's a big backing crew behind the Germans that put in the new talent. They always know when there are some new good players coming up and those guys get put into, so the crew is only growing in that way. But there are also a lot of Americans. There are some Spanish players that are now coming up."
Again, Nitsche sees the advantage of being able to discuss things in their own language. "If I teach a friend of mine how to play poker, then there is a chance he's going to become a high roller regular. [And if someone's a friend of mine] there's a chance he's German, or he's at least somehow connected to the Germans."
"I mean, there's not like a hidden secret, it's not in the genes." - Koray Aldemir
Nitsche elaborates on the teaching friends poker: "Steffen [Sontheimer] once said in an interview that he could turn anyone who's decent at poker and is a smart guy, into a winning player in the $25k's in a couple months. I think that's very accurate. I think once you have someone who's made it to the top, like our crew, then you can actually teach people how to make it to the top as well. And I just think it's more likely that we teach our friends, which then also somehow happened to be German, but I don't think there's much else to it really. It's just sort of a coincidence really that they all happen to be German. It could be a Dutch player coming up next, or a Canadian who's friends with the Germans so he also becomes part of the crew. I don't think it's in the genes and we don't exclude people based on where they're from."

Igor Kurganov was part of the first wave of great German players. Together with Fabian Quoss, Tobias Reinkemeier, Max Altergott, and many others, they were the first German force to be reckoned with. Kurganov still plays at the highest level. He's one of the first players to sign up for every high roller event. He won the Super High Roller at the PokerStars Championship Barcelona for over a million euros and won one of the two Single-Day High Rollers at PokerStars Championship Prague last week.
The number of Germans in the field is something Kurganov mentions first, when asked the question why German players are doing so well: "One thing is that there are so many Germans right now. In a high roller field where there are 50 entries with 20 reentries, the Germans will have 10 entries and 10 or 12 reentries usually."
Besides numbers, Kurganov points to a German quality as an explanation for their success: "I think Germans are organized classically. So one thing that is relevant for young players who are coming up, who are actually technically good but don't have the money to play these, it's easier for them to organize the funds. I think the thing that the Germans have done better than others is to figure out ways to sell to investors. That seems to be a thing that a lot of the young Germans have done well."
Why were they able to sell? Kurganov: "One; because they're organized. Two; because they study a lot and sit in front of the computer and learn about poker all the time, which they're also more willing to do than others. I think, on average, they're quite organized students of the game."
"I do think it would be better if it were another force than the German one. Because, on average, the Germans are not that entertaining at the table." - Igor Kurganov
While Kurganov still holds a German passport, the Russian flag shows up behind his name these days, and he's not as close to the new German group as he was to the previous one. "I'm not that close to them, but of course, they are within a group, and they talk to each other about hands and try to make each other better a lot. But you have the same thing with the Canadian players, and the Spanish people talk to each other, and so do the Italians. I think that's the natural dynamic of things; put 50 people into a room, and they will organize themselves and form groups."
Besides praises, Kurganov is critical of the German players being such a dominant force. "I think it's not strictly bad that there's a dominant force. But I do think it would be better if it were another force than the German one. Because, on average, the Germans are not that entertaining at the table and poker is still a social game as well. I think some of the players forget that quite a bit."
Kurganov makes an exception for Aldemir and Fast: "You'll have Koray [Aldemir] sit there not saying much, but at least like he's very charming and smiley and friendly. And like Dietrich Fast is very talkative and fun, but for the most part, most of the German players hide behind the hood, and that's not what you would want to be the dominating group of people. It's fine to have a couple per table, like one or two players, but for the most part, you want people to just be a bit more outgoing. Why did we initially get into poker? It was, for one, because of the strategy aspect, but also because you could sit with a person and psychology was at play. But if you don't interact with anyone or hide in your hood, then psychology is just way less at play. It's more fun if it is, it adds more to the game."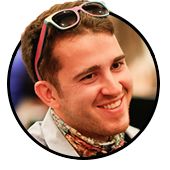 Koray Aldemir mostly sees variance: "It's a tough question, actually. It's a dumb answer maybe, but I think honestly a part of it is that we just run well. Maybe we get motivated by each other, since we're able to talk with friends that play the same tournaments. We basically came into these tournaments together. We didn't start at the exact same time, but within a year or so, we started playing these. So it was always helpful to talk to others who were already in these fields, maybe that helped. I mean, there's not like a hidden secret, it's not in the genes."
What Will 2018 Bring?
Most German players we talked to seemed intent on continuing to play the high roller events all over the world. Aldemir is a notable exception: "Honestly, my plan is to play less compared to this year. This year I played nonstop basically; I traveled all year, and it was fun for sure, and I had success, but right now I actually want to chill for a bit. I will do PCA at the start of the year, but then I will probably play a little bit less. Although, maybe when I don't play for two months, my mind might change."
PokerNews will once again be on the ground at most of the big events. We'll be there for all the high rollers at the PCA and Aussie Millions, and will be present at the World Series of Poker again when the $1,000,000 Big One for One Drop returns to Las Vegas. We'll see what happens then, but if 2017 is any indication, expect a lot of German flags again in the high roller results sheets. We may be hearing more Das Lied der Deutschen — the song of the German people — in the coming years.
The VerStandig Law Firm, LLC represents poker professionals, sports bettors and advantage players across the United States. The firm assists clients in connection with legal issues including personal LLC formation and operation, tax planning that focuses on gaming deductions and exemptions, casino disputes, and personal matters spanning from divorce to criminal dust-ups.
Be sure to complete your PokerNews experience by checking out an overview of our mobile and tablet apps here. Stay on top of the poker world from your phone with our mobile iOS and Android app, or fire up our iPad app on your tablet. You can also update your own chip counts from poker tournaments around the world with MyStack on both Android and iOS.